Capturing Cross-Border Investment Opportunities in Hong Kong and the Greater Bay Area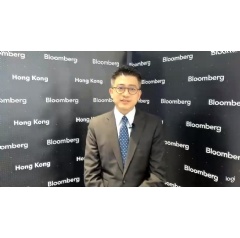 Bing Li, Head of Asia Pacific for Bloomberg
Bloomberg recently hosted a webinar on cross-border investment opportunities, featuring a keynote by Edmond Lau, Senior Executive Director at the Hong Kong Monetary Authority, and a panel discussion led by industry experts. The event explored topics including cross-border capital flow, investment trends, digital transformation and major initiatives like the recently announced Wealth Management Connect (WMC).
Opening the virtual event, Bing Li, Head of Asia Pacific for Bloomberg, said that innovative initiatives such as the WMC pilot scheme, Stock and Bond Connect schemes, as well as the Hong Kong's growing offshore renminbi business, portends to a 'coming-of age' of China's financial markets. He added that, "The recent inclusion of its bonds by all the major index providers point to even greater interconnectedness to come," and that Bloomberg, "welcomes bold schemes that deepen capital markets and creates opportunities for investors."
The Greater Bay Area (GBA) is expected to play an integral role in China's financial liberalization and unlock opportunities for investors. GBA comprises a population of more than 70 million people with a combined GDP of US$1.6 trillion, making GBA one of the most affluent regions in China if not the world. In addition, Hong Kong is already the world's second largest wealth management centre after Switzerland and the region is already home to approximately 480,000 high-net-worth individuals with financial assets in excess of USD 1 million, according to a 2018 KPMG wealth report. Support of the region was re-iterated when senior officials from the Chinese government visited Shenzhen this week to urge faster development in the area.
Keynote speaker Edmond Lau, Senior Executive Director at the Hong Kong Monetary Authority, also emphasized Hong Kong's role in the GBA and its advantageous position as an international financial center (IFC). In his keynote speech, he said Hong Kong offers 'the best of both worlds in terms of opportunities and ease of access' and that its role as a gateway role between Mainland and the rest of the world is unique and is difficult to replicate. He noted that despite recent challenges including Covid-19 and US-China tensions, Hong Kong has demonstrated plenty of resilience and pointed to continued inflows and the strength of its stock market as examples. On the WMC scheme, he said this new initiative will 'take an incremental approach starting on a prudent footing,' adding that it marks a big step towards closer financial cooperation in the region.
Going deeper into the potential opportunities of greater interconnected in the region, the speakers on the panel discussion analyzed how firms are likely to navigate GBA opportunities including the WMC scheme, to encourage cross-border flow.
Eddie Lau, CIO and Deputy CEO at Rongtong Global Investment emphasized that both local and global asset managers should take full advantage of this game-changing opportunity and benefit from enhanced two-way capital flow and fund product subscription under the scheme.  Lau said, "The wealth connect program makes cross-border investment much more efficient and accessible for both retail and institutional investors with improved features such as smoother settlement cycle, better investor protection and more synchronized rules and regulations."
Freddy Wong, Head of Asia Pacific, Fixed Income at Invesco added, "We already have a working group to explore how we are positioned in the GBA to create different value propositions for our clients."
Ryan Chung, Co-head of Huatai GBA Investment Fund at Huatai International noted, "To further integrate this area, you need to bring together existing hard and soft infrastructure and leverage their strengths. There are strong synergies in this region and investors have an important role in opening up these opportunities."
Looking forward, Mushtaq Kapasi, Managing Director, Chief Representative Asia Pacific of the International Capital Market Association, concluded that from the standpoint of an international investor, "Even though the pandemic and geopolitical situation will create lasting risks, work is already under way to educate the industry and bring transparency to those who are interested in looking at China credit and risk from an international perspective."
You can listen to the replay of the webinar here.
To find out how Bloomberg can help you better understand the Greater Bay Area opportunities, including the Wealth Management Connect scheme, please contact us.
( Press Release Image: https://photos.webwire.com/prmedia/7/265340/265340-1.jpg )
Related Links
WebWireID265340

This news content was configured by WebWire editorial staff. Linking is permitted.
News Release Distribution and Press Release Distribution Services Provided by WebWire.