Bruce Nauman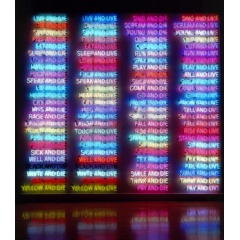 7 October 2020 Ė 21 February 2021
Supported by the Terra Foundation for American Art. With additional support from the Bruce Nauman Exhibition Supporters Circle, Tate Americas Foundation, Tate International Council and Tate Patrons
Open daily 10.00 Ė 18.00
For public information call +44(0)20 7887 8888, visit tate.org.uk or follow @Tate #BruceNauman
Tate Modern today opens a new exhibition exploring the full breadth of Bruce Naumanís ground-breaking work as an artist. This is the museumís first new exhibition since reopening earlier this year, and it is the most substantial survey of Naumanís work in London for more than 20 years. A restlessly inventive artist, Bruce Nauman (b.1941) has employed a wide range of media including sculpture, sound, film, video and neon. Since the late 1960s, he has continually tested and reinvented what an artwork can be by reshaping traditional forms and creating new ones. He is now widely recognised as one of the most innovative and influential artists of the late 20th and early 21st centuries.
Through more than 40 works, the exhibition explores the distinctive themes that have preoccupied Nauman during his remarkable 50-year career. Unfolding across a sequence of immersive installations inviting deep viewer engagement, the show acknowledges how Naumanís works contrast the instant gratification of todayís screen-based information and entertainment culture. It also reveals how Nauman has transformed the way we think about art by exploring our understanding of language and our perception of our physical and psychological place in the world.
Following a non-chronological structure, the opening room will present visitors with†MAPPING THE STUDIO II with color shift, flip, flop & flip/flop (Fat Chance John Cage)†2001, a major moving-image installation that embodies Naumanís radical re-examination of the rarefied space of the artistís studio. A selection of early and iconic artworks such as†Henry Moore Bound to Fail†1967/70 and†A Cast of the Space Under My Chair†1965/68 will highlight Naumanís conceptual and often performative approach towards sculpture, the body and studio practice.
Inspired by a chance encounter with a neon advertisement left over in his San Francisco studio, Nauman created several ground-breaking neon signs that combine text and colour to reveal the ambiguities beneath everyday phrases and expressions. A number of outstanding examples will be brought together for this exhibition, including†The True Artist Helps the World by Revealing Mystic Truth (Window or Wall Sign)†1967,†Human Nature Knows/Doesnít Know†1983/86 and†One Hundred Live and Die†1984.
Large-scale works such as†Going Around the Corner Piece with Live and Taped Monitors†1970 and†Double Steel Cage Piece†1974 reflect Naumanís interest in surveillance and societal control. These themes extend to the whole-room installation†Shadow Puppets and Instructed Mime†1990 in which suspended wax heads, sound and video, provide a backdrop as a disembodied male voice gives commands to a female mime projected onto the walls.
One of Naumanís most aurally and conceptually powerful works†Anthro/Socio (Rinde Spinning)†1992 reveals how Nauman consistently challenges the conventions of the gallery experience and confronts viewers directly with their own physical presence.†Black Marble Under Yellow Light†1981/1988 provides an encounter with Naumanís unsettling manipulation of space and light, while†Falls, Pratfalls and Sleights of Hand (Clean Version)†1993, in the final room in the show, acknowledges the themes of bodily presence and human perception that have engaged Nauman throughout his career.
Bruce Nauman is organised by Tate Modern and Stedelijk Museum Amsterdam in collaboration with Pirelli HangarBicocca, Milan. The exhibition is curated by Andrea Lissoni, former Senior Curator (International Art), Film, Tate Modern, Nicholas Serota, former Director, Tate, Katy Wan, Assistant Curator, Tate Modern, Leontine Coelewij, Curator Contemporary Art and Martijn van Nieuwenhuyzen, former Curator Contemporary Art Stedelijk Museum Amsterdam. It will be accompanied by a fully illustrated catalogue from Tate Publishing.
-----
RELATED EVENTS
UNIQLO Tate Lates Night In
Saturday 5 December 2020 at 19.00 on tate.org.uk
UNIQLO Tate Lates Night In will invite viewers to celebrate the work of Bruce Nauman with an online event, coinciding with the exhibition at Tate Modern. The programme will include a talk, film and creative response that will highlight Naumanís varied art practice and the consistent themes explored in his work.
ABOUT BRUCE NAUMAN
Bruce Nauman was born in Fort Wayne, Indiana, in 1941. He studied mathematics, physics and art at the University of Wisconsin before graduating with a Master of Fine Arts from the University of California, Davis in 1966, with extracurricular activities including classical music and philosophy.
In 1972, at the age of thirty-one Nauman had his first retrospective exhibition at the Los Angeles County Museum of Art and the Whitney Museum of American Art, New York, followed by venues in Europe. In 1994 a large retrospective of his work was organised by the Walker Art Center, Minneapolis, and the Hirshhorn Museum and Sculpture Garden, Washington, DC, with a subsequent international tour. A further retrospective, Bruce Nauman: Disappearing Acts was presented at the Schaulager, Basel, and The Museum of Modern Art and MoMA PS1, New York in 2018Ė19.
Other major museum shows dedicated to Naumanís work have taken place around the world, and he has participated in five editions of the quinquennial exhibition Documenta (1968, 1972, 1977, 1982 and 1992) as well as presenting work in the main exhibition of the Venice Biennale at least six times. Nauman was also awarded the Golden Lion at the Venice Biennale twice, in 1999 and 2009, the Japan Art Associationís Praemium Imperiale Award for sculpture in 2004, the Wolf Prize for Arts-Sculpture in 1993, the Wexner Prize in 1994 and the Max Beckmann Prize in 1990.
ABOUT TERRA FOUNDATION FOR AMERICAN ART
The Terra Foundation for American Art is dedicated to fostering exploration, understanding, and enjoyment of the visual arts of the United States for national and international audiences. Recognising the importance of experiencing original works of art, the foundation provides opportunities for interaction and study, beginning with the presentation and growth of its own art collection in Chicago. To further cross-cultural dialogue on American art, the foundation supports and collaborates on innovative exhibitions, research, and educational programs. Implicit in such activities is the belief that art has the potential both to distinguish cultures and to unite them.
( Press Release Image: https://photos.webwire.com/prmedia/6/264801/264801-1.jpg )
Related Links
WebWireID264801

This news content was configured by WebWire editorial staff. Linking is permitted.
News Release Distribution and Press Release Distribution Services Provided by WebWire.