Empathy Skills Are More Crucial Than Ever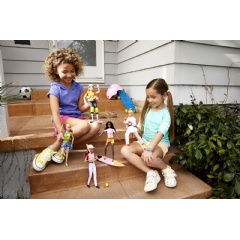 Neuroscience Research Finds That Pretend Play with Dolls Allows Children to Develop Empathy
By Michael Swaisland, Head of Insights, Mattel EMEA
When the clock counted down on 2019 and we made our 2020 resolutions, I know most of us did not expect to be in the changed world we find ourselves today. It has been an emotional rollercoaster that us pushed us to tap into skills and strengths we did not know we had within us. While it might not initially be apparent, empathy is the glue that has held our world together. Empathy is crucial as it helps us sense how others are feeling so we can respond appropriately to the situation. 
But what about our children? How do we build empathetic thinking in our kids, so that the next generation come through even more prepared for their futures? 
In our recent study in collaboration with neuroscientists from Cardiff University, we found that pretend play with dolls allows children to develop empathy and social information processing skills even when playing by themselves. Through ground-breaking neuroimaging research with Cardiff, these are the results of our study: Exploring the Benefits of Doll Play through Neuroscience, and which have been accredited and published in Frontiers in Psychology.
At Mattel, we've always known that pretend doll play is beneficial for children, we've seen it countless times in our Barbie observational testing,  but have never had scientific evidence to illustrate for parents. Previously, the benefits of doll play have been overlooked by parents, with a belief that imaginative play patterns do not produce a tangible output. This was reinforced to us when we spoke with more than 15,000 parents in 22 countries. 91% of parents ranked empathy as a key social skill they would like their child to develop, but only 24% were aware that doll play can help their child develop these skills.  
We really questioned this based on our legacy observational work. Seeking further science-based evidence, through Oxy Insights, we formed a multiyear partnership with Cardiff University School of Psychology, to develop a neuroscience approach that could unearth the unseen things that happen 'in the moment' during doll play that could lead to longer term positive impact for the child. From the outset we were aware, that being the first stage of explorative research, the experiments could come back with nothing of interest or major significance but as category leaders, decided to invest and commit to the study with a long-term view.
This ground-breaking outcome is the result of the first ever study anywhere in the world to use neuroimaging evidence with natural play to show brain activations during doll play. The results which are valid for both boys and girls, show that Pretend play with dolls allows children to develop empathy and social information processing even when playing by oneself. This is reassuring news for parents that are juggling work, meals, house chores and their family duties in the new normal we find ourselves in. Who would not want to know that leaving the kids to play alone with their dolls is in fact beneficial and valuable to practicing a skillset we all need to be flexing a bit more of? And while we are all spread so thin at the moment, it gives us one thing to feel good about.
We are blown away with these results, but we will not be stopping here. Delving further into empathy has only become more needed based on the ongoing challenges both us and our kids face. So, for Barbie and Mattel, this is only the first step in our partnership with Cardiff University. In the years ahead we will continue to engage in further work to unlock greater understanding in this space, to empower parents and build up the kids of the future.
So while 2020 has most definitely changed us all, lets make it change for the better. Greater engagement, greater understanding, greater empathy. Maybe there are things we can learn from watching our kids, while they escape into their own world of doll play. Now that would not be so bad, would it?
( Press Release Image: https://photos.webwire.com/prmedia/6/264752/264752-1.jpg )
Related Links
WebWireID264752

This news content was configured by WebWire editorial staff. Linking is permitted.
News Release Distribution and Press Release Distribution Services Provided by WebWire.