TÜV Nord Certifies WACKER's Resource-Efficient Manufacturing of Silicone Sealants
Munich –
WEBWIRE
–
Friday, October 2, 2020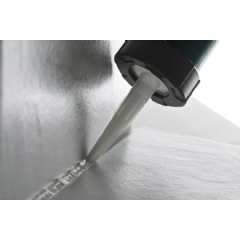 WACKER is the first chemical company to apply a certified mass balance method when manufacturing silicone sealing compounds. Products like these conserve resources while avoiding the use of raw materials derived from petrochemicals.
The Munich-based WACKER chemical group has achieved another milestone in the use of renewable raw materials for silicone production. After having certified biomethanol-based silicone fluids and emulsions, technology service provider TÜV Nord now approved the company's resource-efficient manufacturing method for silicone sealants according to the new REDcert2 standard. WACKER's approach involves determining the mass fraction of raw materials and auxiliaries derived from fossil-based resources and offsetting this with methanol produced from biomass. This makes WACKER the first chemical company to produce the organic components of its sealants exclusively on the basis of plant-based materials instead of raw materials derived from petrochemicals. Silicone sealants are important materials in construction and installation projects, and are primarily used for the bonding and sealing of joints.
Silicone sealants consist primarily of a silicone polymer that cures at room temperature to form a rubber-like elastomer, plasticizers, fillers and additives. Apart from silicon which is manufactured by reducing quartzite with coke, an important raw material for manufacturing the polymer is methanol. The compound is first converted to methyl chloride, which then reacts with elemental silicon in the commonly known Müller-Rochow process in order to produce a mixture of various methylchlorosilanes. These, in turn, serve as starting products for silicone production. WACKER uses methanol derived both from fossil raw materials and from biomass, which, however, makes no difference in chemical terms, since the molecule is always identical with respect to its structure and properties.
The mass balance method takes advantage of that. If methanol from both plant- and fossil-based sources is used within an integrated production system, the portion of raw materials derived from biomass can be determined and explicitly allocated to individual sales products. The approach is comparable to the green electricity certification system used in Germany. WACKER already uses this method for manufacturing biomethanol-based silicone products for the textile, paper and consumer goods industries.
Technology service provider TÜV Nord now extended its certification to WACKER's production of silicone sealing compounds. In this case, the certification meets the requirements of the new REDcert² standard. This standard covers not only all of the organic raw materials for silicone manufacturing – it also encompasses all of the other organic components of the formulation. This serves as verification that WACKER's silicone sealing compounds are 100 percent free of fossil raw materials. To qualify, purchased raw materials must have been sustainably manufactured from biomass, and all of the required starting materials must have been obtained from certified sustainable sources. The volumes of raw materials needed for product manufacturing undergo regular audits as part of an annual recertification process.
"Ecological and sustainable construction plays a key part in global efforts to protect the climate," says Dr. Robert Gnann, president of the WACKER SILICONES business division. "Successful certification of our mass balance method makes us the first company to supply ready-to-use sealing compounds based on non-fossil raw materials. That's good news for our customers, who can likewise declare that the biomethanol-based sealants they purchase from us preserve natural resources and contain no fossil raw materials."
According to Laurent Morineaux, head of the company's Construction Silicones business unit, the new certificate underpins WACKER's ongoing and strong commitment to sustainability. "Sealants are among the most high-volume silicone products in our portfolio", he says. "Introducing products entirely based on biomethanol does more than just make our portfolio more sustainable. We are also making a substantial contribution toward greater sustainability in the construction industry, and that benefits our customers as well."
Silicone Sealants
Silicone sealants are one-part formulations with low-module available in a variety of crosslinking systems. In the construction industry, they are used in connection and expansion joints, in kitchen and bathroom projects and in other specialty applications. WACKER produces silicone sealant compounds at its production site in Nünchritz, Germany, as well as in South Korea and China.
REDcert2 Certification System
Founded in 2010, REDcert GmbH maintains one of the leading certification systems for sustainable biomass and biofuels in Germany and Europe. The introduction of the REDcert²-system in 2018 expanded its applicability for certifying sustainable material flows within the chemical industry. REDcert² certifications include products containing recycled materials as well as biogenic raw materials. By using bio-based raw materials chemical companies can make a lasting contribution to reducing greenhouse gases and to saving fossil-based resources.
WACKER SILICONES
WACKER SILICONES is one of the largest silicone manufacturers worldwide with over 2,800 highly specialized and innovative products. The division's portfolio ranges from silicone fluids, emulsions, resins, elastomers and sealants to silanes, silane-terminated polymers and pyrogenic silica. These stand out due to their significant value-adding potential – enhancing both the benefits and performance of customers' end products. WACKER SILICONES' products find application in sectors such as automotive engineering, construction, chemicals, cosmetics, medical technology, energy, electronics, paper and textiles. In 2019, WACKER SILICONES generated around 50 percent of Group sales.
( Press Release Image: https://photos.webwire.com/prmedia/6/264740/264740-1.jpg )
Related Links
WebWireID264740

This news content was configured by WebWire editorial staff. Linking is permitted.
News Release Distribution and Press Release Distribution Services Provided by WebWire.