Join Tate online in events this October
WEBWIRE
–
Wednesday, September 30, 2020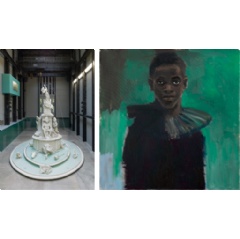 Kara Walker Fons Americanus Tate Modern 2019. Photo: © Tate (Matt Greenwood) Lynette Yiadom-Boakye A Passion Like No Other 2012 Collection of Lonti Ebers © Lynette Yiadom-Boakye
This October, Tate marks Black History Month with online events and digital content. Go behind the scenes of the galleries, find out more about your favourite art and artists, get creative in workshops and hear from Tate staff, associates and collaborators in content released throughout the month.
Highlights include a Uniqlo Tate Latest Night in stream focusing on Hyundai Commission: Kara Walker: Fons Americanus, a new podcast The Art of Care, highlighting self-care in Black womxn and non binary communities and the next online Late at Tate Britain, exploring isolation and creativity. All events and content will be available for free on the Tate website or through Tate's social media channels.
UNIQLO TATE LATES NIGHT IN – 1 OCTOBER
On Thursday 1 October, UNIQLO Tate Lates Night In will explore Hyundai Commission: Kara Walker's Fons Americanus at Tate Modern, extended until 8 November 2020, with a programme of artist talks, workshops, music, film and spoken word. The event will stream from 19:00-20:30 BST and will be available online until 7 October. London-based poet, playwright and performer Inua Ellams will host the event, recorded from Tate Modern.
One stream will include a talk from historian, writer and broadcaster David Olusoga OBE, who will speak with curator of Fons Americanus, Clara Kim, about monuments, racial injustice and the interconnected histories of the UK and US. There will also be a conversation with American artist, activist and co-founder of the Black Lives Matter movement Patriss Cullors and Tate curator Osei Bonsu, discussing the relationship between art and social justice. Moroccan artist Mohammed Laouli's film Les Sculptures n'étaient pas blanches will be screened, addressing the compounding of colonial commemoration with anti-racist actions contained within a monument in the heart of Marseille.
The second stream will feature writer Abondance Matanda's poetic response to Fons Americanus, reflecting on the changing relationship with the artwork a year after its installation. Creative director Henrietta Gallina, design researcher Alyse Archer-Coité and a Vibe Called Tech's founder Charlene Prempeh will discuss how to amplify the voices of Black women working in cultural industries and how we make sense of Fons Americanus in light of the ever-changing political landscape. There will be a screening of Angolan artist Kiluanji Kia Henda's short film Havemos de Voltar, which reflects on Angola's colonial history and present day through the eyes of a taxidermied antelope. The third stream will host the music programming for the event, with DJ sets from OK Williams and BORN N BREAD, recorded in the Tate Modern's Tanks.
LATE AT TATE BRITAIN *ONLINE – 23 OCTOBER
On Friday, 23 October join the Tate Collective Producers for Late at Tate Britain. Looking at the reflective nature of isolation, the lead Producer, Kori Humphrys will be exploring dark thoughts brought to the surface during lockdown, using artists such as Francis Bacon and Henry Moore as inspiration. Several film interventions will examine these themes; Noah Aldhaus presents The Gazers, highlighting the isolation felt by people during the lockdown, Ben Steele will show Lockdown Baby: Shop-Dash about a single father working from home and midlands band Spoort share 2Tone, creating a sound taking equal cues from jazz, hip-hop and garage rock. Reprezent Radio stream a specially curated playlist live from their studio in Brixton, Late at Tate Associate Creative Researcher, Soofiya will introduce young, emerging creatives and viewers can get ahead in their career with advice from ERIC.
THE ART OF CARE PODCAST – 30 OCTOBER
A new podcast, The Art of Care, will be released on 30 October. The episode will explore self-care in Black womxn and non binary communities. Tate Exchange associate producers, 198 Contemporary's young curators Pelumi Odubanjo and Shanelle Callaghan are co-producers and presenters.
TATE KIDS – WHO IS LYNETTE YIADOM-BOAKYE
This month, children can find out more about artist Lynette Yiadom-Boakye in advance of her Tate Britain exhibition. Yiadom-Boakye's creates the figures in her paintings from found images and her own imagination. Both familiar and mysterious, they invite viewers to project their own interpretations, and raise important questions of identity and representation. The upcoming exhibition, opening on 18 November, brings together around 80 works from 2003 to the present day in the most extensive survey of the artist's career to date.
Other content on tate.org.uk includes artist interviews such as the recently released film with Zanele Muholi, detailed looks at artworks in the Tate collection and podcasts introducing listeners to art and artists through themes such as protest, hip-hop and comedy.
Everyone can explore the online collection which includes 78,000 artworks, 4,000 artists and 22,000 archive items. Discover Black art and artists in Tate's collection through an online guide featuring responses to the collection by Tate's BAME Network, a Tate Kids video about art and race and an article on how Lubaina Himid is rewriting history.
Social media users can continue to discover art across Tate's Instagram, Twitter and Facebook channels daily, and previous issues of Tate Etc can be found online for free, including features and interviews with some of the leading artists working today. Children also have free access to quizzes and activities via Tate Kids and can even submit their own artwork for other online viewers to see.
------
ABOUT LATE AT TATE BRITAIN
Late at Tate Britain is a gathering space for experimentation and idea generation inspired by displays and exhibitions. It is an ongoing research project currently developed and delivered by Tate Collective Producers.
ABOUT TATE COLLECTIVE
Tate Collective is the first free-to-join membership scheme for 16 to 25 year olds at a national UK museum and is open to people anywhere in the world to join online. Members are able to see any of Tate's exhibitions for a fiver and also get discounts in Tate's cafes and shops. They can also bring up to three friends to shows, each for £5.
ABOUT TATE COLECTIVE PRODUCERS
Tate Collective Producers are a group of 18-25 year olds based in London, Liverpool and St Ives. They collaborate to develop their ideas and knowledge about art, culture and creativity. The teams often work with emerging artists, designers, musicians and curators.
ABOUT UNIQLO TATE LATES
Since October 2016, UNIQLO has partnered with the Tate to produce the 'UNIQLO Tate Late' at Tate Modern. This is a series of special, late night events which offer an opportunity for visitors to see the latest exhibitions and displays, hear music from DJs programmed by NTS Radio, watch rarely seen artists' films and join in interactive events. The next iteration of the UNIQLO Tate Lates Night In will continue to be a vibrant platform attracting a diverse and culturally engaged community, with a greater global reach than ever before.
ABOUT UNIQLO AND FAST RETAILING
UNIQLO is a brand of Fast Retailing Co., Ltd., a leading Japanese retail holding company with global headquarters in Tokyo, Japan. UNIQLO is the largest of eight brands in the Fast Retailing Group, the others being GU, Theory, Helmut Lang, PLST (Plus T), Comptoir des Cotonniers, Princesse tam.tam and J Brand. With global sales of approximately 2.2905 trillion yen for the 2019 fiscal year ending August 31, 2019 (US $21.53 billion, calculated in yen using the end of August 2019 rate of $1 = 106.4 yen), Fast Retailing is one of the world's largest apparel retail companies, and UNIQLO is Japan's leading specialty retailer.
With a corporate statement committed to changing clothes, changing conventional wisdom and change the world, Fast Retailing is dedicated to creating great clothing with new and unique value to enrich the lives of people everywhere. For more information about UNIQLO and Fast Retailing, please visit www.uniqlo.com and www.fastretailing.com.
( Press Release Image: https://photos.webwire.com/prmedia/6/264633/264633-1.png )
Related Links
WebWireID264633

This news content was configured by WebWire editorial staff. Linking is permitted.
News Release Distribution and Press Release Distribution Services Provided by WebWire.