Huawei Fully Upgrades Its All-Scenario Intelligent Connectivity Solutions to Accelerate Industry Digital Transformation
Shanghai, China –
WEBWIRE
–
Friday, September 25, 2020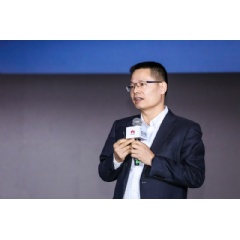 Kevin Hu, President of Huawei's Data Communication Product Line, announces full upgrades of Huawei's intelligent IP network solutions
Huawei today announced that it has fully upgraded its scenario-tailored intelligent connectivity solutions to accelerate digital transformation across industries, at the summit themed "Accelerating Industry Digital Transformation Through All-Scenario Intelligent Connectivity" during this year's HUAWEI CONNECT.
In the IP networking domain, Huawei fully upgrades its intelligent IP network solutions, reshapes two platforms (software and hardware), reinvents the three-layer architecture of intelligent IP networks with "super capacity, intelligent experience, and autonomous driving", and further innovates "four-engines". These strategic moves reaffirm Huawei's relentless efforts to develop scenario-tailored solutions, creating new drivers for digitalization across industries.
In the Fiber Optical domain, as a major upgrade of its scenario-based Intelligent OptiX Network solution, Huawei unveiled the Huawei OptiXstar S892E, which is an intelligent optical terminal designed for high-speed Wi-Fi 6 backhaul in enterprise campus and the Huawei OptiXtrans E6600 series, a next-generation optical transmission platform. These innovative products will provide high-quality all-optical connectivity for the digital transformation of enterprises.
Today's enterprises are furthering their digital and intelligent transformations. Driven by this, more applications are carried on networks, and the scale and complexity of networks keep increasing. These trends, in turn, pose more challenges to network planning, construction, maintenance, and optimization. In particular, Remote Working, Video Collaboration, and All Cloud (RVA) are becoming the new norm, accelerating service transformation while presenting obvious challenges to enterprise networks. As such, Huawei has fully upgraded its products and solutions in the intelligent IP and Fiber Optical fields.
In Line with the "Intelligent IP Networks" Development Strategy, the Fully Upgraded Intelligent IP Network Solutions Create New Drivers for Digitalization Across Industries
1. Reshaping two platforms (hardware and software) to get fully prepared for intelligent IP networks
Huawei has fully upgraded its hardware platform to power massive connectivity of everything. Ideal for intelligent IP networks, the new hardware platform stands out with built-in AI acceleration engines to enhance data processing. Huawei also reshapes its IP network operating system YUNSHAN, which supports an agile, intelligent, and open architecture.
2. Upgrading the three-layer architecture of intelligent IP networks with super capacity, intelligent experience, and autonomous driving
Huawei's Intelligent IP Network introduces AI to redefine its three-layer architecture with super capacity, intelligent experience, and autonomous driving. Of these, "super capacity" ensures network bandwidth quality, "intelligent experience" delivers deterministic experience, and "autonomous driving" improves operations and maintenance (O&M) efficiency.
3. Further innovating the "four-engine" intelligent IP network products and solutions
Huawei has upgraded iMaster NCE, the brain of intelligent IP networks. It provides open and programmable capabilities, facilitating easy customizations; introduces big data analytics to implement intent-driven deployment and fault prediction; and adds southbound APIs to achieve extensive compatibility with multi-vendor offerings. In addition, built on its four engines (AirEngine, CloudEngine, NetEngine, and HiSecEngine), Huawei has fully upgraded its CloudCampus, CloudFabric, CloudWAN, and HiSec solutions from 1.0 to 2.0. These new releases help build more ultra-broadband and intelligent IP networks.
4. Intelligent IP networks are verified time and again in various industries, creating new value together
"Intelligent IP @ Government" enables one-stop government services and all-in-one city management. "Intelligent IP @ Finance" drives the finance industry into the Bank 4.0 era. "Intelligent IP @ Education" accelerates the construction of a talent-rich nation. "Intelligent IP @ Airport" achieves one ID for travel and one map for operations.
"Intelligent IP networks better enable data flowing and aggregation, creating new drivers for intelligent connectivity of everything. Huawei will continue to innovate and apply intelligent IP networks to all industries and develop all-scenario solutions to help enterprises of all sizes achieve business success," said Kevin Hu, President of Huawei's Data Communication Product Line. "In the future, Huawei will work with more partners from all industries, such as government, finance, education, healthcare, and transportation, to build a new ecosystem for digital transformation and create new value together."
Upgraded Huawei's Intelligent OptiX Network Solutions and Launched New Product Series
Since its release, Huawei's Intelligent OptiX Network solution has served 3800 customers in more than 150 countries.
Richard Jin, President of Huawei's Transmission & Access Product Line, said, "Fibers consume less energy, feature ultra-high bandwidth, and are secure and reliable. In scenarios such as industrial interconnection and enterprise campus, optical fibers are the preferred transmission medium for intelligent connectivity, and this is widely recognized in the industry. Huawei is committed to bringing industry-leading optical communications technologies to various industries, helping enterprises build high-quality all-optical infrastructure networks, and facilitating digital transformation of enterprises."
The launch of the flagship Huawei Campus OptiX (all-optical campus) and Huawei Single OptiX (all-optical transmission) products is a comprehensive upgrade of Huawei's enterprise-oriented and scenario-based solutions.
Huawei OptiXstar S892E: Wi-Fi 6 is becoming more widespread in the enterprise WLAN market, but its high air interface rate of 10 Gbit/s + puts pressure on the transmission bandwidth, reliability, and deployment efficiency of the transport network. Huawei OptiXstar S892E features high capacity, high availability, and intelligent configuration, and is the industry's first optical terminal that supports 40G PON, supporting Type C active-active protection switching and automatic batch service configuration. It is designed for high capacity Wi-Fi 6 backhaul in enterprises, schools, airports, and stadiums.
Huawei OptiXtrans E6600 series: Energy, transportation, government, education, finance, and manufacturing industries are all critical to a smart city. In addition to having simplified O&M, communications networks must also meet the information security requirements. Huawei OptiXtrans E6600 series products are the industry's first optical transport platform with built-in Liquid OTN technology, and feature high reliability, high density, and intelligent O&M, safeguarding production services and allowing all services to be carried on a single network.
Executives from the banking, higher education, electric power, and automotive industries shared their application of all-optical networks at the event. Huawei's competitive network products and solutions have served operators and customers from industries such as finance, government, transportation, and energy in more than 150 countries. Huawei will work closer with customers in service design and development to facilitate their digital transformation in the "5G+cloud+AI" era.
HUAWEI CONNECT 2020 is an annual flagship event hosted by Huawei for the global ICT industry, and is being held in Shanghai from September 23 to 26, 2020. HUAWEI CONNECT is an open platform designed to help our customers and partners navigate these changes, share experience, and work together to create new value. At this year's event, we will explore trends and opportunities in industry digitization; showcase advanced ICT technologies, products, and solutions; give you an insider's look at the fruits of joint innovation; and share best practices in digital transformation. Our ultimate goal is to build an open and sound industry ecosystem that will benefit all stakeholders and create new value for all industries. For more information, please visit: www.huawei.com/en/events/huaweiconnect2020/
( Press Release Image: https://photos.webwire.com/prmedia/5/264470/264470-1.jpg )
Related Links
WebWireID264470

This news content was configured by WebWire editorial staff. Linking is permitted.
News Release Distribution and Press Release Distribution Services Provided by WebWire.