Aviva joins the Trinity Challenge
WEBWIRE
–
Tuesday, September 15, 2020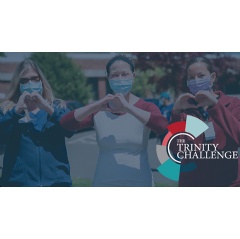 The Trinity Challenge is a recognition by business, academia and philanthropy of the need for new, breakthrough ideas and approaches to beat the next pandemic.
Aviva has joined forces with global business and academic leaders to launch the Trinity Challenge – an initiative that will bring together the world's best and brightest to better protect the world against health emergencies.
The global health, social and economic impacts of COVID-19 have laid bare our current inability to identify, respond to and recover from health emergencies. Launching the Challenge, former Chief Medical Officer (CMO) of the United Kingdom, Dame Sally Davies said:
"There will be another COVID-19, and there is an opportunity for the international community to learn lessons now and prepare for the future.
"My career has been inspired by making sure all people, everywhere, have the best possible life chances. Health is integral to that, and we are seeing this now more than ever.
"We need to come together to make sure this never happens again.
"We need new ways of working, new partnerships, new ideas, and believe that together this strong and growing coalition can and will generate acts that protect and improve lives and livelihoods everywhere."
Convened by Dame Sally Davies in her role as Master of Trinity College, at the University of Cambridge, the Trinity Challenge has 20 founding members representing a diverse coalition of world leading organisations across the private, public and social sectors.
It sets a series of urgent questions to harness the potential of data and analytics to learn and share lessons from the great innovations made to combat Covid-19 and to build resilience against future health emergencies.
The Challenge will provide funding to support and scale innovations across areas including economics, behavioural sciences, and epidemiology.
The power of collaboration
From anywhere in the world, Challenge Teams will be able to partner with global experts, drawing on their resources and support.
They will develop changemaking ideas, tools and insights relevant to each of the three stages of these emergencies:
Identification: Building early-warning systems and ground-breaking technologies to identify pathogens or outbreaks before they cause great harm.
Response: Developing insights and capabilities to target interventions with maximal effectiveness and at minimal cost.
Recovery: Strengthening the social and economic revival following health emergencies and constructing an equitable path toward an inclusive recovery.
Discussing Aviva's role in the Trinity Challenge, Orlando Machado, Aviva's Chief Data Scientist, said: "The Trinity Challenge is required because we're facing a global crisis. Not just in the short-term, but with real long-term impacts on health and economic wellbeing.
"We're supporting the challenge because for over 300 years we've been there to help people manage risk around the things they value most: their health, their family, their livelihoods.
"I'm really excited to be supporting this challenge. We can help people across the world and I'm proud Aviva can play a part."
Dr Tedros Adhanom Ghebreyesus, Director-General of WHO welcomed the opening of The Trinity Challenge, saying: "The COVID-19 pandemic has shown that the world was not prepared. Together, we all have a responsibility to do everything we can to ensure a pandemic of this magnitude, with this level of disruption to lives and livelihoods, never happens again.
We welcome the Trinity Challenge, which brings together multiple partners to harness the power of data and analytics for a safer world."
The Founding Members are: Aviva, Bill and Melinda Gates Foundation, Brunswick Group, University of Cambridge, Discovery Limited, Facebook, Global Virome Project, Google, HKUMed, Imperial College London, Institute for Health Metrics and Evaluation, Internews, Legal and General, LSE, McKinsey and Company, Microsoft, Northeastern University, Reckitt Benckiser, Tencent, Zenysis Technology
-ENDS-
About the Trinity Challenge
The Trinity Challenge is a coalition of members united by the common aim of using data and advanced analytics to develop insights and actions to contribute to a world better protected from health emergencies.
Our Vision is to safeguard the lives and livelihoods of one billion more people by using data and analytics to better predict and prevent outbreaks, epidemics and pandemics, and to improve the health, economic and social response and recovery to health emergencies and endemic disease.
Our Mission is to give the brightest minds a platform to partner with leaders from businesses, the social sector and academia to collaborate and contribute insights as global public goods.
Our Goal is to identify, generate and recognise insights to contribute to the goal of a world better protected from health emergencies and to drive positive health, economic and social changes in how the world responds to and recovers from outbreaks, epidemics and pandemics.
In order to realise the above, we are (i) launching a public Challenge on 14 September 2020 to generate, identify and recognise boundary-spanning insights across the categories of identification, response and recovery (ii) convening high-impact collaborations, from diverse sectors and geographies, to drive action immediately (iii) strengthening the data and analytics ecosystem in global public health, and committing to trusted data collaboration by promoting openness, privacy, security, empowerment, and usability.
Visit the website at https://thetrinitychallenge.org, follow up @Twitter @linkedin @facebook
Notes 
For information on how Aviva is helping our people, customers and communities impacted by COVID-19 visit: www.aviva.com/covid-19-our-response/ 
Aviva is a leading international savings, retirement and insurance business. We exist to be with people when it really matters, throughout their lives – to help them make the most of life. We have been taking care of people for more than 320 years, in line with our purpose of being 'with you today, for a better tomorrow'.
Our vision is to earn our customers' trust as the best place to save for the future, navigate retirement and insure what matters most to them. In 2019, we paid £33.2 billion in claims and benefits on behalf of our 33.4 million customers.
We will focus on the UK, Ireland and Canada where we have leading market positions and significant potential. We will invest for growth in these markets. Our International businesses in Europe and Asia will be managed for long-term shareholder value. We will also transform our performance and improve our efficiency. Our transformation will be underpinned by managing our balance sheet prudently, reducing debt and increasing our financial resilience.
Total group assets under management at Aviva group are £522 billion and our Solvency II capital surplus is £12.0 billion (HY20). Our shares are listed on the London Stock Exchange and we are a member of the FTSE 100 index.
( Press Release Image: https://photos.webwire.com/prmedia/6/264024/264024-1.jpg )
Related Links
WebWireID264024

This news content was configured by WebWire editorial staff. Linking is permitted.
News Release Distribution and Press Release Distribution Services Provided by WebWire.