Starbucks unveils plan to support partner and customer voter engagement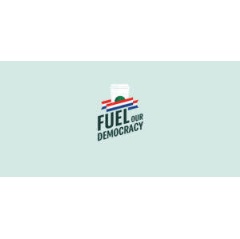 In a letter to partners, Starbucks ceo Kevin Johnson shared how the company is taking steps to promote equity, justice and community resiliency. As part of this effort, the company unveiled its plan to support partners in their journey to register to vote and ensure their voices are heard. Johnson noted that no partner (employee) will have to choose between working their shift or voting on or before Election Day. 
"The upcoming election is a reminder that we, as citizens, play an active role in our society by simply getting involved and voting," Johnson wrote. "Who you vote for is a very personal decision that you make as a citizen. It is one way for you to be heard. It is how democracy works."
The first step in this plan begins with conversations between managers and partners to help ensure nearly 200,000 Starbucks partners have the tools and the time necessary to register and cast their vote. Key initiatives supplementing these conversations include:
Support Making Voting Safe and Accessible: Through a partnership with Civic Alliance, partners can volunteer with their local election authority as (non-partisan) poll workers.
Advocating for Policies that Maintain Safe Access to Voting for All: Starbucks continues to advocate, at all levels of government, that Americans have safe, accessible ways to vote. This includes making necessary adjustments to ensure polling places and ballot drop boxes are safe and accessible for all and polling places are appropriately staffed.
Providing Resources to Customers: In September, through the Starbucks App, Starbucks will provide resources and information on how and where customers can to register to vote.
Nonpartisan civic engagement partners and advisors to the company have provided the following comments:
Steven Levine, Director, Civic Alliance said: "The Civic Alliance believes in companies' ability to strengthen our democracy. And we are proud to support Starbucks' strong, bipartisan commitment to ensuring all of their partners have the tools, time, and support they need to register and vote — and by encouraging their customers to do the same. Starbucks is also leading the way in supporting employees who want to volunteeras poll workers, a crucial act of leadership that will help meet an urgent need during this pandemic."
Derrick Johnson, President and CEO, NAACP said: "The NAACP is thrilled to partner with Starbucks in their voter engagement efforts to ensure that democracy works for all. As an organization committed to protecting voting rights and encouraging the importance of voter mobilization, we understand the need for every voice to be heard. We are thrilled to have corporations like Starbucks who promote civic engagement and community resiliency in the fight with us."
Vanita Gupta, President and CEO, Leadership Conference on Civil and Human Rights said: "We applaud Starbucks for its commitment to democracy. No one should be forced to choose between sacrificing a paycheck and exercising their constitutional right to vote, but that is a reality for far too many. Our democracy works best when everyone participates. By arming employees with options for how to cast their vote, providing nonpartisan volunteer opportunities at select polling sites, advocating for robust policies for safe in-person voting, and aiding customers in registering to vote, Starbucks is doing its part to remove barriers to the ballot box and ensure all voices are heard in this election. We hope more employers will follow Starbucks' example."
Frankie Miranda, President, Hispanic Federation said: "We are proud to team up with Starbucks to ensure their partners not only have the information they need to register and safely vote, but to involve the communities they serve in local registration and voter engagement efforts. During these uncertain times, it is more important than ever for us to come together in these efforts which ensure that every community has a voice."
Jeremy Butler, CEO, Iraq and Afghanistan Veterans of America said: "Iraq and Afghanistan Veterans of America (IAVA) applauds Starbucks' focus on ensuring employees have the opportunity to be heard and is honored to join with them in the commitment to elevate civic engagement before and on Election Day. Our military literally fights for the protection of American democracy and, as veterans, we continue that fight out of uniform by working to ensure that everyone has safe and secure access to the ballot box. We thank Starbucks for being a leading ally in that effort." 
Maya Enista Smith, Executive Director, Born This Way Foundation said: "Starbucks' emphasis on providing partners with the tools, resources and supporting a plan to vote is the kind of approach that will help make more voices heard – because we know that when people create a plan to vote they are more likely to vote. On Election Day and always, it's important that our communities know their voices matter."
( Press Release Image: https://photos.webwire.com/prmedia/6/263327/263327-1.jpg )
Related Links
WebWireID263327

This news content was configured by WebWire editorial staff. Linking is permitted.
News Release Distribution and Press Release Distribution Services Provided by WebWire.