Covid-19 testing ramps up as MIT enters next phase of campus reopening
Over 8,000 tests were performed by MIT Medical.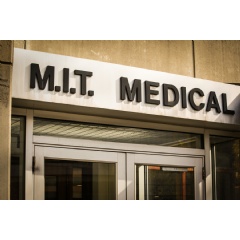 As MIT moves forward with phase 2 of its campus reopening plan, MIT Medical has bolstered Covid-19 testing capacity to fulfill the Institute's policy of testing everyone on campus one or two times per week, depending on how much time they spend on campus.
Last week's testing ramp-up included opening a second testing trailer and doubling the number of staff performing tests. With this infrastructure in place, MIT conducted just over 8,000 tests last week, approximately 10 percent of the total number of tests conducted in Massachusetts during that period. Importantly, MIT leaders say, the testing is working: It was used to identify three positive cases among those tested. MIT Medical has launched a dashboard showing daily results of the testing program.
Frequent testing is a critical component of MIT's plan to increase the number of faculty, staff, and students who will be on campus during the fall semester, says Ian Waitz, MIT's vice chancellor for undergraduate and graduate education, who helped to coordinate the expansion of testing.
"Testing is a critical path item for both MIT's research ramp-up and the academic ramp-up. This is why we are asking for everyone's patience and flexibility as we rapidly ramp up testing operations and learn what it takes to operate at scale. We need to get this right together," Waitz says.
As part of the Institute's campus reopening plan, MIT Medical constructed a Covid-19 testing trailer outside Building E23, which opened in July to test asymptomatic members of the MIT community who are authorized to return to campus. Under the phase 2 guidelines, academic offices and instructional spaces are permitted to reopen at a maximum of 50 percent of capacity. Many research labs had already been operating at up to 50 percent capacity as part of phase 1.
Faculty, staff, and nonresident students who are on campus four or more days per week must be tested twice a week, while those on campus one to three days must be tested once a week. Anyone residing on campus must be tested twice weekly.
Testing is yet just one requirement for ensuring a safe and healthy campus; Covid-19 health and safety training and a daily health attestation are also required. Information Systems and Technology (IS&T) has developed a suite of applications to help members of the MIT community maintain their campus access, comply with all requirements, and stay informed with the latest updates.
"The development of the Covid Pass applications represents an incredible effort by not only the IS&T development team, but a comprehensive engagement across the Institute by MIT's academic, research, and administrative organizations," says Mark V. Silis, MIT's vice president for information systems and technology. "It truly captures the MIT collaborative and problem-solving pursuit of excellence, and we are deeply grateful to our partners across the Institute who helped make this a success."
With the launch of phase 2 of MIT's reopening on Aug. 12, and the upcoming return of some undergraduates, the number of daily tests performed has grown rapidly. Last week was the first week operating under the full testing protocol. In early August, MIT Medical was performing about 200 tests on a typical day. By Friday, Aug. 14 that number was up to 563. Then, on Monday, Aug. 17 nearly 1,000 tests were performed. On Tuesday, Wednesday, and Thursday, 1,800 to 1,900 people were tested each day, with about 1,500 on Friday due to lower demand.
One of the challenges in starting the testing program is knowing who comes to campus, at what frequency, and when they would like to be tested, so that testing capacity can be matched to this. On Tuesday morning, after wait times for testing grew to more than 90 minutes in the first hour, MIT Medical rapidly increased capacity, opening an additional trailer and doubling the number of staff performing tests, ultimately performing 300 tests per hour, which shrunk the wait time to under 20 minutes. Wait times for the remainder of the week stayed low.
"Since we couldn't know how many community members would accept our testing invitation, we knew we had to be ready to increase capacity quickly if our early estimates were wrong," says Cecilia Stuopis, medical director of MIT Medical. "We started the day on Tuesday doing about 150 tests an hour. Within a couple hours, we were up to 300 tests an hour, greatly reducing the length of time people had to wait and ending the eight-hour day with almost 2,000 tests completed. We are grateful to everyone for their patience, support, and the time and effort they are investing to keep our community safe."
"The Covid screening program has required input from every department at MIT Medical. The staff have enthusiastically supported this effort, accepting duties and tasks often quite different to their regular work," says Maureen Johnson, director of clinical operations and chief of nursing at MIT Medical. "The MIT Medical team keenly appreciates the importance of this surveillance program and its impact in maintaining a safe environment. It is greatly appreciated that the MIT community has responded with such patience and gratitude."
Testing hours have been expanded and the plan is to operate from 6 a.m. to 6 p.m. this week, although further adjustments may be necessary. All tests are being processed by the Broad Institute of MIT and Harvard, and the typical turnaround time is less than 24 hours.
Tzu-Chieh Tang, a graduate student in biological engineering, says the improvement throughout last week was apparent. On Monday morning, he gave up waiting after seeing how long the lines were, then returned Monday afternoon but still had to wait about an hour and a half. By Thursday morning, when he was due for his second test of the week, the entire process took only 20 minutes.
In the instance of a positive diagnosis, MIT Medical notifies all individuals who may have been exposed, and offers guidance and support on next steps.
"Our testing program is designed to identify cases quickly — both to safeguard the larger community and to support affected individuals with the care they need. The system is already enabling those of us who must come to campus to more safely pursue our jobs, research, and academics," Stuopis wrote in a letter to the MIT community on Friday.
MIT's working group on Covid-19 testing has estimated that between 9,000 and 17,000 people will have access to MIT's campus this fall, and that 14,000 to 30,000 tests will need to be performed every week.
( Press Release Image: https://photos.webwire.com/prmedia/7/263147/263147-1.jpg )
Related Links
WebWireID263147

This news content was configured by WebWire editorial staff. Linking is permitted.
News Release Distribution and Press Release Distribution Services Provided by WebWire.