Gartner Says General Counsel Should Pivot from Legal to Business Leadership
The Most Effective General Counsel Spend More Time on Executive Activities, Allowing Them to Maximize Contributions to Firm Outcomes
ARLINGTON, VA –
WEBWIRE
–
Monday, August 24, 2020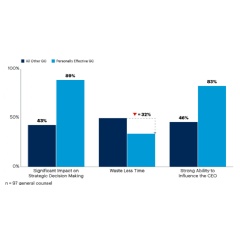 Figure 1. Impacts of Effective General Counsel. Source: Gartner (AUGUST 2020)
General counsel (GC) who spend a higher percentage of their time performing strategic work and supplying business guidance are more effective than those who spend less, according to Gartner Inc. These "Executive" GC are more likely to achieve their personal objectives, have greater influence with peer executives and contribute more to corporate outcomes.

"GC who spend more time on strategic work are simply more effective," said Abbott Martin, vice president, research, in the Gartner Legal and Compliance Practice. "In an era where corporate success is often defined by assets that legal protects (IP, data rights, reputation) and services legal provides (risk governance), GC are essential to corporate strategy and must focus their time accordingly. The pandemic—with the interdependence of governmental action and corporate response—has only heightened the importance of the GC."

The most effective GC, who take a more executive approach to their role, have a stronger ability to influence the CEO, and provide a significant impact on strategic decision making (see Figure 1).

Unfortunately, just 8% of GC perform a truly executive role with most (59%) performing tactical legal work and offering legal guidance rather than involving themselves in top-level strategy. GC often default to focusing primarily on the strictly legal aspects of the guidance they provide, failing to meaningfully incorporate extra-legal business considerations such as the impact of the law on strategic initiatives or the bottom line

Most CEOs, executive teams, and boards will consider and use their GC as their chief lawyer unless explicitly "trained" to use them differently.

"As a starting point, GC should think about the role they occupy and have a direct conversation with the CEO about long-term corporate needs," said Mr. Martin. "GC should rework their future commitments, so that they are keenly focused on the highest priority corporate goals and strategy."

Pivoting their time towards more strategic work will naturally lead to the GC being more closely involved in executive decision-making and execution, where they can add the most value to the organization. Making this shift requires GC to think carefully about how they spend their time, with whom and on what type of work. GC will always need to be involved in things like contract management, M&A and regulatory analysis. GC exhibiting business leadership focus on the strategic elements of that work. Moreover, the coronavirus pandemic has created many new legal and compliance issues for most companies, and decisions on the way forward will need expert legal involvement.

"COVID-19 might be a catalyst for action, but it's certainly not the end of the story of the importance of the GC being personally effective," said Mr. Martin. "The success of a modern company usually depends on its ability to generate revenue from the types of assets that typically fall within a GC's stewardship."

The challenge for most GC is to shift their approach to risk management and their mindset from a provider of legal services to a business leader who provides strategic and operational clarity to the company.

Gartner for Legal & Compliance clients can view the report Behaviors of Effective General Counsel for more details.

Non-clients can download Gartner's new report, 5 Things the Best General Counsel Do Differently, or watch the complimentary webinar Attributes of an Effective General Counsel to learn more.

About Gartner for Legal & Compliance

Gartner for Legal & Compliance provides the objective, expert advice and proven tools that legal and compliance leaders need to seize the right opportunities with clarity and confidence, and to stay ahead of the trends that matter. With in-depth research and analysis, Gartner for Legal & Compliance helps you focus on the opportunities with the greatest potential to deliver results. More information is available online at https://www.gartner.com/en/legal-compliance/role/legal-compliance-leaders. Follow us on LinkedIn to access the latest legal and compliance insights anytime, anywhere.

About Gartner

Gartner, Inc. (NYSE: IT) is the world's leading research and advisory company and a member of the S&P 500. We equip business leaders with indispensable insights, advice and tools to achieve their mission-critical priorities today and build the successful organizations of tomorrow.

Our unmatched combination of expert-led, practitioner-sourced and data-driven research steers clients toward the right decisions on the issues that matter most. We are a trusted advisor and an objective resource for more than 14,000 enterprises in more than 100 countries — across all major functions, in every industry and enterprise size.

To learn more about how we help decision makers fuel the future of business, visit gartner.com.
( Press Release Image: https://photos.webwire.com/prmedia/5/263130/263130-1.png )
Related Links
WebWireID263130

This news content was configured by WebWire editorial staff. Linking is permitted.
News Release Distribution and Press Release Distribution Services Provided by WebWire.