The Future of Pension Financing and Retirement Security under the New Normal
WEBWIRE
–
Thursday, August 20, 2020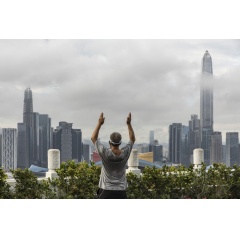 The Bloomberg Women's Buyside Network hosted an exclusive webinar on the future of pension financing and retirement security last month, featuring John Livanas, Chief Executive Officer, State Super; Geraldine Buckingham, Chair and Head of Asia Pacific, BlackRock; Ludovic Subran, Chief Economist, Allianz and moderated by Bloomberg's Executive Editor, Tracy Alloway.
As well as compelling us to re-examine our own health and future well-being, the COVID-19 pandemic has raised important questions about its impact on pension financing and what it tells us about economic recovery. Recent market dislocations affect investment returns and are pushing pension investing to modernize and embrace new technologies, markets and processes.
Opportunities in adversity
Starting off on a positive note, John Livanas highlighted that COVID-19 might present opportunities for investments, saying, "With careful examination, the changing demographics globally and the disruptive change that will likely be caused by COVID-19 can yield superior returns to risk."
Echoing those thoughts, Ludovic Subran noted that, "Pension systems are not being adequate and flexible enough," in the current situation. He added that, "We need to continue thinking about and proposing solutions before investors miss out on the opportunity in a very big manner."
Geraldine Buckingham noted however, persistent low interest rates, which began even before COVID-19, remained a major challenge for pension funds. "For savers and retirees, that is incredibly challenging because the traditional allocation strategies that people rely for retirement income will simply not be there, and they will have to do something different."
Changing social demographics and life expectancies must also be factored in for the future, Ludovic Subran said. "Problems are now twice as bad because of the higher life expectancy and longer retirement periods. We need to ensure that people who stay longer in retirement have a proper quality of life and that we don't create a generation of poor retirees because of a lack of preventive actions that addresses the issue of the longer time spent in retirement."
Best practices
As a positive example, Buckingham praised Australia's superannuation system. "The combination of the three pillars of a state-based pension, employer-based pension system and option for people to add individual savings means that Australia, despite only having 25 million people, actually has the fourth largest pension system in the world worth approximately AU$3 trillion, representing 130% of GDP."
Furthermore, people have easy access to more diversified and institutional-like investments, and the system incentivizes people to avoid prematurely taking out their retirement savings.
Among the various financial instruments available to institutional investors, Geraldine Buckingham highlighted a 'whole portfolio' approach that includes liquid alternatives. "What can help pension savers is an understanding of exposure and risk across the portfolio. With different correlations between different asset classes, it's important to consider a holistic asset allocation approach including liquid alternatives, low fee ETFs in addition to actively-managed solutions."
All three speakers also agreed on the importance of sustainability and ESG to drive better investment outcomes. John Livanas said, "In the current period of change and disruption, where expectations of future earnings are even more uncertain, evidence of strong corporate public governance, social responsibility, and environmental conduct may provide clues that differentiate successful investment opportunities from those that might well be disappointing."
China's potential to catch up
Meanwhile, China's retirement infrastructure is still evolving to address long-term financial security. Geraldine Buckingham said, "The government has been taking significant actions domestically and continuing to opening up to create more stable and deeper capital markets that go hand in hand with a healthy pension system. People have generally used equity markets for speculation rather than long-term wealth creation but there is a long-term opportunity in China for the government to establish an infrastructure for better retirement security."
John Livanas added, "The biggest issue in China is not so much about the capital, (it's about) the investment opportunities. I hope that there is not too much money, chasing too few assets."
Technology an enabler
Highlighting the importance of technology in the future of investing, Geraldine Buckingham said, "Technology can be incredibly powerful not just in deciphering data, but also in helping people understand the risk in their portfolio and modelling their portfolios and strategies that supports flexibility, optionality and interoperability."
"The world is not as before and we need to apply enhanced risk management and monitoring tools," John Livanas added.
Webinar replay: Click here to view the entire session
Bloomberg Women's Buy-side Network (BWBN) is an informal community for women in asset management in Asia. Launched in 2018 in Singapore, the network has expanded to local chapters in India and Hong Kong, helmed by some of the most influential buyside leaders including Virginie Maisonneuve and Dr. Mark Konyn. BWBN convenes women in the buyside on global investment trends, serves to promote inclusion in the industry and educate on the diversity of buyside careers through active mentorship. To find out more, please email bwbnhk@bloomberg.netor check out www.bloomberglp.com/bwbn.
Our full suite of sustainable finance solutions on the Bloomberg Terminal empowers asset owners, asset managers, issuers, regulators and more to identify, analyze and capitalize on material business risks such as climate risk and emerging sustainability opportunities such as low-carbon energy transition. For more information, visit www.bloomberg.com or request a demo.
( Press Release Image: https://photos.webwire.com/prmedia/7/262980/262980-1.jpg )
Related Links
WebWireID262980

This news content was configured by WebWire editorial staff. Linking is permitted.
News Release Distribution and Press Release Distribution Services Provided by WebWire.