Scholastic Reveals Winners of The Ickabog Illustration Competition
NEW YORK, NY –
WEBWIRE
–
Monday, August 17, 2020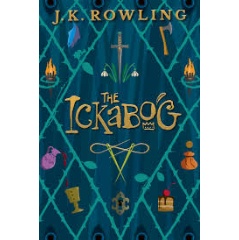 Scholastic, the global children's publishing, education and media company, announced the 34 winners that have been picked to illustrate J.K. Rowling's book The Ickabog. Selected from more than 42,000 entries submitted in the U.S. and Canada, the winners of the competition range in age from 7 to 12 years old.
The competition ran alongside the free online serialization of J.K. Rowling's fairy tale, The Ickabog. This summer, the author shared the personal family favorite, which she wrote over ten years ago as a bedtime story for her younger children, to help entertain children, parents, and caregivers confined at home during the Covid-19 pandemic. Keen for children to be involved as the story unfolded, J.K. Rowling invited them to illustrate her story, and be inspired by a host of colorful characters and a fast-paced plot as it appeared online.
Over seven weeks, as new installments of the story and illustration themes were released, children aged 7 to 12 drew, painted, and created 42,142 pictures, which their parents and guardians entered the competition for a chance for their child's artwork to be published in the printed book. The 34 winning entries spanned the U.S. and Canada from Texas to Toronto, Oklahoma to Ontario, British Columbia to District of Columbia, as well as California, Colorado, Connecticut, Massachusetts, Saskatchewan, New York, Hawaii, Illinois, Washington, Alberta, Virginia, and Florida.
The list of winners as well as a gallery of the winning illustrations has now been unveiled on The Ickabog website. 
The 34 winners will each be awarded a copy of the published book containing their artwork, signed by J.K. Rowling, and Scholastic will donate $650-worth of children's books to a school or public library of the winners' choice. The winners were selected by a panel of judges at Scholastic. J.K. Rowling was not a judge of the competition and did not influence the choice of winners, but she did share and comment on children's artwork online.
Ellie Berger, President of Scholastic's Trade Division, commented:
"With over 42,000 entries submitted, it's been incredibly exciting to see all the wonderfully imaginative hand-drawn illustrations by talented children who were inspired by the rich storytelling, powerful and positive themes, and delightful cast of characters in The Ickabog. Although it's been a challenge to choose just 34 illustrations, we've been amazed by the winners' colorful interpretations of the story, all of which show incredible imagination, whimsy, and creativity. The hopeful message of this classic fairy tale by J.K. Rowling will resonate with readers of all ages and we are thrilled to publish The Ickabog this fall." 
J.K. Rowling said:
"I'd like to thank every single child who submitted pictures for The Ickabog illustration competition. Looking through the artwork online has been a joy and I know I'm far from alone in marvelling at the talent on display. I'd love to think The Ickabog gave some future artists and illustrators their first public exposure. For me, the most exciting part of publishing The Ickabog has been seeing all the wonderful illustrations coming in although I didn't judge the illustration competition. I'd probably have put them all in the book if I could!" 
The North American edition of J.K. Rowling's The Ickabog, an original fairy tale, will be published by Scholastic in jacketed hardcover ($26.99 US / $36.99 CAD) and as an ebook ($17.99 US / $19.99 CAD) on November 10, 2020 and will be available in the U.S. and Canada. 
The English language audio edition will be available exclusively from Audible. 
J.K. Rowling is donating her royalties through her charitable trust, The Volant Charitable Trust, to assist groups who have been particularly impacted by the Covid-19 pandemic in the UK and internationally.
About The Ickabog:
From J.K. Rowling, a warm, fast-paced, funny fairy tale of a fearsome monster, thrilling adventure, and hope against all odds.
Once upon a time there was a tiny kingdom called Cornucopia, as rich in happiness as it was in gold, and famous for its food. From the delicate cream cheeses of Kurdsburg to the Hopes-of-Heaven pastries of Chouxville, each was so delicious that people wept with joy as they ate them. 
But even in this happy kingdom, a monster lurks. Legend tells of a fearsome creature living far to the north in the Marshlands… the Ickabog. Some say it breathes fire, spits poison, and roars through the mist as it carries off wayward sheep and children alike. Some say it's just a myth…
And when that myth takes on a life of its own, casting a shadow over the kingdom, two children— best friends Bert and Daisy—embark on a great adventure to untangle the truth and find out where the real monster lies, bringing hope and happiness to Cornucopia once more.
Featuring full color illustrations by children from across the United States and Canada, this original fairy tale from one of the world's most celebrated storytellers will captivate readers of all ages.
About the author:
J.K. Rowling is the author of the seven Harry Potter books, first published between 1997 and 2007. The adventures of Harry, Ron and Hermione at Hogwarts School of Witchcraft and Wizardry have sold over 500 million copies, been translated into over 80 languages, and made into eight blockbuster films. Alongside the book series, she has written three short companion volumes for charity, including Fantastic Beasts and Where to Find Them, which later became the inspiration for a new series of films, also written by J.K. Rowling.
She then continued Harry's story as a grown-up in a stage play, Harry Potter and the Cursed Child, which she wrote with playwright Jack Thorne and director John Tiffany, and which has been playing to great acclaim in theatres in Europe, North America and Australia.
J.K. Rowling has received many awards and honors for her writing. She also supports a number of causes through her charitable trust, Volant, and is the founder of the children's charity Lumos, which fights for a world without orphanages and institutions, and reunites families.
For as long as she can remember, J.K. Rowling has wanted to be a writer, and is at her happiest in a room, making things up. She lives in Scotland with her family.
About Scholastic: 
For 100 years, Scholastic Corporation (NASDAQ: SCHL) has been encouraging the personal and intellectual growth of all children, beginning with literacy. Having earned a reputation as a trusted partner to educators and families, Scholastic is the world's largest publisher and distributor of children's books, a leading provider of literacy curriculum, professional services, and classroom magazines, and a producer of educational and entertaining children's media. The Company creates and distributes bestselling books and e-books, print and technology-based learning programs for pre-K to grade 12, and other products and services that support children's learning and literacy, both in school and at home. With 15 international operations and exports to 165 countries, Scholastic makes quality, affordable books available to all children around the world through school-based book clubs and book fairs, classroom libraries, school and public libraries, retail, and online. Learn more at www.scholastic.com.
( Press Release Image: https://photos.webwire.com/prmedia/6/262825/262825-1.jpg )
Related Links
WebWireID262825

This news content was configured by WebWire editorial staff. Linking is permitted.
News Release Distribution and Press Release Distribution Services Provided by WebWire.