The bill for parents whose children have flown back to the nest during lockdown comes in at £2,700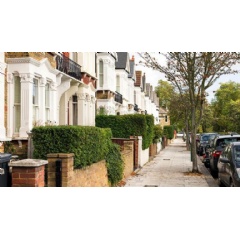 The biggest increase in outgoings are household bills, entertainment and lifestyle subscriptions as well as food
Only 10% of parents have been charging their kids rent, with a quarter (24%) admitting this is down to feeling awkward asking their children to contribute
For many parents it's not been about the money, as 29% said it was worth the additional costs to have their offspring stay
Dr Peter Brooks, Barclays Head of Behavioural Science, shares his top tips for talking to family members about money
New research from Barclays reveals adult children who boomeranged back to their parents' home during the lockdown period have totted up an average bill of £2,702.28* in extra household costs.
The top weekly household contributors are increased bills (£55.29), subscription services such as Netflix, Amazon Prime and meal delivery boxes (£28.18) as well as the food shop itself (£25.30).**
Yet despite this significant increase in outgoings, the majority of parents (90%) haven't charged their children rent, with a quarter (24%) admitting this is down to feeling awkward asking for extra money to support.
However, more than half of adult children (51%) have made some financial contribution to the family home where it's been possible - the average amount chipped in is £29.57 a week, which more than covers the increase in the food shop bill.
And nearly all adult children (91%) are finding other ways to help their parents out whilst staying with them by helping out with household chores. Cooking (57%) is the most popular way to earn some brownie points, followed by washing up (50%) and cleaning (46%).
Jo Harris, Head of Barclays Money Mentors, said: "As someone who has moved in with their parents during lockdown, I know first-hand how much of an adjustment it can be and how uncomfortable approaching the topic of money can feel.
"Like many, I've been very fortunate that my parents haven't charged me rent but I think it's really important to keep communication as open and honest as possible, so we did have a frank chat about how I would contribute during my time back at home."
For many parents it's not been about the money, as 29% said it was worth the additional costs to have their offspring stay. Over half (51%) say they've felt relieved knowing their child has been safe during this time, 55% are grateful for the time they've spent together and over a third (38%) have said the additional time at home has made their relationship stronger.
Jo continued: "It's great to see that there have been some positives to come from these strange times as families have spent unexpected quality time together.
"However, for anyone who moved back home due to a change in their financial situation, or is re-evaluating their future goals, I'd encourage you to reach out to our Money Mentors team who are on hand to provide free, impartial guidance on managing your finances as effectively as possible or give you guidance on how you can save towards your goals."
Anyone with concerns about their finances can also visit the Money Worries Hub for practical advice and support.
Barclays Money Mentors offers customers and non-customers free, impartial guidance on spending or saving money as well as helping people clear up money concerns.
Visit www.barclays.co.uk/money-mentors to find out more and book an appointment.
Barclays Head of Behavioural Science, Dr Peter Brooks, shares his top tips for talking to your children about money:
Be open about your desire to talk about money. Trying to slip it into conversation will be tricky. Rather than skirt around the subject or ambush your children, proactively raise the fact you'd like to talk about money and agree a time where you can all sit down and talk through a plan that works for everyone. Depending on yours and your child's circumstances, bear in mind that they might feel nervous to discuss their finances. Talking about money is important, and broaching the subject in a reassuring and understanding way will help put them at ease.
Keep calm. Make sure any conversations about money are held in a relaxed environment – maybe even outside of the home - where both you and your children feel calm and at ease and therefore you will all be more open to having a productive discussion.
Mind your language. When having conversations about money, explain how you feel through open and honest language. It is less likely to be interpreted as confrontational or challenging and will help encourage honest conversations on both sides. As well as communicating your own agenda, remember that it's also important to listen to your child's thoughts. This is about working together to get to a solution that works for everyone.
It's not all about the money. Keep in mind that a monetary contribution might not be the only answer. If they are unable to make a financial contribution or you'd prefer they didn't, suggest they could help out with a regular household task such as preparing family meals, or ask them to give you a hand with your latest DIY home improvement project. Not only will you get the benefit of their help, it will also help them to know they are contributing. 
Be aware of the changing family dynamic. For many, their children were in their late teens when they last lived with them full time. Be mindful not to revert back to the same parenting role, being respectful of the fact that you're both in a different phase of your lives. Be understanding that they have grown up and have led their own independent life, and might approach things differently to you.
------
Censuswide surveyed 1,000 parents who have had their children aged 18 and over return home during lockdown. Fieldwork was carried out 31.07.2020 - 10.08.2020
*Calculated by the average length of time children moved in with their parents during lockdown for (10.5 weeks) times the total increase in weekly outgoings (£257.36)
* All stats relating to increases in costs are based on respondents whose costs have increased overall
Breakdown of the average increase in the amount spent on household costs whilst children have been at home:
Subscriptions – £28.18
Petrol – £26.59
Internet – £26.55
Food Shopping – £25.30
Heating bill – £22.33
Wine, Beer, Spirits – £22.09
Takeaways – £19.75
Cleaning Products – £19.09
Miscellaneous costs – £18.58
Water bill – £18.20
Toiletries – £15.93
Electricity bill - £14.76
( Press Release Image: https://photos.webwire.com/prmedia/6/262753/262753-1.jpg )
Related Links
WebWireID262753

This news content was configured by WebWire editorial staff. Linking is permitted.
News Release Distribution and Press Release Distribution Services Provided by WebWire.