Vaginal ring for HIV prevention receives positive opinion from European regulator
NIAID celebrates pivotal step toward expanding HIV prevention choices for women.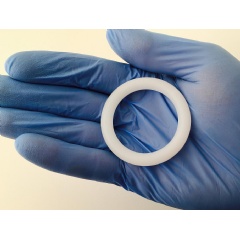 A silicone vaginal ring identical to those used in the ASPIRE trial.Vaginal Ring
Today the European Medicines Agency (EMA) announced it has adopted a positive scientific opinion on the dapivirine vaginal ring for use by cisgender women ages 18 and older in developing countries to reduce their risk of HIV infection. This milestone marks an important step toward expanding the number of biomedical HIV prevention options available to women in sub-Saharan Africa, who are among those most affected by the HIV epidemic. The National Institute of Allergy and Infectious Diseases (NIAID), part of the National Institutes of Health, thanks and congratulates everyone who led, conducted and participated in the research that led to the positive opinion.
The dapivirine ring is made of flexible silicone and continuously releases the anti-HIV drug dapivirine in the vagina. The user replaces the long-acting product herself once a month.
More than a third of the 1.5 million new cases of HIV worldwide among adults ages 15 and older in 2019 were in women in sub-Saharan Africa, according to UNAIDS. Women currently have limited HIV prevention options, and many women are unable to negotiate condom use with male sexual partners. Women need choices of discreet HIV prevention tools that they can initiate, and the dapivirine ring is one such tool.
Two large clinical trials of the dapivirine ring, one of which was funded in part by NIAID, found the product reduced the risk of HIV infection by roughly 30 percent overall in cisgender women ages 18 to 45 years in east and southern Africa. However, the NIAID trial found the ring provided no statistically significant protection in cisgender women younger than 25 years, likely due to low product use. These trials were conducted by NIAID's partners in research on the dapivirine ring: the NIH-funded Microbicide Trials Network (MTN) and the nonprofit International Partnership for Microbicides (IPM). The NIAID trial was also funded by the Eunice Kennedy Shriver National Institute on Child Health and Human Development (NICHD) and the National Institute on Mental Health (NIMH), both part of NIH.
The dapivirine ring was designed and developed by IPM, which is the regulatory sponsor of the product. IPM applied for a scientific opinion on the dapivirine ring from EMA through a procedure called Article 58. In cooperation with the World Health Organization (WHO), this procedure is designed to facilitate access to medicines intended to treat or prevent diseases of major public health interest in low- and middle-income countries outside the European Union.
The positive scientific opinion from EMA reflects its assessment of the quality, safety, efficacy and benefit-risk balance of the dapivirine ring. As stated on its website(link is external), EMA applies the same rigorous standards to its assessment of medicines reviewed through Article 58 as it does for medicines to be marketed within the European Union.
WHO may now include the dapivirine ring in its recommendations and guidelines for HIV prevention. WHO also will consider the product for prequalification, a global quality assurance designation for medicines. In addition, in collaboration with WHO, IPM will seek approval for the ring from African national regulatory authorities so it can be offered in countries where women face a very high risk for HIV.
As the EMA has requested, IPM will conduct additional research among cisgender women ages 18 to 25 years to better understand the ring's efficacy and to collect additional data on safety and potential resistance to anti-HIV drugs. Results from this study could also inform strategies to support young women to use the ring consistently.
NIAID, NICHD and NIMH support three ongoing and planned studies—REACH, DELIVER and B-PROTECTED—to examine the safety of the dapivirine ring during adolescence and pregnancy, when the risk of HIV acquisition is heightened, and during periods of breastfeeding, when transmission to infants may occur. These essential MTN-conducted studies could inform next steps on potentially expanding the indication for the ring to women throughout their lives.
NIAID supports research on a wide variety of HIV prevention tools with the aim of making multiple options available to suit the varying needs of diverse populations. The institute will continue to invest in developing safe and effective HIV prevention technologies to expand choices for all.
More information about the EMA opinion on the dapivirine ring is available in a set of questions and answers on the NIAID website.
NIAID conducts and supports research—at NIH, throughout the United States, and worldwide—to study the causes of infectious and immune-mediated diseases, and to develop better means of preventing, diagnosing and treating these illnesses. News releases, fact sheets and other NIAID-related materials are available on the NIAID website. 
About the National Institutes of Health (NIH): NIH, the nation's medical research agency, includes 27 Institutes and Centers and is a component of the U.S. Department of Health and Human Services. NIH is the primary federal agency conducting and supporting basic, clinical, and translational medical research, and is investigating the causes, treatments, and cures for both common and rare diseases. For more information about NIH and its programs, visit www.nih.gov.
NIH…Turning Discovery Into Health®
( Press Release Image: https://photos.webwire.com/prmedia/5/261954/261954-1.jpg )
Related Links
WebWireID261954

This news content was configured by WebWire editorial staff. Linking is permitted.
News Release Distribution and Press Release Distribution Services Provided by WebWire.