Coca-Cola Reports Second Quarter 2020 Results; Provides Update on Strategic Actions in Rapidly Evolving Business Climate
ATLANTA –
WEBWIRE
–
Tuesday, July 21, 2020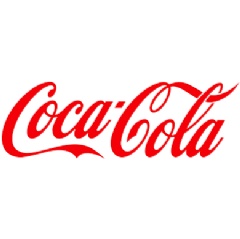 Global Unit Case Volume Declined 16% 
Net Revenues Declined 28%;
Organic Revenues (Non-GAAP) Declined 26%
Operating Income Declined 34%; Comparable Currency Neutral Operating Income (Non-GAAP) Declined 25%
Operating Margin Was 27.7% Versus 29.9% in the Prior Year;  Comparable Operating Margin (Non-GAAP) Was 30.0% Versus 30.3% in the Prior Year
EPS Declined 32% to $0.41; Comparable EPS (Non-GAAP) Declined 33% to $0.42
The Coca-Cola Company today reported second quarter 2020 results and provided an update on strategic actions that are positioning the system to emerge stronger from the ongoing coronavirus pandemic. The Coca-Cola system remained agile in the second quarter, with a focus on maintaining a safe environment for employees while also providing necessary products and services to consumers, customers and communities during this unprecedented time.
"I'm proud of the people of the Coca-Cola system as we continue to adjust and accelerate our strategies in this fast- changing landscape," said James Quincey, chairman and CEO of The Coca-Cola Company. "We believe the second quarter will prove to be the most challenging of the year; however, we still have work to do as we drive our pursuit of 'Beverages for Life' and meet evolving consumer needs."
Highlights
Quarterly Performance
Revenues: Net revenues declined 28% to $7.2 billion. Organic revenues (non-GAAP) declined 26%. Revenue performance included a 22% decline in concentrate sales and a 4% decline in price/mix. The revenue declines were primarily driven by pressure in away-from-home channels, which represent approximately half of the company's revenues.
Margin: Operating margin, which included items impacting comparability, was 27.7% versus 29.9% in the prior year, while comparable operating margin (non-GAAP) was 30.0% versus 30.3% in the prior year. Operating margin contraction was primarily driven by top-line pressure and currency headwinds, partially offset by effective cost management.
Earnings per share: EPS declined 32% to $0.41, and comparable EPS (non-GAAP) declined 33% to $0.42.
Market share: The company lost value share in total nonalcoholic ready-to-drink (NARTD) beverages as an underlying share gain was more than offset by negative channel mix due to pressure in away-from-home channels, where the company has a strong share position.
Cash flow: Year-to-date cash from operations was $2.8 billion, down 38%. Free cash flow (non-GAAP) was $2.3 billion, down 40%.
Business Environment and Strategic Actions Update
Since the company's last earnings update in April, global unit case volume trends have improved sequentially, from a decline of approximately 25% in April to a decline of approximately 10% in June. Unit case volume for July month-to- date was down mid single digits globally. Performance has been driven by improving trends in away-from-home channels, along with sustained, elevated sales in at-home channels.
The improvement in away-from-home trends during the quarter closely correlated with the easing of lockdowns, and the company expects this correlation to continue in the second half of 2020. While the company believes the second quarter will be the most severely impacted quarter of the year, given the ongoing uncertainty surrounding the coronavirus pandemic and levels of lockdown, the ultimate impact on full year 2020 results is unknown. The company's balance sheet remains strong, and the company is confident in its liquidity position as it continues to navigate through the crisis.
Despite the high degree of uncertainty, the company is committed to emerging stronger by gaining share and consumers, maintaining strong system economics, strengthening its reputation with stakeholders and positioning the organization to win in the new reality.
The company is accelerating its strategy to accomplish these goals. This includes focusing investments against a defined growth portfolio by prioritizing brands best positioned for consumer reach and share advantage. The company will also streamline the innovation pipeline against initiatives that are scalable regionally or globally as well as maintain a disciplined approach to local experimentation in order to further strengthen the company's leader, challenger and explorer framework. The portfolio will be supported by a refreshed marketing approach, with a step- change in marketing investment effectiveness and efficiency. The company will also lead the Coca-Cola system in driving system-wide efficiencies to support these investments, and will invest in new capabilities to capitalize on emerging, lasting shifts in consumer behaviors.
Company Updates
Refresh the world, make a difference: In the midst of unprecedented challenges, the company remains grounded in its purpose. For example, The Coca-Cola Foundation has partnered with the world's largest humanitarian network, the International Red Cross and Red Crescent Movement, to help provide hospitals with critical medical equipment and supplies; to support community relief programs; and to fund public coronavirus education and awareness campaigns. The partnership has supported programs in more than 60 countries, reaching an estimated 7.5 million people impacted by the pandemic.
Driving relevance with loved brands: In the first original ad during the pandemic for brand Coca-Cola, the company celebrates the rediscovered joy in sharing a meal with loved ones. "The Great Meal" features 13 real households in eight countries preparing and sharing home-cooked meals over an ice-cold Coca-Cola, bringing to life the comfort and authenticity of the brand's connection to food. "The Great Meal" kicks off a global campaign for brand Coca-Cola, "Together Tastes Better," which is rolling out this month. This modular, digital-first campaign was created for Coca-Cola teams around the world to tailor and localize for their markets and platforms. "Together Tastes Better" is the latest example of how the company is leveraging marketing investments for the highest impact and largest reach.
Innovating quickly to address consumer needs: The company recently announced plans to roll out a new pouring option to meet consumer needs with its latest Coca-Cola Freestyle technology innovation – contactless, mobile pouring using a smartphone. As the coronavirus pandemic continues to reshape consumer behaviors, the contactless Coca-Cola Freestyle solution allows consumers to choose and pour drinks in just a few seconds, without creating an account or downloading an app. The mobile experience is rolling out to Coca-Cola Freestyle dispensers across the United States by the end of the year.
Addressing social justice concerns: The company is taking a multi-faceted approach to social justice, focusing on listening, leading, investing and advocating. This includes meeting with stakeholders, employees and other business leaders. The company has paused social media activity for July to review policies, including its own, and to hold partners to a higher level of accountability and transparency. The company has committed to spend an incremental $500 million with Black-owned suppliers over the next five years in the United States. In support of social justice, The Coca-Cola Foundation has contributed $4 million to several initiatives and, to date, the company has contributed an additional $1.3 million through brands Coca-Cola and Sprite.
Notes
All references to growth rate percentages and share compare the results of the period to those of the prior year comparable period.
All references to volume and volume percentage changes indicate unit case volume, unless otherwise noted. All volume percentage changes are computed based on average daily sales, unless otherwise noted. "Unit case" means a unit of measurement equal to 192 U.S. fluid ounces of finished beverage (24 eight-ounce servings), with the exception of unit case equivalents for Costa non-ready-to-drink beverage products which are primarily measured in number of transactions. "Unit case volume" means the number of unit cases (or unit case equivalents) of company beverages directly or indirectly sold by the company and its bottling partners to customers or consumers.
"Concentrate sales" represents the amount of concentrates, syrups, beverage bases, source waters and powders/minerals (in all instances expressed in equivalent unit cases) sold by, or used in finished beverages sold by, the company to its bottling partners or other customers. For Costa non-ready-to-drink beverage products, "concentrate sales" represents the amount of coffee beans and finished beverages (in all instances expressed in equivalent unit cases) sold by the company to customers or consumers. In the reconciliation of reported net revenues, "concentrate sales" represents the percent change in net revenues attributable to the increase (decrease) in concentrate sales volume for the geographic operating segments and the Global Ventures operating segment after considering the impact of structural changes. For the Bottling Investments operating segment, this represents the percent change in net revenues attributable to the increase (decrease) in unit case volume computed based on total sales (rather than average daily sales) in each of the corresponding periods after considering the impact of structural changes. The Bottling Investments operating segment reflects unit case volume growth for consolidated bottlers only.
"Price/mix" represents the change in net operating revenues caused by factors such as price changes, the mix of products and packages sold, and the mix of channels and geographic territories where the sales occurred.
First quarter 2020 financial results were impacted by one less day as compared to the same period in 2019, and fourth quarter 2020 financial results will be impacted by two additional days as compared to the same period in 2019. Unit case volume results for the quarters are not impacted by the variances in days due to the average daily sales computation referenced above.
( Press Release Image: https://photos.webwire.com/prmedia/6/261795/261795-1.png )
Related Links
WebWireID261795

This news content was configured by WebWire editorial staff. Linking is permitted.
News Release Distribution and Press Release Distribution Services Provided by WebWire.