EverybodyFights Live Streams Fitness Events with ATEM Mini Pro and Pocket Cinema Camera 6Ks
Fremont, CA –
WEBWIRE
–
Tuesday, July 14, 2020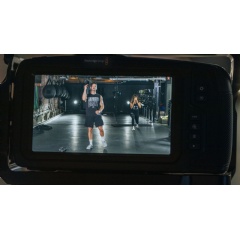 Blackmagic Design announced that George Foreman III's boxing fitness brand EverybodyFights is leveraging the ATEM Mini Pro live production switcher and Blackmagic Pocket Cinema Camera 6Ks to deliver their best in class boxing experience to the at home fitness market. This was recently introduced during a series of live streamed virtual events for charity, created to help members stay active and connected with others in the fitness community while at home.
EverybodyFights trains its members with Foreman's patented fitness classes and programming designed after a real fighter's training camp. EverybodyFights is the home of boxing fitness with 12 brick and mortar locations and an online platform, EverybodyFights LIVE (ebf.live), which provides a complete fitness regime that can be leveraged in gym, on the app, or at home. The new series of EverybodyFights virtual events features boxing workouts and include partnerships with charity organizations, restaurants, music performances and more.
EverybodyFights is teaming up with longtime friend and filmmaker Rob Maloof, producer and DP at Gauntlet Films, for the live streams that are shot in their Boston, MA facility. Maloof uses three Pocket Cinema Camera 6Ks to shoot the instructors' workouts, which are connected via HDMI to an ATEM Mini Pro. The content is then fed via USB-C to Maloof's Mac Mini, where it is streamed on EverybodyFights LIVE.
"The ATEM Mini Pro is the backbone of our production. Even though it's small, it's extremely powerful and it allows me to create a rich multi camera production," Maloof explained. "When paired with the Pocket Cinema Camera 6Ks, I am able to control each camera seamlessly and maintain visual consistency across the board. I also appreciate that after each event is over, I can come back and hit restore in the ATEM Software Control and all of my previously selected settings for the media player and for the cameras, such as iris and shutter, are back to what they were."
During the workouts, the instructor's wireless headset audio is sent through one of the ATEM Mini Pro's mic inputs, allowing real time audio without delay. Maloof also takes advantage of the built in Fairlight audio mixer which provides EQ and dynamics on every input into the board. Additionally, the team uses the ATEM Mini Pro's built in DVE for picture in picture effects so participants at home can see countdown timers and graphics illustrating which exercises are coming up next during the workout. The custom graphics are imported into the ATEM Mini Pro's media player and routed through its downstream keyer, all of which is managed via its ATEM Software Control.
"Using the ATEM Software Control on my laptop is incredibly helpful since I can control everything from just one place," said Maloof. "Additionally, having the video out buttons on the panel are great because I can easily toggle through each output and check the multiview, which is incredibly helpful when troubleshooting on the fly."
To keep the streams dynamic, the team sets up one of the Pocket Cinema Camera 6Ks on a tripod in front of the instructor to capture wide shots, another one on the side for tighter shots, and the third on the floor for a worm eye view looking up.
"We want to keep the instructor's workouts as interactive as possible because they take place in the same area for the duration and we don't want them to feel static. Also, it's extremely important to capture all of the instructor's movements in detail for viewers to follow at home," said Maloof. "To do this, I use the first Pocket Cinema Camera 6K for wide shots and the second one for tight shots of the instructor's hands and feet, with the third camera positioned on the floor next to the instructor's laptop to capture the action when they run over to interact with participants via the live chat during the stream."
Due to the cameras' recent software update, they now have studio camera features so Maloof can use the ATEM Mini Pro to control their parameters, lenses, tally lights, and more. "Since the workouts are nonstop without breaks built in for direction, I use the tally lights to easily indicate where the instructors should focus," Maloof added. "Because it's just me running these events, having small cameras that are easy to handle and set up is vital. They are simple to use and the menu is very user friendly, which allows me to hit the ground running and shoot the events smoothly without needing additional crew members on set."
Maloof concluded, "Using the Pocket Cinema Camera 6Ks on these events really allows us to deliver a top notch viewing experience to our audience, especially when paired with the ATEM Mini Pro. It's everything I could have expected from a larger switcher, but less expensive and even easier to manage."
Following the continuous success of the Boston events, EverybodyFights will be recreating similar virtual events from their other locations to keep those at home healthy and connected.
Press Photography
Product photos of ATEM Mini Pro and Pocket Cinema Camera 6K as well as all other Blackmagic Design products, are available at www.blackmagicdesign.com/media/images.
About EverybodyFights®
EverybodyFights is The Home of Boxing Fitness. It is the only authentic, boxing inspired, group fitness brand modeled after a professional boxer's training camp. Featuring a five-part class series that incorporates every aspect of training camp, from boxing technique and conditioning to yoga and recovery, EverybodyFights is the authority in boxing fitness. With 12 brick and mortar locations and an online platform, EverybodyFights LIVE, provides a complete fitness regime that can be leveraged in-gym, on the app, or at home.
The ethos of the brand has always upheld that "everybody fights" for something. Over time, members began referring to the gym as "EverybodyFights." Foreman and co-founder Anthony J. Rich changed the company's name to EverybodyFights to honor its community and the fighting spirit that birthed the company itself. For more, go to www.everybodyfights.com.
About Blackmagic Design
Blackmagic Design creates the world's highest quality video editing products, digital film cameras, color correctors, video converters, video monitoring, routers, live production switchers, disk recorders, waveform monitors and real time film scanners for the feature film, post production and television broadcast industries. Blackmagic Design's DeckLink capture cards launched a revolution in quality and affordability in post production, while the company's Emmy™ award winning DaVinci color correction products have dominated the television and film industry since 1984. Blackmagic Design continues ground breaking innovations including 6G-SDI and 12G-SDI products and stereoscopic 3D and Ultra HD workflows. Founded by world leading post production editors and engineers, Blackmagic Design has offices in the USA, UK, Japan, Singapore and Australia. For more information, please go to www.blackmagicdesign.com.
Download Assets
EverybodyFights 1 - 1800x1200 - 3039 KB - Download Image
EverybodyFights 2 - 1408x772 - 1930 KB - Download Image
EverybodyFights 3 - 1428x790 - 2425 KB - Download Image
EverybodyFights 4 - 2000x1500 - 6626 KB - Download Image
( Press Release Image: https://photos.webwire.com/prmedia/7/261454/261454-1.jpg )
Related Links
WebWireID261454

This news content was configured by WebWire editorial staff. Linking is permitted.
News Release Distribution and Press Release Distribution Services Provided by WebWire.