What's protecting your Personal Protective Equipment?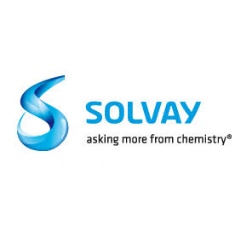 Solvay antioxidants ensure quality PPE to protect healthcare professionals
We hear a lot about Personal Protective Equipment, or PPE, these days, because it is so vital to safeguarding medical professionals and patients. While it may have taken a global pandemic for the term to become familiar to many of us, PPE has been protecting medical professionals from a range of health and safety risks since well before the COVID-19 crisis hit. But now, it's more important than ever that we ensure the highest quality PPE to protect healthcare professionals, and Solvay's portfolio of antioxidants plays a key role here. 
"Solvay's stabilization technology provides polymers the durability and processability needed by the medical industry to ensure high-quality end products," explains Sophie Poelmans, global marketing manager for Solvay's Polymer Additives group.
Safety web: Antioxidants for polymeric fibers
Personal Protective Equipment includes such things as surgical caps and gowns, booties, face masks, respirators and more. To make highly  effective PPE, manufacturers use non-woven, or spunbond fibers, because their micro-fiber structure delivers the fine pore size that provides superior protection. Spunbond fibers can be layered to create a web, which makes them more effective for medical products. This microporous web is what filters out water vapor, viruses, bacteria, fungi and other substances that pose a risk to medical professionals or their patients.
Adding antioxidants is a great way to make manufacturing more efficient and improve the quality of the final product for polymeric materials of all sorts, from car components to consumer goods to wiring and cable, to name a few uses. For medical applications, antioxidants play an absolutely essential role by enabling the  polymer to remain stable and sufficiently breathable, for better protection.
Stable and consistent: Antioxidants for polyolefins
When producing spunbond-based products through extrusion, antioxidants are used to enhance processing stability and fiber quality. Antioxidants for polyolefins and other plastics improve fiber consistency with less filament damage during processing. They also allow for smaller pores between fibers for more effective filtration, which is essential for medical applications. Without the use of antioxidants, it would be much more difficult to process these polymeric fibers and would result in shoddy products.
Form and function: Antioxidants for sterile medical applications
Solvay's antioxidants for sterile medical applications, CYANOX® 1790 and CYANOX® 2777, are formulated to improve the stability of polymeric materials and promote consistent melt viscosity in polymers to meet the demanding needs of PPE manufacturers. These antioxidants for polyolefins enable the polymer to stand up to repeated cycles of high heat and oxygen during production. Thus, the fibers maintain their form throughout the manufacturing process, ensuring that they meet the strict requirements for PPE products like masks and gowns.
Another area where antioxidants make a big difference is in protecting PPE against unsightly yellow staining during shipping and storage. Yellowing can be a real problem, resulting in the perception of a substandard product.  Antioxidants such as CYANOX® 2777 have documented high gas fade resistance (resistance to color change). Their synergistic properties protect the quality, non-yellowing color stability, and performance of medical masks, gowns and other PPE throughout storage and usage. 
Crack-resistant: Antioxidants for latex-related applications
Antioxidants are also critical for latex-related applications to reduce the risk of oxidation and improve durability. Latex is a key component in medical products like gloves but is prone to cracking and breaking. This is why polymer additives, especially antioxidants, are crucial. Solvay's CYANOX® 425 and CYANOX® 2246 antioxidants work exceptionally well in latex applications to improve durability and thus ensure the safety of medical professionals. 
We have all witnessed or heard about how high-quality Personal Protective Equipment, including surgical face masks, respirators and more, has been so vital in protecting medical professionals and patients during this trying time. Solvay's portfolio of antioxidants plays a central role in ensuring the highest quality of medical masks, gowns and more for the medical profession.
( Press Release Image: https://photos.webwire.com/prmedia/6/261326/261326-1.jpg )
Related Links
WebWireID261326

This news content was configured by WebWire editorial staff. Linking is permitted.
News Release Distribution and Press Release Distribution Services Provided by WebWire.