Bloomberg hosts first Access India Dialogue with GIFT City
Dipesh Shah, head of IFSC dept. at GIFT City, discusses the journey forward in attracting global investors and establishing India as an international financial services center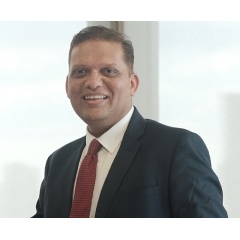 The Indian Government under Prime Minister Narendra Modi is working towards a vision of making India a $5 trillion economy and a global economic powerhouse by 2024-25. An important aspect of this journey is India's ability to attract global investors and funds to the country, and the ease in market access. In some ways, this would help India become self-reliant in terms of International Financial Services. The Bloomberg Access India Dialogue is an exclusive series featuring in-depth conversations with pre-eminent thought leaders on the opportunities and challenges ahead as India charts its course towards the $5 trillion GDP aspiration.
In the first edition of the Access India Dialogues, Bloomberg hosted Dipesh Shah, Head of International Financial Services Center dept., Gujarat International Finance-Tec (GIFT) City, for an exclusive discussion on how GIFT is positioning itself as the gateway to the Indian growth story
Why GIFT IFSC 
A game changer in India's growth aspiration is the setting up and operationalizing International Financial Services Center (IFSC) in line with global centers like Singapore, Hong Kong, London and New York. An IFSC caters to customers inside and outside the jurisdiction of the domestic economy and deals with flows of finance, financial products and services across borders.
While Mr. Shah maintains that it's still early days, over 100 brokerage firms and 19 insurance firms have commenced operations from GIFT IFSC, and 13 banks have set up IFSC Banking units there and have already crossed business transactions of $28 billion. With the recent launch of foreign exchange settled rupee derivatives from the India International Exchange (INX) & National Stock Exchange (NSE) at the IFSC, GIFT City is steadily growing its portfolio of products. The GIFT IFSC now has the capability of listing global depository receipts (GDRs) and they are working on setting up India's first international bullion exchange (on the lines of the Shanghai Gold Exchange), with a hope to channel all gold imports and exports from there.
GIFT IFSC was ranked 3rd among the 15 centers globally that will become more significant in few years by Global Financial Center Index, London in 2019. GIFT City is also a COVID free zone with no loss of working hours during the current global pandemic.
Catalyzing India's Growth
"Globally, once an international financial services center gets developed, it tends to contribute to 5-10 percent of GDP and generates 5% of jobs in the country. Some recent estimates also suggest that if India builds an IFSC with suitable rules and regulations, earnings out of the financial sector exports will surpass the IT sector," said Mr. Shah. It is estimated that India's demand for International Financial Services would be around $120 bn by 2025. This large hinterland demand can be served from India's own Offshore Financial Center at GIFT City.
Currently, GIFT City has more than 225 companies that employ around 10,000 people.11% India's financial services exports have started taking place from GIFT IFSC, and their ambition is that GIFT ultimately becomes a gateway for all inbound and outbound financial services. "Our target for the year 2030 is to generate 75,000 jobs, set up 500 fin services cos at GIFT ISFC, and $1 trillion fund raising from here. Our vision is to be the international arm of the Indian financial journey," he added.
GIFT IFSC provides a platform to other countries in Africa and South East Asia, to raise funds from investors across the world. "The Government's vision for GIFT City in India provides a great opportunity to bridge the gap Hong Kong has created. It will play a very large role in international financial services. If India requires 2-3 trillion dollars for manufacturing, infrastructure etc. over the next ten years, then almost one trillion dollars can be raised through GIFT City, whether it is through masala bonds, or foreign currency bonds or equities," said Mr. Shah.
Helping global funds access India
Mr. Shah hopes to attract Indian companies that have ambitions of overseas listings and global fund raising to list at GIFT IFSC. "Our top priority is to get the India Centric offshore funds to be onshored in GIFT IFSC and also to provide platform to Indian companies to list and start raising funds from GIFT. Once this picks up, it will provide big boost to th capital markets business in GIFT IFSC. The advantage is that these companies can access international investors through this platform without taking the trouble of listing elsewhere," he explained. For now, Average daily trading volumes on the international exchanges at GIFT has reached almost $4 billion and cumulative trading turnover crossed $800 billion. The dollar-rupee (USD-INR) trading is roughly around $250 million per day within few weeks of launch of this product.
According to him, close to $50 billion of offshore bonds including masala bonds have been listed at GIFT, a figure that could rise significantly with more and more Indian Corporates utilising this platform for global fund raising. GIFT IFSC also has great potential to help Govt of India utilise this platform for their overseas fund raising program. GIFT IFSC Exchanges provide connects to international exchanges such as Chicago Mercantile Exchange, US, London Metal Exchange, London, ICE Futures, US, ICE Futures, Europe, Eurex, Europe etc.
Regulatory improvements will have a positive impact
The big positive for GIFT IFSC, is that the Government of India notified the establishment of the International Financial Services Centre Authority (IFSCA) in April this year, and this should be up and running soon. "This would be a game-changer for the Development and Growth of IFSC in India as it would combine all international business related to Banking, Capital Market and Insurance in one unified authority. This is one big difference between the current regulatory regime that GIFT IFSC and other IFSCs such as Singapore and London offer. The setting up of IFSC Authority would bring in much needed parity for products, participation, and business regulations with global financial centres like Singapore," he added.
For more about Access India, please go visit the Bloomberg Access India page
( Press Release Image: https://photos.webwire.com/prmedia/7/261144/261144-1.jpg )
Related Links
WebWireID261144

This news content was configured by WebWire editorial staff. Linking is permitted.
News Release Distribution and Press Release Distribution Services Provided by WebWire.