Kingdom's future growing younger
Youth is the next big economic growth spurt
Noor R Algadheb –
WEBWIRE
–
Friday, July 3, 2020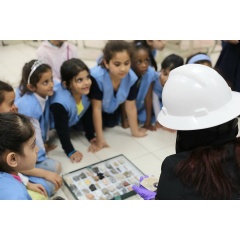 Saudi Arabia's youth population is projected to grow by more than 20%

Education and professional training are central to Vision 2030 to transform the Kingdom's economy

Saudi Aramco helped unlock the potential of more than 240,000 people since the 1940s
Saudi Arabia is a young nation. More than half its population of 34 million is under the age of 30, and with an annual increase of 2.52%, this will make the Kingdom one of the youngest nations on earth by 2030.
A youthful population – if invested in properly – can be a positive force for economic growth and development. It can mean higher productivity, entrepreneurship and innovation; technical progress; and higher incomes attracting the best talent. And so, surfacing anew from the desert sands of Saudi Arabia, a historic epicenter of commerce, culture, and education, is a new commodity — its young people.
Projected growth in youth aged 15-24 (2020-2030)
33.6%   Nigeria
25.2%   Saudi Arabia
15.5%   South Africa
6.8%   Spain
3.4%   Peru
Vision 2030 and future fledging value
For the Kingdom's economy, this increase in the number of young workers means a new opportunity for a "demographic dividend" – the economic growth potential that can result from a shift in population age structure.
Saudi Arabia's ambitious "Vision 2030" reform plan is an immense transformational journey to diversify the country's economy, and develop public service sectors such as health, education, infrastructure, recreation, and tourism. Central to Vision 2030 is developing a well-educated and highly trained workforce to service today's knowledge-based global economy.
With one of the largest economies in the world, Saudi Arabia has already invested heavily in education. Since 1927, the government has financed Saudis to travel out-of-Kingdom to obtain tertiary qualifications. Sponsored scholarships boomed between 2005 and 2015, and in 2020, the scholarship program has been expanded to accept applicants who wish to pursue degrees in cultural and arts fields.
In parallel with the Kingdom's investment within education, Saudi Aramco's training and development program commenced in the 1940s. The company continues to grow its proud legacy of providing abundant opportunities for young Saudis.
Eight powerful education decades
Education is a powerful tool for developing a nation. When the Kingdom discovered oil in commercial quantities in the early 1940s, Saudi Aramco began investing millions to improve the education and training of its Saudi workforce.
Close to the first oil well in the Eastern Province, in 1944, the company opened a school to teach English in the town of al-Khobar. This was followed by a scholarship program in 1956 for top Saudi high school science graduates, which has since seen over 8,600 Saudis graduate with bachelor degrees from universities in the Kingdom and abroad.
The company sponsors top performers and talented individuals to pursue their master and doctoral degrees; since 1976, over 2,500 employees have graduated from advanced degree programs.
But it is not all about university studies. Saudi Aramco also offers a diploma program to obtain qualifications and skills in operational, maintenance, administrative and clerical jobs, targeted at graduates of technical, industrial, telecommunication, community college, and institutes of public administration.
Delivering impressive numbers
Saudi Aramco has a number of high school programs that invest in young Saudi students, designed to support academic development and spark analytical thinking, particularly in the field of STEM. And with a large percentage of the workforce under 35 years old, the investment in developing young talent continues. Programs such as the Young Leaders Advisory Board (YLAB) empowers a younger generation to make a difference, advising Saudi Aramco on strategy, innovation, people and policies, and training and development.
Of Saudi Aramco's workforce, 70% operates or works within oil and gas facilities. To accommodate this, the company's flagship education initiative consists of six vocational training centers in locations across the country, including Riyadh, Jiddah, and the Eastern Province. With company work roles ranging from exploration and operations to product delivery, the skills required are as wide-ranging as Saudi Aramco's expansive oil and gas fields.
Over 20 years, the company's Industrial Training Centers have cumulatively graduated over 44,000 apprentices. In addition, nearly 162,000 people have received industrial certification since 1997.
During 2019, Saudi Aramco suppliers increased their Saudi workforce to 51.4%. In partnership with the Kingdom's Technical and Vocational Training Corporation, the company supported the establishment of 19 specialized centers. These provide training in more than 35 disciplines, which include drilling, oil and gas operations, power systems, maintenance, construction, inspection and maritime. More than 23,000 Saudis have graduated from these academies.
Knowledge-based economy transformation
There is clearly a strong correlation between education and economic growth, with quality education goal four of the United Nations "Sustainable Development Goals".  And, according to the United Nations Education for All Global Monitoring's report in 2012, every $1 a country spends on a child's education yields $10 in economic growth over that person's working lifetime. Educating employees returns enhanced economic productivity.
For example, by investing in human capital the Kingdom is leveraging foreign investment, as evidenced by mega-projects such as the King Salman Maritime Industries Complex and the King Salman Energy Park (SPARK). To meet the need of having thousands of trained and skillful professionals, SPARK will have 10 specialized training centers to serve the expanding workforce needs of industrial tenants. Like Silicon Valley in the United States, SPARK is about to emerge as a highly skilled workforce cluster, attracting similar businesses to concentrate around the same geographic region.
The key, therefore, towards unlocking a knowledge-based economy is a nation's education, skills, and intellectual ability. And rising above the ancient trading crossroads and oil fields is the commitment to – and investment in – the abilities of Saudi Arabia's largest generation of young people.
( Press Release Image: https://photos.webwire.com/prmedia/6/261098/261098-1.jpg )
Related Links
WebWireID261098

This news content was configured by WebWire editorial staff. Linking is permitted.
News Release Distribution and Press Release Distribution Services Provided by WebWire.