Fort Salem and Good Trouble acquired from Disney Media Distribution by BBC Three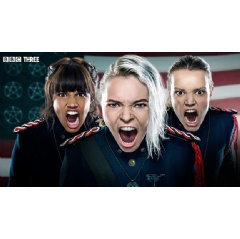 Fort Salem gives us an exciting new take on witches, while Good Trouble is firmly anchored in a real world of recognisable characters and situations. Both series capture what it is like to be a young woman starting a new chapter in life. Sue Deeks, Head of Programme Acquisition
BBC Three has acquired two new series from Disney Media Distribution. Both series are free to air and exclusive to BBC Three and BBC iPlayer.
Fort Salem (10 x 45', originally titled as Motherland Fort Salem for the US transmission) is a supernatural thriller set in an alternate, present-day America, where witches ended their persecution 300 years ago by cutting a deal with the burgeoning U.S. government in return for fighting for their country with supernatural tactics and weapons.
The series follows three young women, from basic training in combat magic into terrifying and thrilling early deployment. Fort Salem comes from Creator and Executive Producer Eliot Laurence, Executive Producers Will Ferrell, Adam McKay and Kevin Messick, and features Taylor Hickson (as Raelle), Jessica Sutton (as Tally), Ashley Nicole Williams (as Abigail), Amalia Holm (as Scylla), Demetria McKinney (as Anacostia) and Lyne Renee (as General Sarah Alder).
Good Trouble (13 x 45' and 18 x 45') is the critically acclaimed spin-off of the groundbreaking series The Fosters. Created by Joanna Johnson, Peter Paige and Bradley Bredeweg, the series follows Callie (Maia Mitchell) and Marina (Cierra Ramirez) as they move to Los Angeles to begin their careers and navigate life in their early 20s. The duo move into apartment complex The Coterie and are joined by fellow neighbours Gael (Tommy Martinez), a socially conscious and politically active graphic designer; Malika (Zuri Adele), a whip-smart former foster kid with a passion for social justice; and Alice (Sherry Cola), a first-generation Asian American who manages the apartment complex.
Sue Deeks, Head of BBC Programme Acquisition, says: "Fort Salem is a boldly ambitious series which gives us an exciting new take on witches.
"In contrast, Good Trouble is firmly anchored in a real world of recognisable characters and situations. Both series are incredibly engaging and enjoyable, and capture what it is like to be a young woman starting a new chapter in life, with a new career, a new home and new relationships"
Praise for Fort Salem
"Perhaps the most notable invention is the show's vision of female leadership and dynastic matrilineality" - The Hollywood Reporter
"The premiere is ridiculously entertaining" - People
[of Raelle and Scylla's relationship] "The chemistry was so organic, and is probably one of my favorite things that developed throughout the series" - Pop Sugar
"If the first season is any indication, there are likely no easy answers waiting on the other side, which is exactly what makes it so exciting to watch" - SYFY Wire
"The show tackles these difficult subjects by excellently deploying a cast of characters that is diverse in, well, diverse ways" - SYFY Wire
Praise for Good Trouble
Series one
"TV's first good Gen Z drama" - Vox
"What Grown-ish is doing for Black-ish, Good Trouble does for The Fosters - and it makes sense since both shows are on Freeform" - Deadline
"Good Trouble a heartfelt dramedy that will put a smile on your face and bring you back to those days of struggle when you were a wide-eyed twentysomething navigating the landscape of independent adulthood" - Deadline
"…sexy where The Fosters was earnest; messy where its predecessor was moral. It's a blast for it" - Refinery29
"Good Trouble is a millennial drama worth watching" - Mashable
"…no heartthrob deserves to get the thirsty acclaim Noah Centineo did over the summer more than Gael's portrayer Martinez" - Refinery29
"This is one show you can't afford to miss" - ET Online
Series two
"Good Trouble is on a growing list of shows that continue to practice inclusion in Hollywood and not just talk about it - and it all starts with the writers room" - Deadline
"What Good Trouble gets right in its examination of this dynamic is that Black women's feelings about Black men dating white women are complicated and not simply rooted in bitterness" - Nylon
Notes to Editors
Fort Salem, original title Motherland Fort Salem, is written and created by Eliot Laurence and produced by Freeform Studios, Gary Sanchez Productions and McKay's new multiplatform company, Hyperobject Industries. Gary Sanchez Productions recently produced "Vice," which was nominated for eight Academy Awards®, and most recently, McKay and Messick received Golden Globes for Best Drama Series for Succession. Eliot Laurence, Will Ferrell, Adam McKay, Kevin Messick, Maria Maggenti and Steven Adelson serve as executive producers on the series. The pilot was directed by Steven A. Adelson (Riverdale, Siren).
Good Trouble is co-created by Joanna Johnson, Peter Paige and Bradley Bredeweg. Gregory Gugliotta, Christine Sacani, Maia Mitchell, Cierra Ramirez, Jennifer Lopez, Elaine Goldsmith-Thomas and Benny Medina also serve as executive producers.
( Press Release Image: https://photos.webwire.com/prmedia/5/261036/261036-1.jpg )
Related Links
WebWireID261036

This news content was configured by WebWire editorial staff. Linking is permitted.
News Release Distribution and Press Release Distribution Services Provided by WebWire.