Tate to reopen all its galleries on 27 July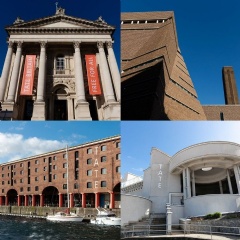 Tate today announced that it plans to reopen all four of its galleries on 27 July 2020. People will once again be able to visit the national collection of art on display at Tate Britain, Tate Modern, Tate Liverpool and Tate St Ives, featuring hundreds of artworks from across the centuries and around the world.
Guided by the latest official advice, Tate is currently working hard on its preparations to welcome the public back to its galleries. To manage numbers and ensure everyone can keep a safe distance from each other, all visitors, including Members, will need to book a timed ticket online in advance. Tickets will be available from next week at tate.org.uk alongside the latest information and guidance on how to visit. Visitors can follow Tate's social media or register for email updates to hear details as and when they are confirmed.
As well as the collection displays at all four Tate galleries, Tate Modern will reopen with Andy Warhol and Kara Walker's Hyundai Commission Fons Americanus. Tate Britain will reopen with Aubrey Beardsley and Steve McQueen's Year 3 installation. Tate Liverpool will unveil new work by Mikhail Karikis, and Tate St Ives will reopen the Naum Gabo exhibition.
Maria Balshaw, Director, Tate said: "We're all looking forward to welcoming visitors back to Tate. Art and culture play vital roles in our lives, and many of us have been craving that irreplaceable feeling of being face-to-face with a great work of art. Our number one priority remains that everyone stays safe and well, so we will continue to monitor the situation in the weeks ahead, work closely with Government and colleagues, and make all the changes necessary for a safe reopening."
Lionel Barber, Chair, Tate said: "The role of our national cultural institutions is more vital today than ever before. During the closure Tate's dedicated staff have found new and creative ways to allow our audiences to enjoy art in the virtual world using our digital platforms. My fellow trustees are delighted that from 27 July the public will once again see Tate's world-leading collection and exhibitions in person".
As a result of the closure, some of Tate's upcoming exhibition programme has been modified. This autumn, Tate Britain will open Turner's Modern World and Lynette Yiadom-Boakye, while Tate Modern will open Zanele Muholi and Bruce Nauman. The autumn will also see Tate Liverpool open Don McCullin and Tate St Ives open Haegue Yang. Some exhibitions have been rescheduled to 2021, with new dates to be announced in due course. Talks, workshops, performances and film screenings will be replaced with a new programme of online events for the duration of this year.
QUOTES FROM GALLERY DIRECTORS
Anne Barlow, Director, Tate St Ives said: "We are delighted to be welcoming back our local communities and our visitors to Tate St Ives. As well as the collection displays and the highly acclaimed Naum Gabo exhibition, we will also reopen the Barbara Hepworth Museum and Sculpture Garden, located a short walk from the gallery. Visitors will be able to book tickets online for both sites together, which makes for a fantastic immersion into the local, national and international significance of this artistic community."
Alex Farquharson, Director, Tate Britain said: "After this long period in lockdown, we hope the public will enjoy returning to Tate Britain's displays of 500 years of British art, visiting old friends and making new ones amongst the works in our collection. We're particularly pleased to be extending Steve McQueen's Year 3. As a vast collective portrait of a future generation of Londoners it feels especially resonant at this time."
Helen Legg, Director, Tate Liverpool said: "We are excited to be bringing the much-anticipated Don McCullin exhibition to Liverpool in the autumn and to be able to extend it well into 2021 so visitors have longer to immerse themselves in his extraordinary images. It is also wonderful to reopen with a new commission, Ferocious Love by Mikhail Karikis, who worked with young people to explore themes of community and togetherness as we step into a changing and uncertain future. Commissioned before the pandemic, it could not be more relevant in this moment."
Frances Morris, Director, Tate Modern said: "Over the past few months we have been working hard to reschedule upcoming projects with artists, lenders and museum partners around the world, as well as to extend some of those that were due to close this summer, like Kara Walker's Hyundai Commission and Ed Ruscha's ARTIST ROOMS display. I particularly hope that this reopening moment will bring renewed attention to our world-class collection, which sits at the heart of everything we do here at Tate Modern, and which will once again be accessible to everyone for free."
TATE MODERN EXHIBITION PROGRAMME
ANDY WARHOL
UNTIL 6 SEP 2020
A shy, gay man from a religious, migrant, low income household, Andy Warhol (1928–87) went on to forge his own distinct path and emerge as the epitome of the pop art movement. This major exhibition offers visitors a rare personal insight into how Warhol and his work marked a period of cultural transformation. Drawing upon recent scholarship, it provides a new lens through which to view this American icon.
Presented in The Eyal Ofer Galleries. In partnership with Bank of America. With additional support from the Andy Warhol Exhibition Supporters Circle, Tate Americas Foundation, Tate International Council, Tate Patrons and Tate Members. Organised by Tate Modern and Museum Ludwig, Cologne in collaboration with the Art Gallery of Ontario, Toronto and Denver Art Museum.
HYUNDAI COMMISSION: KARA WALKER FONS AMERICANUS
UNTIL 8 NOV 2020
Fons Americanus is a monumental fountain created by Kara Walker (b.1969) for Tate Modern's annual Hyundai Commission. Best known for her provocative and candid investigations of race, sexuality and violence through the history of slavery, Walker has transformed the Turbine Hall with an origin story of the African diaspora, posing timely questions about what is remembered and what is forgotten in public monuments.
In partnership with Hyundai Motor. Supported by Sikkema Jenkins & Co., with additional support from Tate Americas Foundation.
BRUCE NAUMAN
7 OCT 2020 – 21 FEB 2021
Bruce Nauman (b.1941) is a restlessly inventive artist who has spent over 50 years continually testing what an artwork can be. His ground-breaking works using sound, film, video, neon, holograms and 3D have influenced generations of artists. This will be the first major exhibition of his work in London in more than 20 years and will invite visitors to experience the artist's creative universe through sound, light and moving image.
Supported by the Terra Foundation for American Art. With additional support from the Bruce Nauman Exhibition Supporters Circle, Tate Americas Foundation, Tate International Council and Tate Patrons. Organised by Tate Modern and Stedelijk Museum Amsterdam in collaboration with Pirelli HangarBicocca, Milan.
ZANELE MUHOLI
5 NOV 2020 – 14 MAR 2021
Visual activist Zanele Muholi (b.1972) came to prominence with photographs that told the stories of black lesbian, gay, bisexual, trans, queer and intersex lives in South Africa. This exhibition will present the full breadth of Muholi's career to date, bringing together works which challenge dominant ideologies and present the experiences of human beings bravely existing in the face of prejudice, intolerance and often violence.
Supported by the Zanele Muholi Exhibition Supporters Circle, Tate Patrons and Tate Members. Research supported by Hyundai Tate Research Centre: Transnational in partnership with Hyundai Motor. Organised by Tate Modern in collaboration with the Maison Européenne de la Photographie, Paris, Gropius Bau, Berlin and Bildmuseet at Umeå University.
TATE BRITAIN EXHIBITION PROGRAMME
AUBREY BEARDSLEY
UNTIL 20 SEP 2020
Aubrey Beardsley (1872-98) shocked and delighted late-Victorian London with his sinuous black and white drawings. He explored the erotic and elegant, the humorous and grotesque, winning admirers around the world with his distinctive style. For the first time in over half a century, this exhibition presents the full sweep of Beardsley's intense and prolific career, cut short by his untimely death from tuberculosis at the age of 25.
Supported by the Aubrey Beardsley Exhibition Supporters Circle, Tate Americas Foundation and Tate Members. Organised by Tate Britain in collaboration with the Musée d'Orsay, Paris.
STEVE McQUEEN YEAR 3
UNTIL 31 JAN 2021
Using the vehicle of the traditional school class photograph, this vast new artwork offers a glimpse of London's future: a hopeful portrait of a generation to come. Steve McQueen (b.1969) invited every Year 3 pupil in the capital to be photographed and brought these images together into a single large-scale installation, capturing tens of thousands of young faces at a milestone moment in their development.
Steve McQueen Year 3 is a partnership between Tate, Artangel and A New Direction. Supported by Joseph and Abigail Baratta, De Ying Foundation and Bloomberg Philanthropies, with additional support from Dana and Albert R. Broccoli Charitable Foundation, The Garcia Family Foundation, Wagner Foundation and Tate Americas Foundation. With film education charity partner Into Film.
TURNER'S MODERN WORLD
28 OCT 2020 – 7 MAR 2021
One of Britain's greatest artists, J.M.W. Turner (1775-1851) lived and worked at the peak of the industrial revolution, when steam replaced sail, machine-power replaced manpower, and political and social reforms transformed society. Tate Britain will reveal how Turner faced these challenges head-on, capturing the birth of the modern world. The exhibition will explore his fascination with new technology and his engagement with major social upheavals, including the Napoleonic War, the 1832 Reform Act and the campaign against slavery.
Supported by the Manton Foundation. With additional support from the Turner's Modern World Exhibition Supporters Circle, Tate Americas Foundation, Tate Patrons and Tate Members. Organised by Tate Britain in collaboration with the Kimbell Art Museum, Fort Worth and the Museum of Fine Arts, Boston.
LYNETTE YIADOM-BOAKYE
18 NOV 2020 – 9 MAY 2021
Lynette Yiadom-Boakye (b.1977) is a British artist and writer acclaimed for her enigmatic portraits of figures drawn from found images and her own imagination. This exhibition will bring together around 80 paintings and works on paper in the most extensive survey of the artist's career to date. Both familiar and mysterious, her works seem to exist outside of a specific time or place, inviting viewers to project their own interpretations and raising important questions of identity and representation.
Supported by Denise Coates Foundation, with additional support from the Lynette Yiadom-Boakye Exhibition Supporters Circle, Tate Americas Foundation, Tate Patrons and Tate Members.
TATE LIVERPOOL EXHIBITION PROGRAMME
MIKHAIL KARIKIS: FEROCIOUS LOVE
27 JUL – 22 NOV 2020
Ferocious Love is a new audio-visual installation by Mikhail Karikis (b.1975) reflecting on young people's views of an environmentally uncertain future. The sound of wildfires, flooding and other extremes of weather will be interpreted by the protest choir The Liverpool Socialist Singers, alongside a video installation created with students from Birmingham School of Art. The exhibition is Tate Liverpool's annual We Have Your Art Gallery commission, in which artists work alongside communities to produce a collaborative artwork.
Sponsored by Birmingham City University.
DON McCULLIN
16 SEP 2020 – 9 MAY 2021
Tate Liverpool will present a major retrospective of the legendary British photographer Don McCullin (b.1935). Unforgettable images of conflict from around the world, including Vietnam, Northern Ireland, Lebanon and Biafra, will be shown alongside his work made in the north of England, his travel assignments and his long-term engagement with landscape. Exclusively for its presentation at Tate Liverpool, the show will also feature a number of images of Liverpool and other northern towns and cities during the 1960s and 70s.
Supported by Tate Members.
TATE ST IVES EXHIBITION PROGRAMME
NAUM GABO
UNTIL 27 SEP 2020
Tate St Ives presents the UK's first large-scale exhibition of Naum Gabo (1890-1977) in over 30 years, marking the centenary of his Realistic Manifesto, a seminal proclamation of the modernist era. This is a rare opportunity to see the full scope of Gabo's experimental work in sculpture, painting, drawing and architectural projects. The exhibition offers a fresh perspective on Gabo's groundbreaking practice and reveals how this visionary of his era became fundamental to developments in 20th century art.
HAEGUE YANG: STRANGE ATTRACTORS
24 OCT 2020 – 3 MAY 2021
Tate St Ives will stage the UK's largest exhibition to date by celebrated South Korean artist Haegue Yang (b.1971). Renowned for creating immersive environments from a diverse range of materials, Yang's sculptures and installations often use industrially made objects, interwoven with labour-intensive and craft-based processes. These processes reflect pagan cultures and their deep connection with various seasonal rituals in relation to natural phenomena.
Supported by Henry Moore Foundation and Institut für Auslandsbeziehungen.
( Press Release Image: https://photos.webwire.com/prmedia/5/260958/260958-1.jpg )
Related Links
WebWireID260958

This news content was configured by WebWire editorial staff. Linking is permitted.
News Release Distribution and Press Release Distribution Services Provided by WebWire.