The LEGO Group and National Geographic inspire kids to develop creative solutions for real life environmental challenges
New LEGO® City and LEGO® Friends products released as part of campaign to engage children in exploring their world and the problems its creatures are facing
Billund, Denmark –
WEBWIRE
–
Thursday, June 25, 2020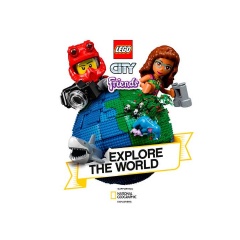 Today, the LEGO Group and National Geographic unveil their most recent partnership. New LEGO® City and LEGO® Friends sets have been developed to create awareness about exploration and the protection of endangered species in the world's jungles and oceans. To support the launch and engage children even further, a campaign has been developed in collaboration with National Geographic to encourage children to explore the world and maybe even develop their own creative ideas on solving the real-life challenges our world is facing. The campaign site is now live in English on LEGO.com/exploretheworld and will launch July 1st in additional languages. The LEGO Group is also announcing a contribution towards the National Geographic Society to fund grants in ocean exploration and species conservation.
The campaign will invite kids and their parents to visit the heights and depths of the earth, and to learn about exploring our world and protecting wildlife in our oceans and jungles. This includes educational content about pandas, sharks, elephants, deep sea creatures and much more. To inspire kids to pursue creativity as a way to one day help protect the world's wildlife, the campaign will portray stories from six different National Geographic Explorers who are working in creative, unexpected and surprising ways to help address real-life problems that our planet is facing. National Geographic Elephant Ecologist, Dominique Gonçalves, is one of the explorers sharing her personal story about how she needed a creative solution to stop elephants eating food from villages in Mozambique. Her story shows that even the simplest ideas can make a big difference. Knowing that elephants are scared of bees, she implemented a system of rope fences with beehives attached so the bees now safely guide the elephants away. By seeing these stories, kids and parents will see that many of the world's challenges can be impacted by using creativity.
The LEGO® Friends and LEGO® City sets have been developed to provide a strong foundation for kids to creatively express their passion for our planet and exploration, while giving them an opportunity to further explore and learn about the ups and downs animals are facing in the wild. Both play themes are based on real-life settings, and supported by the campaign site, children are well placed to learn about life as an explorer through play.
"We know that creativity is an incredible skill, and the 21st century needs all the creative problem-solving it can get." Says Ellen Catherine Lucy Bowley, LEGO Friends Designer, the LEGO Group. "Caring for our planet is becoming ever more relevant to kids around the world. They are more committed to seeing positive environmental change than any previous generation, and their creativity will play a key role in finding solutions that will help better protect our wildlife. We hope this initiative will inform children of the current challenges explorers are facing and reassure them that even the most simple or unusual idea can make a big difference in the real world. The most important thing is to have a YES YOU CAN attitude. Therefore, this initiative is dedicated to kids with this exact attitude, children who are curious to learn and make a difference for our wildlife."
Paul Rose, a National Geographic Ocean Explorer who began his journey as a creative child and today explores the ocean in unexpected ways is also featured on the campaign site. He says "As a kid I loved swimming and building things - I lived for making soap-box carts and being in the sea! Even on the coldest, roughest days, I would spend hours in the water imagining myself as a diver exploring the ocean. Amazingly, that dream has come true and, as a National Geographic Ocean Explorer, I now lead marine science expeditions to help protect our threatened ocean. It's so cool to be able to share my story with kids all over the world and who knows, by following their own dreams, a lot of them could end up stepping into my fins to help explore and protect our ocean one day!"
The LEGO Group and National Geographic have a well-established relationship, previously having collaborated on wildlife awareness sets such as LEGO® Friends Sea Life Rescue and LEGO® City Jungle sets. However, this is the first time the two brands are partnering on a campaign that seeks to inspire kids to think creatively – not only is it fun, but it may result in a creative solution that can one day help explore and protect our planet.
------
The LEGO Friends and LEGO City sets are now available globally and on LEGO.com and from August 1st in the Americas.
The campaign developed in collaboration with National Geographic is now live in English on LEGO.com/exploretheworld and will launch July 1st in additional languages.
##About the National Geographic Society##
The National Geographic Society is a global nonprofit organization committed to exploring and protecting our planet. We fund hundreds of research and conservation projects around the world each year and inspire new generations through our education initiatives and resources. For more information, visit nationalgeographic.org.
About National Geographic
National Geographic has been igniting the explorer in all of us for 132 years through groundbreaking storytelling from the best and brightest scientists, explorers, photographers, and filmmakers in the world. Our yellow border serves as a portal to explore the farthest reaches of the Earth and beyond. Places only National Geographic can take you.
We offer our audience true 360 experiences across an unparalleled portfolio of media assets: television channels, magazines, kids, travel, books, video, events, and digital and social platforms. Every asset and every story entertains, enlightens, and enables people to better understand the world and their own place in it – our core purpose. We reach millions of people around the world, with our television networks in 172 countries and our publications available in 41 languages.
National Geographic Partners is a joint venture between The Walt Disney Company and the National Geographic Society. We return 27% of our proceeds to the nonprofit Society to fund work in the areas of science, exploration, conservation, and education. This unique partnership creates a virtuous cycle of storytelling and exploration that inspires people to act, enlightens their perspective, and often provides the spark to new ideas and innovation.
( Press Release Image: https://photos.webwire.com/prmedia/6/260788/260788-1.jpg )
Related Links
WebWireID260788

This news content was configured by WebWire editorial staff. Linking is permitted.
News Release Distribution and Press Release Distribution Services Provided by WebWire.