When Your Site Shuts Down: How Do High Temperatures Affect Unused Materials?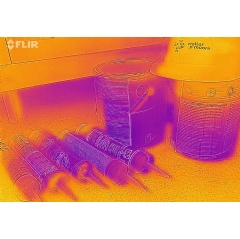 Forensic†Consulting†expert and Managing Director of the Diagnostics Group in†Los Angeles†/ Southern California,†Chris Kahanek, discusses site shut down and the effect high temperatures can have on unused materials.†
Building materials deteriorate naturally, through both daily use and regular exposure, but they are also susceptible to degradation during installation, throughout service, and from improper storage. Manufacturers understand the natural rate of deterioration of their particular materials while in storage, so they set storage requirements within their technical material data sheets to guide suppliers and installers. These may include environmental factors like maximum shelf lives, orientation, humidity ranges, ultraviolet (UV) light exposure time, or specified temperatures.
When we look closer at improper storage temperatures, several types of materials are extremely vulnerable: roofing systems, weather-resistive barriers, cold fluid-applied waterproofing membranes, and traffic coatings. As a rule, building materials need to be stored in areas that are cool, dry, well ventilated, and with minimal direct UV exposure. If building materials are exposed to these environmental conditions, there is significant potential that their chemical compositions may be negatively affected, impairing long-term performance and durability.
In many parts of the US, some building materials require conditioned storage, with controlled temperature regulation, during the summer months. Once the construction phase begins, owners and contractors do not always plan to have on- or off-site conditioned storage for building materials, especially when these items were intended for installation in the cooler spring months. When construction slows or stops, contractors should push to order building materials only for the work areas that are active, while delaying any other purchases for lack of proper storage.
When materials that have been exposed to high temperatures are finally installed, owners and property managers may notice defects right away. However, if additional layers in the assembly are quickly installed, the issues will be further concealed, exacerbating the problem and hiding the initial cause. Very soon after noticing an issue, owners should engage experts to determine the impact of potential short- and long-term issues. When problems like these are ignored or patched quickly, property owners can incur major renovation costs down the line as their asset continues to deteriorate from within.†
If building materials experience conditions beyond the manufacturerís guidelines, their local representative should be contacted to weigh in on the materialís health. All building materials and raw materials must be stored properly to ensure long-term performance and prevent material waste. Architects, engineers, and owners should ensure that contractors have a plan to properly protect and store materials. If materials are not stored properly, they must be reviewed thoroughly before they have been installed.
Read our full†white paper†to learn the best methods for combatting temperature-related issues during construction shutdown.
RELATED CONTENT
When Your Site Shuts Down: How Will Rain Affect Unused Materials?
Learn Moore about this series:
Since the onset of social distancing guidelines, construction sites around the world have shut down while many more construction sites are considering shutting down even now. This leaves building materials exposed to direct weather on-site, causing significant deterioration in a short span of time. In this series, we will examine the most corrosive weather conditions for unused materials and assemblies and identify those materials most vulnerable to deterioration during shutdowns that lasts weeks or months.
( Press Release Image: https://photos.webwire.com/prmedia/7/260727/260727-1.jpg )
Related Links
WebWireID260727

This news content was configured by WebWire editorial staff. Linking is permitted.
News Release Distribution and Press Release Distribution Services Provided by WebWire.