Bloomberg hosts exclusive Future Of Finance roundtable with Robert Kahn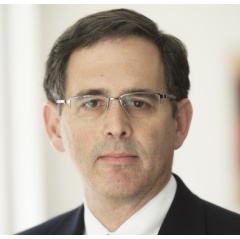 Bloomberg hosted an exclusive virtual roundtable with over 30 senior global executives coming together to discuss the future of finance and geopolitical trends with Robert Kahn, Eurasia Group's director of Global Strategy and Global Macro.
Kahn, who is also a former adjunct professor at Johns Hopkins University and senior staffer with the World Bank and IMF, discussed a number of issues concerning the global economy and path to recovery from the ongoing pandemic. He indicated that global growth is likely to fall 4–6% this year, followed by a slight rebound next year—while the real concern for 2021 is going to be financial distress, particularly in emerging markets.
Challenges for the Global Economic Recovery
Speaking about current economic challenges facing nations, Kahn said the road ahead will be difficult, particularly for countries that lacked monetary and fiscal policy space going into the pandemic.
"We could end up with an extraordinary increase in debt levels of sovereigns in the industrial world and emerging markets," said Kahn. "For some, this will be a rainy-day fund well spent, but for some countries, especially emerging economies, debt levels will rise, and particularly when interest rates rise, this could become unsustainable."
Looking ahead, Kahn pointed to potential paradigm-shifting situations for the global economic order.
"I do think that in severe scenarios, the IMF could run out of lending capacity, and that will present some really interesting and important questions about how we support these countries. If EM stress is as severe as I think it is, the role of China as an international rescuer and leader comes to the fore," he said.
US-China Relations
While the continued deterioration of US-China relations is the most important geopolitical concern, Kahn does not believe we will immediately see a "cold war" situation, given the strong economic and political incentives for engagement. He expects increased competition in areas of pharmaceuticals, national security, and technology as well as emerging domestic champions in these sectors.
A new world economic order?
Despite some developed nations' seemingly weak response to the COVID-19 pandemic, Kahn does not believe the definition of what characterizes emerging and developed markets will change any time soon. In terms of the global recovery, he expects Asian countries to do relatively better but that debt overhang will be a key concern.
Asked which Asian countries will emerge stronger, Kahn said, "While China will have some significant problems coming out of the crisis, they will come out as a rising power. New Zealand, Australia, Taiwan, Singapore, and Korea are countries that have done well, based on a combination of health response, governance, and the effective use of monetary and fiscal space."
In terms of businesses, Kahn felt some sectors will come roaring back, while others will struggle. "Sectors like travel and tourism, which require people to feel safe and confident, will struggle. Crises stimulate change and innovation, and we could see a real pick up in innovation and creativity that can pick up some optimism for the decade," he said.
The Bloomberg Future of Finance series features in-depth conversations with global thought leaders on investing, policy, economics and technology.
( Press Release Image: https://photos.webwire.com/prmedia/7/260673/260673-1.jpg )
Related Links
WebWireID260673

This news content was configured by WebWire editorial staff. Linking is permitted.
News Release Distribution and Press Release Distribution Services Provided by WebWire.