Christie's Presents Works from the Suñol Soler Collection: Make It Count | 10 July 2020
ONE: A Global Sale of the 20th Century | Hong Kong - Paris - London - New York
London  –
WEBWIRE
–
Monday, June 22, 2020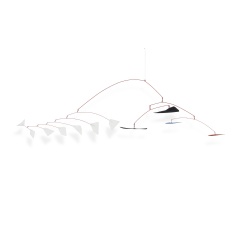 Alexander Calder, Une lune bleue (1971, estimate: £2,500,000-3,500,000)
As part of ONE: A Global Sale of the 20th Century, Christie's will present a selection of works by Spanish and international masters from the Suñol Soler Collection in London on 10 July. Encompassing modern and post-war painting and sculpture, the works are being sold to benefit the Fundació Glòria Soler and the Fundació Suñol, both established by the collector Josep Suñol Soler in his native Barcelona. Working together as a single entity, the foundations are committed to furthering Josep Suñol Soler's belief in civic responsibility and social transformation, uniting art and philanthropy in order to bring about vital global change. The group will be led by Alexander Calder's mesmerising mobile Une lune bleue (1971, estimate: £2,500,000-3,500,000) which is presented alongside Pintura No. 5, a powerful large-scale example of Manolo Millares' extraordinary burlap creations (1959, estimate: £900,000-1,200,000) and Jean Arp's unique biomorphic carving Bourgeon sur coup (1960, £800,000-1,200,000). Antoni Tàpies's richly textural painting Ocre amb cinc entallats, (1964, £400,000-600,000), Antonio Saura's expressive abstract painting Sera (1961, estimate: £200,000-300,000), and Julio González's revolutionary linear sculpture Grand personnage debout (1935, estimate: £600,000-900,000) all celebrate the legacy of Spanish post-war art in the collection. The proceeds from the sale of the Tàpies painting will directly benefit research into COVID-19. Three further works by Ettore Colla, Luis Feito and Gastone Novelli will be presented in London in the autumn.
Carmen Schjaer, Managing Director, Christie's Spain: "We are honoured to offer such a strong selection of works by artists that demonstrate the diverse collection of Josep Suñol Soler. His philanthropic legacy unites art and scientific research which is very pertinent to the times that we are living in today. Our ground-breaking relay-format auction feels like the perfect place to showcase the spirit of innovation on which this collection was founded. The funds raised through the sale of these works will allow them to continue scientific research through the Fundació Glòria Soler. The aim is to accelerate research into COVID-19, fulfilling Josep Suñol Soler's belief that marrying the humanities, arts and sciences can affect change that benefits civic society."
Held in Josep Suñol Soler's collection for over four decades, Une lune bleue is a majestic large-scale example of Alexander Calder's celebrated mobiles. Executed in 1971, just two years after the lunar landings, its delicate sheets of metal orbit a single blue crescent, each suspended in space like fragments of a solar system.
Created in 1960, Bourgeon sur coupe embodies the lyrical beauty and purity of expression that characterised Jean Arp's unique sculptural language. Rooted in evocative forms that teasingly hint at figurative meanings yet remain ultimately elusive, Arp's sculptures seem animated from within.
Bruised, scarred and weathered as if by the passage of time, Manolo Millares' burlap works are raw mixed-media visions that lay at the heart of the artist's practice, capturing his fascination with archaeological and anthropological remains. Executed in 1959, Pintura No. 5 has been widely exhibited, featuring in group shows at the Musée des Arts Décoratifs (1959) and the Palais du Louvre (1960).
An imposing, enigmatic material presence, Ocre amb cinc entallats (Ochre with five notches) (1964) is replete with Antoni Tàpies' distinctive mural magic. Wrought from a mineral compound of oil and sand on canvas, this richly textural object speaks a narrative of time recorded on its slab-like skin: the passage of the elements, and of people, bodies and lives.
Whirling with expressive energy, Sera (1961) is an unmistakable abstract painting by Antonio Saura. Against a slate-grey backdrop, diaphanous black and white strokes dance, tumble and weave together, marrying the calligraphic force of Art Informel to the memory of a human figure.
Julio González's Grand personnage debout, was conceived circa 1935 during a period of prolific invention following the artist's ground-breaking collaboration with Pablo Picasso. This work is part of a series of dynamic full-length figures that encapsulates the spatial freedom that González's innovative constructive approach to sculpture allowed.
Throughout his life, Josep Suñol Solar maintained a strong belief in giving back. Through innovation, collaboration and outreach, the Fundació Glòria Soler and the Fundació Suñol seek to continue his legacy. Together, they form a powerful proposition: that the sciences, humanities, philanthropy and the arts are crucial partners in attempts to better society, and that collectively they might change the world. It is this conviction that underpins the present selection of works, at a time when these concerns are more vital than ever.
About Fundació Suñol
Since opening to the public in 2007, the Fundació Suñol has become an inspirational forum for modern, post-war and contemporary art. Housing Josep Suñol Soler's private collection—one of the largest of its kind in Spain—it offers a richly curated survey of Spanish and international art, charting key transformations in painting and sculpture between 1915 and 2006. Initially located in Josep Suñol Soler's home "Les Escales", designed by the celebrated architect Josep Lluís Sert, the collection has occupied several major sites in Barcelona: from Josep Suñol Soler's birthplace on the Passeig de Gràcia, to the Fundació Suñol's current location at the renovated "Galeria 2" in Les Corts. Through its innovative program of exhibitions, museum collaborations, workshops, loans and conferences, the foundation plays a vital role in the cultural life of Spain and beyond, promoting the work of both young and established artists to local and global audiences.
About Fundació Glòria Soler
Established in 2015 in memory of Josep Suñol Soler's mother, the Fundació Glòria Soler is a private non-profit organization devoted to supporting social, scientific, humanistic and philanthropic programs across the world. Over the past five years, it has partnered with major global health and research bodies in the fight against AIDS and leukaemia, and in paediatric palliative care. In the face of COVID-19, the Fundació Glòria Soler has decided to step forward and contribute to accelerating knowledge about the new SARS Cov-2 virus and improve the research tools and assistance available to the most vulnerable in this global pandemic. The nine works offered for auction here will help to support these crucial initiatives, with proceeds from Antoni Tàpies' Ocre amb cinc entallats (1964) going directly to projects related to COVID-19.
About Christie's
Christie's, the world's leading art business, had auction sales in 2019 that totalled £4.5 billion / $5.8 billion. Christie's is a name and place that speaks of extraordinary art, unparalleled service and international expertise. Christie's offers around 350 auctions annually in over 80 categories, including all areas of fine and decorative arts, jewellery, photographs, collectibles, wine, and more. Prices range from $200 to over $100 million. Christie's also has a long and successful history conducting private sales for its clients in all categories, with emphasis on Post-War & Contemporary, Impressionist & Modern, Old Masters and Jewellery.
Alongside regular sales online, Christie's has a global presence in 46 countries, with 10 salerooms around the world including in London, New York, Paris, Geneva, Milan, Amsterdam, Dubai, Zürich, Hong Kong, and Shanghai.
*Please note when quoting estimates above that other fees will apply in addition to the hammer price - see Section D of the Conditions of Sale at the back of the sale catalogue.
*Estimates do not include buyer's premium. Sales totals are hammer price plus buyer's premium and are reported net of applicable fees.
( Press Release Image: https://photos.webwire.com/prmedia/6/260625/260625-1.jpg )
Related Links
WebWireID260625

This news content was configured by WebWire editorial staff. Linking is permitted.
News Release Distribution and Press Release Distribution Services Provided by WebWire.