BAFTA announces winners of Young Game Designers Competition at first-ever digital ceremony
The four winners of the 10th nationwide BAFTA Young Game Designers competition are Cameron Crosland, Evie Sanger-Davies, Alex Robinson, and Michael Ballantyne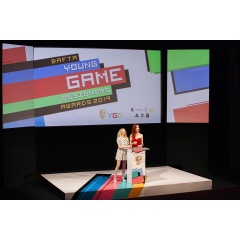 The British Academy of Film and Television Arts (BAFTA) has today announced the four winners of the 10th nationwide BAFTA Young Game Designers (YGD) competition. This year's winners, selected by a jury of industry experts, were revealed at the first-ever digital ceremony today, hosted by presenter Aoife Wilson. 
BAFTA YGD discovers, showcases and supports Britain's young games talent by providing access to some of the most creative minds in the industry, through a year-round programme of mentorship, workshops and networking. Further information can be found here.
This year's cohort of 53 talented finalists were competing across four categories: two for YGD Game Concept, celebrating the best original game idea from the 10-14 and 15-18 age groups, and two for YGD Game Making, rewarding the coding skills used to create a prototype game in the same two age groups. Entries were judged on gameplay design, creativity and suitability for the chosen games platform. 
The 2020 BAFTA YGD winners include four aspiring game creators aged between 10 and 18: 
Cameron Crosland, Strung Up - Game Concept Award (10-14 year old category)
Evie Sanger-Davies, Fruit Frenzy - Game Concept Award (15-18 year old category)
Alex Robinson, Complicated Co-operation - Game Making Award (10-14 year old category)
Michael Ballantyne, Contramotion - Game Making Award (15-18 year old category)
Amanda Berry OBE, Chief Executive of BAFTA, said: "We are proud to be celebrating the tenth anniversary of BAFTA YGD, an initiative focused on recognising and championing young talent in games. We are so impressed with the amount of skill and creativity showcased by our 53 finalists, from all over the UK, and wish to extend a huge congratulations to our four brilliant winners! I'd also like to take this opportunity to thank all of the educators across the country who continue to support this important initiative and inspire their students through the power of games."
In light of government restrictions and advice in relation to COVID-19, tonight's BAFTA YGD Awards took the format of a pre-produced digital show, streamed as-live and available to watch afterwards on BAFTA's YouTube. The ceremony was hosted by Aoife Wilson (writer, presenter and producer for Eurogamer), with notable industry figures congratulating this year's deserving winners, including Abubakar Salim, Alysia Judge, Julia Hardy, Elle-Osili Wood, Austin Wintory, Troy Baker and Siobhan Reddy. 
The ceremony also featured a highlights reel looking back at the last 10 years of BAFTA YGD, including appearances from previous winners, Dan Pearce and Rhianna Hawkins. Rhianna Hawkins was winner of the Game Concept Award in 2014 and Dan Pearce was the winner of the first ever BAFTA YGD competition in 2010. Dan has subsequently gone on to receive a BAFTA Games Award nomination in 2014 for his game, Castles in the Sky. 
Clips from the digital ceremony can be found here.
In addition to the prestigious BAFTA YGD Award, winners will be given the chance to build on their games ideas through a robust mentorship scheme with leading figures in games, as well as an insight into a career in games, and the industry as a whole. As well as support for further development of their game, winners also receive a host of prizes, including workshops, games, software subscriptions, merchandise, and many more. 
Supporting partners of BAFTA Young Game Designers include: Creative Assembly (SEGA), Criterion (EA), Jagex, PlayStation, Tencent, Ubisoft, and Warner Bros. Interactive Entertainment. 
BAFTA YGD winners in 2020 – further information:
Game Concept Award (10-14) - STRUNG UP - IMAGES HERE
Cameron Crosland (14) - headshot here 
Sheffield
A charming, challenging metroidvania with a gripping story.
Gamers play as an old woman called Sam and her granddaughter Lana. The two set out on a quest to find 7 strings that make a rope which can tie souls down to the world, keeping someone alive after death. There are 8 worlds, each with their own story and characters. There is platforming, combat and collectables all over the world. You switch between both characters to take down enemies, solve puzzles, and more. The game is full of charming dialogue and explores the effects that the prospect of imminent death can have on people. However, the ending has a twist: Lana sets out with her elderly grandmother because she thinks the rope is for her, but it turns out that Lana has an illness that could kill her in a few days. Lana's purple scarf is replaced with a rainbow coloured one made from the strings, and so she lives happily in her late grandmother's cottage. Meanwhile, Sam has passed, but is so thrilled and energetic that she dances and laughs forever in the afterlife, never being bored. The strings you collect will give Sam abilities that are necessary to beat the game.
Game Concept Award (15-18) - FRUIT FRENZY - IMAGES HERE
Evie Sanger-Davies (15) - headshot here
Grantham
A fun and fast-paced conveyor belt of a platform game where a group of fresh fruit tackle the challenges of infuriating insects and malicious mould to get to the checkout in the "gross-ery" store - against the clock of their best before dates! 
The fresh fruit just want to make it to the checkout in the supermarket before they perish. In each level, you help your freshly picked fruit through the conveyor belt platforms to the checkout at the end. However, the supermarket is a treacherous place for the cute fruit. Fruit flies and wasps will attack those sweetest of fruits, and as time ticks by, the fruit goes mouldy! Don't fret, the funky fruit can't fail - there are power ups to help them, such as fly sprays and wasp traps, as well as your fruits natural defences and healthy goodness. As you dash through the aisles you can collect and bank these to use when needed. As you work through the levels, they get harder with less power ups and more enemies to face and a shorter shelf life. Once completed, checking out, you will receive reward coupons that can be exchanged for more fruit as you progress. In some of the toughest levels, there will be a self checkout (not quite at the end of course!) If you make it to that, then congratulations - you have completed the level early and will collect extra loyalty reward coupons.
Game Making (10-14) - COMPLICATED CO-OPERATION - IMAGES HERE
Alex Robinson (13) - headshot here
London
Two players connected by an elastic cord have to make their way through 12 unique castles, each with obstacles blocking the way to the two exits.
Make your way through a series of levels and 12 different castles, all the while being connected by an unbreakable elastic rope which constantly pulls the two characters closer. Each castle presents different challenges and obstacles; Lava that burns, Water that pushes, Platforms that help and hinder your path, Platforms that allow either Red or Green players to pass through, and finally the doors that allow you to pass to the next castle.
Game Making (15-18) - CONTRAMOTION - IMAGES HERE
Michael Ballantyne (17) - headshot here
Oldham
A minimalist 2D platformer based around mirror images and bad puns.
Contramotion is a game centred around two genderless cubes, Remmie and Rumble, who over the course of the game achieve absolutely nothing except making all those who hear their dialogue cringe in despair. Explore 20 handcrafted levels, enjoy 8 original soundtracks, and get ready to die repeatedly as the difficulty of the game ramps up exponentially. Test your ability to multi-task and keep an eye on each half of the screen at all times as certain hazards only apply to certain cubes. Game-play aside, you'll find that the visuals in this game are quite simple due to my lack of ability to draw. However, don't fear: you will find the story isn't that much better either. So jump! Dodge! Shatter into tiny pieces! But most of all, try to make it to the end! I've been told it's not easy.
-- ENDS --
About BAFTA
The British Academy of Film and Television Arts (BAFTA) is a world-leading independent arts charity that brings the very best work in film, games and television to public attention and supports the growth of creative talent in the UK and internationally. Through its Awards ceremonies and year-round programme of learning events and initiatives – which includes workshops, masterclasses, scholarships, lectures and mentoring schemes in the UK, USA and Asia – BAFTA identifies and celebrates excellence, discovers, inspires and nurtures new talent, and enables learning and creative collaboration. For advice and inspiration from the best creative minds in working in film, games and television, visit www.bafta.org/guru. For more, visit www.bafta.org.
( Press Release Image: https://photos.webwire.com/prmedia/5/260507/260507-1.jpg )
Related Links
WebWireID260507

This news content was configured by WebWire editorial staff. Linking is permitted.
News Release Distribution and Press Release Distribution Services Provided by WebWire.