Covid-19: How digital tech event organisers have adapted to the crisis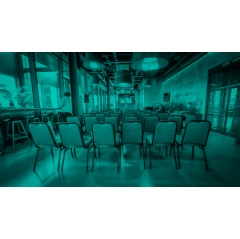 Covid-19 has hit the global events industry hard. In the tech sector, the first hint of the potential disruption that it would cause came back in March when some of the world's biggest tech events were cancelled – from SXSW and Google I/O to E3. Analysts predicted that the economic fallout on the back of it would exceed $1bn.
Operating on a much smaller scale, events organisers and community leaders in UK digital tech have managed to keep the lights on by innovating and adapting their scheduled gatherings. Reimagined for a remote-first world, everything from conferences to workshops, meetups and multi-day festivals have shifted online – with interesting results.
We've spoken to a range of people running them to discover what has worked, what perhaps hasn't, and how they plan to reintroduce physical events post-lockdown.
Cutting through the noise
Cambridge-based co-working tech hub The Bradfield Centre, which was hosting more than 300 events a year before Covid-19, has been "hit hard" by not being able to run them according to its MD James Parton.
It purchased a Pro Zoom account at the beginning of the crisis, offering it free of charge to its existing event organisers. Communicating over Slack and email, it also offered to promote anything organisers were hosting independently to the space until ready to eventually return to the building.
"We thought that we should provide a free online 'venue' in the same way that we provide a physical one," says James. While the gesture was initially appreciated, its impact lessened over time as members purchased their own accounts.
Transitioning to virtual has made it easier for the centre's members to host and market their own events, from which content is published online for others to access. However, this has come at the expense of increased competition and "noise".
"Because of the volume of events, you're not getting the kind of audiences that you would for a traditional meetup or conference where there's a higher bar," says James. "On a superficial level, you might think founders have time to attend them, but they're actually heads-down trying to plan for the future."
The space is well-prepared for a return to physical events having taken proactive measures such as installing cough guards on reception and affordable recyclable cardboard screens on desks.
James plans to maximise the use of the Bradfield Centre's outdoor atrium for events alongside its auditorium, which could adopt a 1-in-6 capacity to reduce from 200 people to 33. Even then, "choke points" that affect the flow of attendees in narrow spaces need to be considered.
Before Covid-19: we hosted Tech Nation Talks 2019 in The Bradfield Centre's auditorium
Looking beyond Zoom
There are more options than ever when it comes to choosing a platform for events. Zoom has soared in popularity, and newcomers such as Hopin – which we have used for recent events including the Tech Nation Report 2020 launch, Lockdown Unlocked and Tech Nation Talks – is becoming a name.
"We use Hopin for everything now – the key difference between other services is its networking element," says TechSPARK MD Ben Shorrock. "The Chatroulette-style nature of being able to talk to somebody for four minutes is just something that we didn't get on anything else."
Ben even maintains that Hopin offers a "much more practical" way of networking compared to real life due to its four-minute limit. "It's long enough to start a potentially useful conversation while being short enough that you can just do the small talk if you get trapped," he says.
The cofounder empathises with anyone looking to hop back into the world of physical events, which he anticipates will resume around autumn for TechSPARK. "It's really difficult – ultimately it's about giving people confidence that they're safe," he says. "We're looking at splitting our SPARKies awards into smaller segments of people and what we can do around social distancing and PPE."
In Edinburgh, FutureX has combined Zoom with other services. It recently hosted Impact Summit Online, a virtual version of its all-day purpose-led business event. Working with existing contacts to set up panel discussions, its small team took two months to turn the conference online. And, with more than 60 talks, it generated double the amount of content compared to the previous year.
To achieve this, it favoured a combination of Hey Summit (to cater for the user experience) and Zoom (for interviews and Q&As). Additionally, Remo was used to generate virtual exhibition space where attendees could network on tables, interact with information on whiteboards and check out videos and downloads. FutureX cofounder Bruce Walker makes a compelling case for avoiding reliance on a single platform.
"I think there's a risk that it becomes less exciting as an attendee," he says. "It's like using the same venue for a physical conference – once you've attended your fifth one there, they begin to look and feel exactly the same."
Using multiple platforms also helps to solve certain technical difficulties, such as the public sector (and other organisations, such as banks) being unable to access certain platforms due to IT constraints. Bruce recommends publishing FAQs and tutorial videos pre-event to help people understand what will occur: "You would think that everyone knows how to use Slack," he says, "but that's not the case."
Slack was used for communication throughout the day. "We created subjects for each channel based on themes, which was really good because it meant that people could focus their conversations and meet attendees," said Bruce, who noticed that online attendees behaved similarly to how they would at the physical conference. "Even on a virtual Q&A, it takes a bit of time for people to warm up before they ask questions."
Honest approach
Adapting one event for an online audience for the first time is one thing, but what about 50? That was the daunting prospect facing Leeds Digital Festival director Stuart Clarke and his small team when Covid-19 took hold in April. The virtual festival, which successfully went ahead with more than 100 online events organised by people in Yorkshire's tech community (and beyond), took grit and determination on part of its small team.
"We went from the euphoria of having 250 physical events on the Friday, thinking it's going to be amazing, to almost pulling the plug four days later," says Stuart. "Sitting at my kitchen table writing an email to sponsors and event organisers on the Tuesday morning was a tough moment."
After getting the backing needed to proceed, the team kept its spirits high by holding daily catch up calls and collaborating using Google Drive. Assets including the Leeds Digital Festival logo were provided to event organisers to set as their Zoom background. Aside from the technical logistics, Stuart believes that the festival's success was owed to its "honest and open" communication with event organisers and sponsors.
IT and business consultancy BJSS delivers a virtual Leeds Digital Festival talk
"We stuck our hand up to ask people to bear with us, making it clear that we didn't quite know what we were doing," he says. "At the same time, we communicated what we wanted to achieve, what we knew we were good at, and where we needed help. We tapped into the sense of togetherness and collaboration that makes Yorkshire's tech sector."
Stuart is confident that the online aspect of the festival, which saw many of its events attract more people than its physical version, will return in 2021. "Online we can increase our international presence, which further widens your attendee base for all events," he says.
While not quite ready for the global stage, Array Festival in Lancaster successfully staged 25 online events in May as part of a community effort. Organised by Dan Knowles, it was founded to inspire the city to engage with digital technology. The festival saw roundtables hosted on Zoom, which Dan says was, "really useful for getting to the grassroots of what's going on in the city – everything from the circular economy to digital skills and solving the problem of young people being unable to access edtech."
Cracking imposter syndrome
In Wales, coworking space provider Town Square has been running daily workshops during the pandemic as part of Startup Club, which helps those in the early stages of building a business. To facilitate this, the organisation has been powering up Zoom by connecting it with Eventbrite and other services with the aim of sustaining its online events operation post-crisis.
In the process, co-founder Gareth Jones has found that community engagement becomes more exciting when large groups of up to 60 people are on a call. One engagement-related trick is to open a chat box to ask everyone to type and submit something – such as what they want to get out of the workshop – on the count of three.
"It's designed to try and get their heart beating a little bit faster because everybody is trying to spot their entry," says Gareth. "You try and crack some of that imposter syndrome that comes from when you work from home and don't have anything to benchmark yourself against."
Town Square also uses virtual breakout rooms to encourage workshop leaders to host interactive activities with individuals and small groups. In delivering content, it works with its community members, freelancers and sponsors.
Gareth says that the organisation is balancing its social responsibility versus commercial factors when considering when to open up its spaces for workshops and other events. "At this rate, I'd be amazed if we're opening any spaces before September," he says. "Even then we don't know if we'll see another spike in winter."
Innovation everywhere
There are many more examples of innovative events practices across the UK. In the South East, for example, Brighton Chamber has found success in converting its most popular events to online to take advantage of existing brand recognition, and Wired Sussex has posted a guide to what it learnt from running a week-long virtual festival.
Barclays, meanwhile, has been on the pulse by quickly informing scaling founders based in its Eagle Lab hubs about finance-related topics – such as grants and the UK Government's Bounce Back loan scheme. "The beauty of it is that we can put on a relevant event within days of something being announced – and that's what you need," says Paul Hodson, Ecosystem Manager at Barclays' Cambridge Eagle Lab. "In the past, we would put our schedule together six months in advance as we knew what was coming up."
While few people in digital tech would claim to know what the answer is when it comes to staging online events, the ambition, drive and innovation shown by organisers across the UK is inspiring. Whatever approach is taken, their entrepreneurial spirit means that attendees won't have to wait long before venturing back out again – if they'll need to at all.
( Press Release Image: https://photos.webwire.com/prmedia/7/260293/260293-1.png )
Related Links
WebWireID260293

This news content was configured by WebWire editorial staff. Linking is permitted.
News Release Distribution and Press Release Distribution Services Provided by WebWire.