The Salisbury Poisonings
In March 2018 Salisbury became the site of an unprecedented national emergency. This three-part dramatisation focuses on the extraordinary heroism shown by the local community.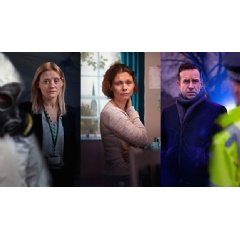 At the heart of our retelling of the events that occurred in Salisbury in 2018, is a story about the internal mechanisms of a public health crisis response. It follows the work of a public servant called Tracy Daszkiewicz, the Director of Public Health of Wiltshire Council, as she works with colleagues to try to combat a lethal and invisible enemy that has appeared out of nowhere. The public health response team of which Tracy is a part instigates a lockdown. They close a local economy. They set up an elaborate system of contact tracing and testing. They source and distribute Personal Protective Equipment for use on the frontlines. And they deal, every day, with a terrified and frustrated public. They all wonder - both Tracy and the people she is trying to protect - whether life will ever be the same again. The answer, in the end, is that catastrophe forces us to look in the mirror, and to confront who we really are. After that, things are never really the same.
We arrived in Salisbury in the autumn of 2018. The nerve agent attacks on the Skripals had occurred in March, and local woman Dawn Sturgess lost her life in July, having become contaminated by nerve agent in a perfume bottle found by her boyfriend Charlie Rowley. The wounds from these events, both individual and collective, were still very raw, and we knew that there was a chance that it simply might not be right to tell this story at this time. But when we began researching individual accounts of what happened, we uncovered multiple stories of remarkable courage, resilience, and heroism. Individuals who put themselves at great risk. A community that came together in all sorts of unexpected ways to fight not only the invisible toxin in their midst, but also the fear that they all shared. We were inspired by what we were hearing, and we began to feel that now, soon after the event, was a good time to try and bring these stories to light. Internationally, the events in Salisbury had been cast as an affront to the UK, even an embarrassment. Locally though, we were hearing stories that pointed towards people at their best.
We set about contacting the people who had been most directly affected by the events. The Sturgess family, who had lost their daughter Dawn. Charlie Rowley, Dawn's boyfriend, who almost died from his own exposure to Novichok. Detective Sergeant Nick Bailey, who was contaminated during the course of his own work and who also ended up in a fight for his life. All of them told us their stories and co-operated with the drama. We spent many hours with them, over many months, trying to get the stories right, and we feel a huge debt of thanks to them for taking part.
Naturally, we have watched the recent events around COVID-19 with fascination, because there are so many resonances with the story we tell in Salisbury. Many of the things we observed there have subsequently played out across the country.
The Salisbury Poisonings is not always an easy watch. It deals with real trauma, experienced by real people, not very long ago. So why show it now? Because it is a story of people coming together in remarkable ways, finding strength in family and community. It's a story that reflects the internal reality of an emergency public health response, with all of its critical decisions. But perhaps most of all, because it reflects a kind of heroism that we have all come to recognise recently. A heroism that is quiet - ordinary even - and that is wrapped up in a simple sense of civic duty that we had wrongly assumed was on the wane, but that really had only been lying dormant. An everyday kind of heroism that nonetheless changes the world.
Interviews
Conclusion by director Saul Dibb
A Russian double agent and his daughter sit poisoned on a bench in Salisbury. But what follows is not a spy story. It's a fall-out from a spy story. About the ordinary people who became collateral damage to a massive global political event that exploded on their doorstep. And with one tragic exception, triumphed against overwhelming odds.
With the infamous 'beast from the east' freak snowstorm ominously foreshadowing, it's as if something descended on this provincial cathedral city, swallowing people up, turning their lives inside out, changing them forever. Because whether directly poisoned by Novichok or not, all of them and their families' lives became deeply contaminated. But instead of simply crushed, our characters ultimately found a strength they didn't know they had, fighting to find the source of the poison and contain it, to keep people safe, to stay alive, to keep marriages together, to get truth and justice, to refuse to be consumed by the destructive, ever-rippling consequences. And in doing so, became everyday heroes.
Declan and Adam's scripts felt like the extraordinary thing happening to ordinary people of a Spielberg film but shot through with brilliantly observed real and everyday life. So like Jaws - with Tracy as Chief Brody, balancing the safety of the public against the legitimate interests of local business while an invisible enemy stalks - crossed with the naturalism and immediacy of United 93. Which together suggested this could be much more than a straightforward retelling of a piece of albeit incredible recent history.
The story they told defied easy pigeonholing. Part thriller - gripping and tense even though we know the final outcome. And part domestic drama - ordinary families trying to hold it together under enormous pressure. All against the backdrop of hoards of silver hazmat suits and army trucks on provincial streets, like a strange kind of British social surrealism.
To tell this properly, first everything needed to be as authentic as possible, with forensic attention to detail. Costume, design and make-up met the real people in their homes, we scoured locations to either find exact matches (like the Skripal's cul-de-sac) or made plans to shoot discreetly where it actually happened (the Maltings shopping centre, other places in Salisbury). And we then used the best large format film camera in the world but with no artificial film lighting at all to create the most real, distinctive yet oddly beautiful feel. This approach was also designed to elicit the strongest, most naturalistic performances. Once again, all our incredible ensemble cast met the real people they were playing, not in order to impersonate but rather to gain insights and an essence of the characters, to best get under their skin. Each actor then went the extra mile, eschewing melodrama for the sake of the genuinely honest and emotionally powerful.
And finally, conveying the subjective experience of the poisoning itself and the insidious effect on everyone around. Visually this largely involved recreating the hallucinogenic side effects of Novichok on Nick Bailey and his subsequent flashbacks. In terms of score, Rael Jones took the sound of cathedral organ and evensong choir, then sampled and warped it to create a progressive sense of creeping fear, unease and contamination.
The overall result is something l feel very proud of. Not only could we show the real people confident that we'd done their stories justice sparing no painful details, but they also came together to appear at the end, a sequence I still find incredibly moving even now.
Production biographies
Saul Dibb
Director
After a decade making documentaries, Saul's debut feature was the critically-acclaimed Bullet Boy (BBC Films/UKFC, 2003) which amongst others won him an Evening Standard Award for Best Newcomer. Saul went on to direct an adaptation of Alan Hollinghurst's Booker-winning novel The Line Of Beauty (BBC, 2006) with Dan Stevens and Hayley Atwell, followed by the Oscar and Bafta-winning The Duchess (Pathe/BBC Films, 2008) starring Keira Knightley, Ralph Fiennes and Charlotte Rampling, which became the most successful independent British film of the year. In 2013 Saul directed his own adaptation (co-written with Matt Charman) of Irčne Némirovsky's acclaimed novel Suite Francaise (eOne/TWC/TF1) starring Michelle Williams, Matthias Schoenaerts and Kristin Scott Thomas. In 2016 he directed NW, a single film for BBC Two, adapted from Zadie Smith's novel and starring Nikki Amuka-Bird and Phoebe Fox which was nominated for two Baftas and won the top prize at FIPA. Most recently, Saul directed the huge critical success Journey's End (BFI/Lionsgate, 2018) starring Sam Claflin, Paul Bettany, Asa Butterfield and Toby Jones, followed by the opening two episodes of The Dublin Murders (2019), a series adaptation of the novels by Tana French, written by Sarah Phelps.
Karen Lewis
Producer
After careers in teaching and publishing, Karen Lewis joined BBC Wales as a script editor. She worked with Rafe Spall early in his career in the Bafta Cymru award-winning The Chatterley Affair, written by Andrew Davies. She went on to produce the two Bafta award-winning series Last Tango In Halifax and Happy Valley written by Sally Wainwright and directed by Euros Lyn, giving her the opportunity to work with some of our best acting talent: Derek Jacobi, Anne Reid, Sarah Lancashire, Nicola Walker and James Norton. Last year she produced Russell T Davies' eerily prescient drama Years and Years, starring Emma Thompson.
Chris Carey
Executive Producer
Chris is one of the UK's leading drama producers, responsible for, amongst others, Les Miserables (dir. Tom Shankland, starring Dominic West, David Oyelowo, Lily Collins) for BBC One and PBS/Masterpiece, Apple Tree Yard (dir. Jessica Hobbs, starring Emily Watson and Ben Chaplin) for BBC One, River (dir. Richard Laxton, starring Stellan Skarsgard, Nicola Walker and Lesley Manville) and Run (dir. Charles Martin, starring Olivia Colman and Lennie James) for Channel 4.
In an earlier life he was the Executive Producer of the world's first Arabic web-drama Shankaboot, helping to create the multi-award winning 50+ episode Beirut based short form series, and developed and produced Dirk Gently (dir. Damon Thomas, starring Stephen Mangan) for the BBC and the cult comedy series This Is Jinsy with his former company The Welded Tandem Picture Company for Sky TV.
In an even earlier life he worked in the fields of factual and entertainment as an Executive Producer, Series Producer and Producer/Director for ITV Studios where he made a wide variety of shows.
Laurence Bowen
Executive Producer
Laurence Bowen is a multi Bafta award-winning and Emmy nominated Producer who most recently executive produced The Salisbury Poisonings for BBC One, the UK episodes of The New Pope starring Jude Law and John Malkovich, Porters for UKTV/Dave and The Eichmann Show for BBC Two starring Martin Freeman, Anthony LaPaglia and Rebecca Front. He was presented with the Monte Carlo International Producer Of The Year Award, has won RTS, Broadcast and Chicago Film Festival Awards, received Prix Jeunesse, Rose D'or, Emmy and BANFF nominations and last year won The Japan Prize. His work includes Suburban Shootout (starring Tom Hiddleston, Ruth Wilson, Anna Chancellor, Amelia Bullmore), Stone Scissors Paper (starring Juliet Stevenson and Ken Stott), Dual Balls (starring Lesley Manville), Gates (starring Tom Ellis, Joanne Page and Sue Johnston), Miranda (starring Christina Ricci, John Simm, John Hurt, Kyle MacLachlan and Julian Rhind-Tutt) and My Life As A Popat (starring Kulvinder Ghir and Shaheen Khan). Suburban Shootout, Gates and My Life As A Popat were all acquired for US versions by HBO, Warner Brothers/NBC and Nickelodeon, which Bowen went on to Executive Producer. His Unmade Movies season of productions of lost screenplays by the greatest writers of the Twentieth Century has broadcast on BBC Radio 4 over the last four years. James McAvoy, Mark Strong, Hugh Laurie, David Suchet, Michael Sheen, Anne Marie Duff and Rebecca Front starred in pieces by Orson Welles, Alfred Hitchcock, Harold Pinter, Ernest Lehman and Arthur Miller. Directed by Richard Eyre, Jamie Lloyd, Mark Gatiss, Joanna Hogg and Adrian Noble.
( Press Release Image: https://photos.webwire.com/prmedia/7/259833/259833-1.jpg )
Related Links
WebWireID259833

This news content was configured by WebWire editorial staff. Linking is permitted.
News Release Distribution and Press Release Distribution Services Provided by WebWire.