Introducing the new Chair of Tech Nation: Stephen Kelly
We are delighted to announce our new Chair. Stephen Kelly succeeds Eileen Burbidge, who we extend our heartfelt thanks for all the amazing work and dedication she brought to the role for the past five years.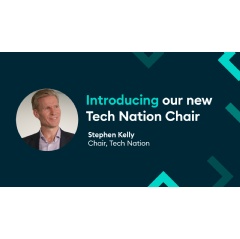 As Stephen Kelly takes over the role, he brings his entrepreneurial scaleup achievements – having grown and floated a silicon valley start-up on the NASDAQ – and extensive chairing and non-executive experience. Stephen will play a key role liaising directly with community representatives and tech entrepreneurs, as well as supporting Chief Executive, Gerard Grech .
"I'm really thrilled to be joining Tech Nation. Throughout my career I've worked with scaling tech companies of all sizes, in both the UK and the US, managing and mentoring expanding technology businesses. I know the challenges well. I've been privileged to start and lead some fantastic technology companies and currently sit on the boards of two fast scaling tech companies, including one Future Fifty alumni. I've seen what it takes to build great teams and cultures whilst managing exponential growth. 
Of course, I do recognise that in the current, difficult time, the context is different, and many businesses are rapidly dealing with revenue softness. Many of the companies where I mentor have reset their plans to extend their cash runway.  This agility works both ways and growth will follow – there's no doubt this can be a technology-led recovery from recession. I intend to play a full role in supporting Gerard and the team in delivering that growth and ensuring prosperity across the UK. 
I've also seen the benefits a government can reap from well executed technology projects. As Chief Operating Officer for the UK Government, I was overseeing the consolidation of the Government's vast web complexity (132,000 URLs) into the single gateway of GOV.UK and enabling Government to put UK citizens at its heart. I know the structural challenges in dealing with government, but I know how they can be overcome and the resulting velocity and quality. 
Technology is proving ever more effective in Government and the mindset continues to catch up as a result of Covid-19. The need to rapidly deploy new solutions is challenging the traditional civil service model, with Ministers openly admitting that government backed tech solutions being deployed won't be flawless but are, nevertheless, essential to initiate now to combat the pandemic. 
And it was in government that I was able to pay some of the earliest visits to what was then Tech City and Tech North and understand the way entrepreneurs were delivering their ideas in a more agile manner. Now consolidated as Tech Nation, I want to ensure we build on the successful growth platform we already provide for technology companies and leaders and support them to be the foundation of the country's growth, recovery and prosperity. This means growing in their own right of course, delivering regional growth and local, well paid jobs. But even more crucially, it also means being taken to the heart of the wider economy, making permanent the adoption of tech that we have seen in recent months. 
It will support jobs and GVA (Gross Value Add) but it is fundamentally also aligned to the more strategic needs as well – helping the UK to achieve its Net Zero carbon ambitions, supporting purpose with profit, ensuring the UK remains globally competitive, and levelling opportunities to be fully inclusive and equal.
Upon joining Tech Nation, I also want to pay tribute to Eileen Burbidge, who I will succeed. Eileen's unique insight from her involvement in technology companies from the inside, as well as an investor on the outside, has stood both Tech Nation and many fledgling technology companies in good stead. She has helped Gerard and the Tech Nation team to engage nearly 2000 businesses across the UK, generating up to £436 million in GVA for the UK economy. And in particular, I admire her work to back women founders and entrepreneurs – another area I intend to work hard to further improve.  
In my first weeks in the role as Chair, I look forward to speaking with as many Founders and Leadership Team members as I can, working to help UK tech innovators scale as sustainably and rapidly as possible.  In business, entrepreneurs are always looking for the next opportunity, customer or investor and I want to be part of those conversations as we work at Tech Nation to build a truly national network to support your business.  
Scaling a business is an immense test of you and your team – it requires dedication, resolve and support. I have been able to take that journey a number of times, growing NASDAQ, FTSE250 and FTSE100 companies, and helping others do the same is in my DNA. I am hugely excited to be able to apply the lessons I have learnt and my experience as a CEO, investor, director and mentor to help the next generation of UK scaleups. I can't wait to get started"
Watch our interview with Stephen below.
Introducing Stephen Kelly, new Tech Nation Chair
( Press Release Image: https://photos.webwire.com/prmedia/7/259787/259787-1.png )
Related Links
WebWireID259787

This news content was configured by WebWire editorial staff. Linking is permitted.
News Release Distribution and Press Release Distribution Services Provided by WebWire.