Marcel Petitjean: Ex-Racer's € 9m Car Collection for Sale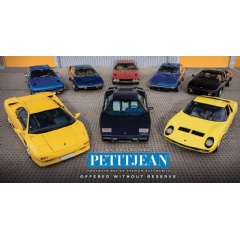 © Picture credits: 2020 Courtesy of RM Sotheby's
Auctioneer RM Sotheby's is selling an astonishing collection of 100 cars belonging to former racing driver Marcel Petitjean. Among the cars for sale are a Lamborghini Miura with an estimated price tag of € 800,000, his Porsche 904 GTS race car at € 900,000 and a Ruf CTR2 Sport that's expected to sell for up to €720,000. If these sound too pricey, there's vehicles to suit most budgets, including a Porsche tractor at € 20,000, a Fiat 850 Spider starting at € 8,000, and a Renault Sport Spider at €2 0,000.
A rare collection built up by years of non-stop searching
"Marcel Petitjean took his first steps as a collector in 1969 with the second-hand acquisition of a magnificent Ferrari 275 GTB/4, which remains in his possession today," said a Sotheby's spokesperson. "Then, he went on to acquire a Ferrari 246 Dino GT, a Mercedes-Benz 300 SL Roadster in 1976, and a Lamborghini Miura P400 in 1978. Many other beautiful cars were acquired over the years, always at the right time, purchased at the right price and purchased with passion."
Marcel who?
Petitjean is not a well-known racing driver outside of France, but he raced extensively in Europe throughout the 1960s and early 1970s. His race car brand of choice was Porsche, and throughout his three seasons he competed in a Porsche 904 Carrera GTS, 906, and 910/8 Bergspyder, picking up early podium finishes and beating famous names before retiring in 1971.
It was around this time he started getting serious about his car collection, which spans the decades from the 1950s through to the 1990s and includes marques from all over the world. Petitjean's plan was to build a museum for his collection, but for whatever reason that didn't happen, and he's now decided the time has come to sell off his collection.
Forget conservative investments in life insurance, mutual funds, or real estate ...
Sotheby's said: "Rather than making safe, conservative investments in life insurance, mutual funds, or real estate, Marcel Petitjean chose to put all his savings towards a collection of fine motorcars starting in the late 1960s. Though considered an unconventional investment at the time, Petitjean avoided the worldwide savings and loan scandal and the European debt crisis altogether. Not a bad choice, considering Petitjean would occasionally drive his investments."
A car for every taste
"The Collection offers something for all tastes, featuring marques including Lamborghini, Maserati, Mercedes-Benz, and Porsche, among other exotic brands, through to more affordable classics. M. Petitjean, a classic car devotee based in Strasbourg, France, built the collection with the intention of creating a motor museum with a strong emphasis on grouping cars by both marque and by country of origin. Many of the cars present are rare models from every marque represented, with a large portion of the collection having been under M. Petitjean's care for decades and remaining in highly original condition, having never been restored."
How significant is this sale?
"It's very significant as our first online only sale to focus on the European market. It's also significant in the sense that we have some fabulous cars on offer."
Which of the cars in the collection are generating the most interest?
"The great thing about this sale is that it's an eclectic offering of vehicles from across all areas of the market and budgets, so interest is high across the board. The Petitjean Collection is remarkable in that most of the cars are time capsule preserved in their original specifications and many have seen very little use for many, many, years. This makes them a rare offering on the market and that kind of unmolested originality is exactly what collectors are after."
The Essen sale has switched to an online format. Are virtual auctions the future?
"The move to online only sales is clearly a result of external forces beyond our control. However, we are delighted at the success we have enjoyed using this new platform and we believe that it is the start of a new era for increased online only auctions. However, nothing replaces the spectacle and excitement of live auctions, which so often sit alongside amazing events such as major concours or historic motorsport weekends. Live auctions will continue to be a feature of how RM Sotheby's does business."
How has coronavirus affected car sales at this end of the market?
"The market is still very much there, as recent online sales results prove. Even pre-Covid, the market was experiencing a period of adjustment on values, which I think the whole market perceives as a positive thing, but classic cars remain a fantastic recreational hobby and a safe place to have money in the long term, so we fully expect values to be maintained and for demand to remain within the market"
Let the bidding begin!
The Petitjean Collection is being sold at Sotheby's Essen sale, which has moved online this year. Bidding for the cars begins on 3 June 2020 and closes a week later. The cars are offered without reserve and are expected to draw enthusiasts as well as seasoned buyers.
Check out the full collection on RM Sotheby's
( Press Release Image: https://photos.webwire.com/prmedia/7/259783/259783-1.jpg )
Related Links
WebWireID259783

This news content was configured by WebWire editorial staff. Linking is permitted.
News Release Distribution and Press Release Distribution Services Provided by WebWire.