Braskemís bioplastic recognized at UN event as one of Brazilís most transformational cases in sustainable development
The initiative is now part of an online repository along with over 60 case studies for fostering the sustainable development of various economic sectors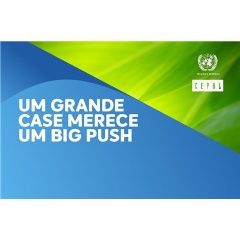 Braskemís production of Iím greenT polyethylene, a bio-based plastic made from sugarcane, was recognized this Tuesday (May 26) by the United Nations Economic Commission for Latin America and the Caribbean (ECLAC) and the Global Compact Network Brazil as one of the most transformational cases in sustainable development in Brazil, in the Industry & Energy category. The recognition was made official during Braskemís participation in the ďBig Push for Sustainability,Ē a webinar open to the public organized by ECLAC in partnership with the Global Compact Network Brazil, both UN organizations.
Braskemís production of biobased plastic, which commemorates one decade this year, is the result of years of dedication by the company in the research and development of sustainable products. Produced on an industrial scale since the inauguration of the green ethylene plant located in Triunfo, Rio Grande do Sul, the initiative has made the company the worldís leading producer of biopolymers, with an annual production capacity of 200,000 tons of the material.
The advances in the research and development of sustainable products, such as green polyethylene, green EVA and green ethylene glycol, are part of Braskemís sustainability practices, which have been an integral part of its corporate DNA since its creation in 2002. In the case of Iím greenT bio-based polyethylene, one of the main advantages is its contribution to reducing greenhouse gas emissions by capturing more than 3 tons of CO2†for each ton produced. The material even retains the same properties, performance and versatility delivered by fossil-based plastics and can be used in existing production and recycling chains.
Thanks to the partnerships Braskem has forged over the last ten years with clients in the plastics chain and with brand owners to encourage the use of plastics that are even more sustainable and minimize environmental impacts, today Iím greenT bio-based polyethylene already can be found in 150 brands worldwide, which includes packaging and products for a wide array of industries, such as food and beverage, personal care and durable goods.
ďIt is essential that everyone, in both the public and private sectors as well as society in general, rethink how they act, produce and consume. The world faces urgent issues that put human existence at risk, such as global warming and the unconstrained use of natural resources. Guided by our purpose of improving peopleís lives, we constantly strive to innovate and raise awareness on these issues throughout our value chain. We believe in the potential of the circular economy to advance sustainability, and biobased plastic is one of our deliveries towards this end. The UN initiative is an important recognition of the journey we are constructing, which reinforces that we are on the right track and amplifies the message that plastics can contribute significantly to the planetís sustainable development,Ē said Mateus Schreiner Garcez Lopes, head of Innovation in Renewable Technologies, who presented the case study ďGreen Polymers: technology for fostering sustainable developmentĒ during the ECLAC event this Tuesday.
Braskemís investments in the area of recycling also was highlighted at the event. The company recently expanded its Iím greenT portfolio, which now encompasses its entire line of products for the circular economy, such as renewable resins and solutions made from recycled plastics and applications that adopt both solutions (recycled and renewable). In the field of chemical recycling, one of the biggest challenges of the plastics industry, Braskem also continues to conduct studies with support from universities and research centers to develop technologies that expand existing alternatives for mechanical recycling in order to transform waste plastics, such as supermarket bags and packaging films, into raw materials once again.
ďGreen, inclusive and holistic. That is the recovery model that Brazil needs for the new normal to usher in a sustainable country. Our natural bounty gives us an unparalleled advantage in terms of biodiversity, energy matrix, etc. The Big Push for Sustainability showcases the creative potential of Brazilian companies and organizations that put as at the forefront of this agenda,Ē said Carlo Pereira, executive director of the Global Compact in Brazil.
The case studies presented by Braskem and companies from other sectors at the ECLAC and Global Compact Network Brazil webinar are part of an online repository with more than 60 initiatives for sustainable development in Brazil. It is a set of initiatives that leverage national and foreign investments to create a Big Push of economic growth, job creation and income generation, reduction in inequality and structural gaps and promotion of environmental sustainability.
According to Carlos Mussi, Director of the ECLAC Office in Brazil, the cases compiled in their repository on the Big Push for Sustainability in Brazil are clear examples of investments with the capacity to deliver social, economic and environmental results in line with a sustainable recovery strategy for the country.
To learn about the initiatives presented in the ďBig Push for SustainabilityĒ webinar held this Tuesday, May 26, visit†https://biblioguias.cepal.org/bigpushparaasustentabilidade†.
( Press Release Image: https://photos.webwire.com/prmedia/6/259693/259693-1.jpg )
Related Links
WebWireID259693

This news content was configured by WebWire editorial staff. Linking is permitted.
News Release Distribution and Press Release Distribution Services Provided by WebWire.