BBC announces two fast turnaround commissions: Fighting The Virus and Keeping Britain Fed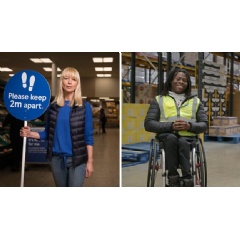 Fighting The Virus (w/t) sees doctors and twin brothers Chris and Xand van Tulleken tell the story of the pandemic from a personal, medical and humanitarian perspective. In Keeping Britain Fed (w/t) Sara Cox and Ade Adepitan explore the hard work going on behind the scenes at supermarkets as they deal with a surge in customers.
Jack Bootle, Head of Commissioning, Science and Natural History, says: "Chris and Xand Van Tulleken aren't just TV presenters - they're highly-qualified doctors whose skills have been called upon during the current crisis. By following their work over six gruelling weeks, Fighting The Virus will give us an intimate insight into the UK's medical and humanitarian response to COVID-19. Keeping Britain Fed meets a different kind of hero: the people who keep our supermarkets stocked and our supply chains running. Without their work and commitment in the face of genuine peril, we'd all be lost."
TD
Fighting The Virus (w/t)
Dr Chris van Tulleken is an infectious diseases doctor at UCLH in central London, the epicentre of treating the UK outbreak. Not only has Chris been called up to help clinically, he's uniquely placed to help explain the science of this epidemic and he is able to give a unique insight into the infection wards and ICU. With special access to University College Hospital London, the film will offer an in-depth and poignant portrait of what's happening on the medical frontline, filmed over the last six weeks as we witness one of the country's leading hospitals dealing with the pandemic.
Dr Xand's background is in humanitarian medicine and, like many medical professionals who have been out of practice, he has recently had his medical licence reinstated in order to play a part in Britain's fight against coronavirus. He's volunteering with humanitarian aid groups who he's assisted during previous health crises in the developing world, and whose skills are now required on the streets of Britain - such as international NGO Medecins Sans Frontieres. As the effects of lockdown intensify, Xand will reveal the impact of the virus on the communities around the hospital - from the homeless on the streets of Westminster to a large family living high up in a London tower block.
Together, doctors Chris and Xand are witnessing the crisis in close-up, reacting as it unfolds to create a frank and fascinating picture of what's happening on the frontline.
Chris van Tulleken says: "I am extremely lucky to work in one of the most amazing hospitals in the world. This film showcases how my colleagues have adapted and responded with their unique expertise."
Xand van Tulleken says: "Every single person in the UK is involved in the response to the pandemic: it is the most far-reaching medical challenge in living memory and one of the largest in history. The NHS and patient care are at the heart of that - as well as seeing the severity of the illness in its most extreme forms we wanted to capture the impact on communities especially those we usually hear less from - struggling parents, homeless people, community groups - to get a sense of the scale and complexity of the problems."
Fighting The Virus (w/t), a 1x60' for BBC One, is made by Little Gem. It was commissioned by Charlotte Moore, Director, Content and Jack Bootle, Head of Commissioning, Science and Natural History. The Executive Producers are Ben Gale and Helen Littleboy.
Keeping Britain Fed (w/t)
In the midst of the Coronavirus crisis, the supermarkets have become almost the UK's fourth emergency service. While most of us have been staying safe in our homes, an army of workers across the country have been putting themselves at risk and working round the clock - to keep us all fed.
Sara Cox and Ade Adepitan have been given access to some of Britain's biggest supermarkets and their suppliers to see how their systems have stood up to the most testing time in their history.
Sara Cox says: "Like everyone else in the country, I've learned over the past few weeks how much of a crucial role our supermarkets, small shops, suppliers and farmers play in keeping us fed in times of crisis. I'm really excited to meet the key worker heroes at the very heart of this huge effort to provide us with our weekly shop - from keeping shelves fully stacked and managing queues to delivering food to our door."
Ade Adepitan says: "Watching people legging it out of supermarkets with packets of self-raising flour, stacks of loo rolls and seeing empty shelves in my local grocery stores was surreal. It made me realise that before the pandemic hit the UK, I took food and all the systems that are in place to get it to our tables for granted. Whilst making this show I met the people who are helping to keep these systems running smoothly, and found out how they coped when our food supply chain was pushed to almost breaking point."
Sara finds out what goes on in one supermarket over 24 hours - from opening to closing and all through the night - to see how they're coping during the crisis.
And Ade sees how the nations' farms, factories and depots have risen to the challenge to produce and supply our supermarkets with food in these exceptional circumstances.
They'll gain insights into exactly how our shopping habits have changed during the crisis; discover why the supply system almost reached breaking point; and explore the long term impacts of the pandemic on the way we shop.
Keeping Britain Fed (w/t), a 1x60' programme for BBC Two, is made by BBC Studios' Science Unit. It was commissioned by Patrick Holland, Controller, BBC Two and Jack Bootle, Head of Commissioning, Science and Natural History. The Commissioning Editor is Abigail Priddle. The Executive Producer is Paul Overton.
( Press Release Image: https://photos.webwire.com/prmedia/5/259620/259620-1.jpg )
Related Links
WebWireID259620

This news content was configured by WebWire editorial staff. Linking is permitted.
News Release Distribution and Press Release Distribution Services Provided by WebWire.