Christie's Presents The Edited Collections | A Series of Thematic Online Auctions for May - June 2020
A Crafted Selection of Inspired Cross-Category Sales Available Globally
London  –
WEBWIRE
–
Tuesday, May 26, 2020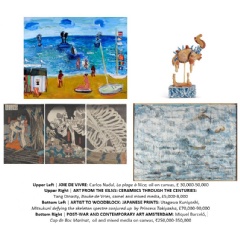 Christie's programme of online-only sales continues to evolve with a further series of auctions that place an increased emphasis on the dialogue that exists between objects and artwork, artists and makers. Presented within engaging themes, each auction provides collectors with an opportunity to continue their exploration of the world through art and artefacts that transcend the limits of a category or a defined moment in history. These range from a sale that traces the development of portraiture as a genre to a survey of art that transports the viewer to a different time and place.
An online selling exhibition titled Art to Wear will provide insight into artists who have created jewellery – portable artworks that adorn the body of the wearer [now live until 10 June]. Out of Office: Art That Transports [now live until 10 June] provides a selection of work to transcend the viewer from the current home environment, awakening a sense of the exotic. Get Art! A 20th Century Escape [28 May–11 June] will gather works of modern and contemporary art covering the period from 1900 to the present day with prices ranging from €100 to more than €100,000, including artists such as Hans Hartung, Niki de Saint Phalle, Hiroshi Sugimoto, Wilfredo Lam, Pierre-Auguste Renoir and Paul Delvaux.
Face Time: People in Art through the Ages [2-23 June 2020] will offer examples of portraiture from the 1st century AD to the first half of the 20th Century, tracing the development of the genre by looking at the paintings and sculptures not only as a recording of the sitter but as a sociological observation. Art from the Kiln: Ceramics Across the Centuries [3-24 June] will demonstrate the vitality of the medium, offering a global perspective of how it developed from 500 BC to 2020. Inspired by Nature – Fine and Decorative Arts [3-19 June] offers a poetic journey dedicated to the natural world.
Modern Works on Paper and Prints [15 June–1 July] will unite the works on paper and print mediums, showcasing the breadth of artistic styles of Modern Masters from the 1880s to the 1960s. Defined by works with a strong modern aesthetic, it will feature examples by Pablo Picasso, Marc Chagall, Joan Miró and Francis Bacon, among others. Dialogues: Modern and Contemporary Art [26 June–14 July] will draw together a group of work that reflects the ongoing dialogue between contemporary artists and their predecessors. The auction will focus on artistic responses to periods of radical change across generation and geography.
[i]Let There Be Light [24 June–14 July][/i] will offer a selection of art and objects that bring light into the home, whether practically or poetically. Eureka! Scientific Breakthroughs of the 20th Century [24 June–16 July 2020] will present a journey through the scientific and technological breakthroughs that have formed the modern world, and the brilliant minds that lay behind them, including Thomas Edison, Albert Einstein and Stephen Hawking, among others. Joie de vivre [30 June-17 July 2020] will offer a selection of colourful paintings and works on paper that evoke the spirit of the age in the setting of the French Riviera. Even in times of great historical turmoil and uncertainty, the lifestyle and the landscape fuelled several generations of European artists, who lived and worked there.
Christie's has already scaled sales online, with 83 sales scheduled so far this year and more to come (Christie's held the same number across the whole of 2019). Existing clients are already familiar with this platform - 64% of all global clients bought or bid online in 2019. Since lockdown, 27% of all buyers online were existing clients in our traditional auctions who bought in our online channel for the first time.
Online sales are also working hard to support our charitable efforts. Andy Warhol: Better Days, recently closed, making $272,125, with proceeds to support the Warhol Foundation's efforts to provide emergency relief to artists throughout the US. The top lot was Andy Warhol's Self-Portrait which sold for $37,500. Christie's Worlds Beyond: Fine Books & Manuscripts online auction, is now open for bidding until 4 June, and presents a collection of 12 drawings by Sir Quentin Blake, titled Imaginary Friends, which have been specially created to raise funds for Comic Relief, and illustrate the imaginary companions people in isolation may dream of.
Alongside the curated online sales, live auctions originating from London, Amsterdam and Paris are moving online, providing collectors with pivotal moments in the familiar auction calendar. These include The Collector [now live until 1 June 2020], Hommage à Arp: The Collection of Greta Stroeh [now live through 9 June 2020], Post-War and Contemporary Art Amsterdam [2-18 June 2020], Artist to Woodblock: Japanese Prints [11-18 June 2020] and Arts of India: Heavenly gods and earthly pleasures [4-25 June 2020].
Christie's Paris live sales have begun again today with The Collector: Le Goût Français auction, followed by Books and Manuscripts and Old Master Drawings on 27 May. Live sales continue in Paris with Works on Paper [3 June], highlighted by a rare work by Louis Anquetin and also the Impressionist and Modern Art sale [4 June]. We will be operating with all necessary measures to protect our visitors and our staff, strictly following official guidelines.
The global auction calendar for online and live sales can be found here.
About Christie's
Christie's, the world's leading art business, had auction sales in the first half of 2019 that totalled £2.2 billion / $2.8 billion. Christie's is a name and place that speaks of extraordinary art, unparalleled service and international expertise. Christie's offers around 350 auctions annually in over 80 categories, including all areas of fine and decorative arts, jewellery, photographs, collectibles, wine, and more. Prices range from $200 to over $100 million. Christie's also has a long and successful history conducting private sales for its clients in all categories, with emphasis on Post-War & Contemporary, Impressionist & Modern, Old Masters and Jewellery.
Alongside regular sales online, Christie's has a global presence in 46 countries, with 10 salerooms around the world including in London, New York, Paris, Geneva, Milan, Amsterdam, Dubai, Zürich, Hong Kong, and Shanghai.
*Please note when quoting estimates above that other fees will apply in addition to the hammer price - see Section D of the Conditions of Sale at the back of the sale catalogue.
*Estimates do not include buyer's premium. Sales totals are hammer price plus buyer's premium and are reported net of applicable fees.
( Press Release Image: https://photos.webwire.com/prmedia/6/259610/259610-1.jpg )
Related Links
WebWireID259610

This news content was configured by WebWire editorial staff. Linking is permitted.
News Release Distribution and Press Release Distribution Services Provided by WebWire.