BBC to host diversity and inclusion conversation with the United Nations on LinkedIn to mark International Diversity Day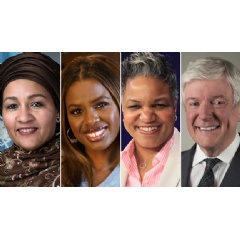 We must ensure that diversity and inclusion is baked into our 'new normal' once the crisis has passed. June Sarpong
To mark International Diversity Day (Thursday 21 May), the BBC's Director General, Tony Hall and the United Nations Deputy Secretary-General, Amina J Mohammed will lead an hour-long discussion on how to ensure diversity and inclusion is at the heart of plans to recover better from the COVID-19 pandemic.
The event will bring together the BBC, United Nations (UN) and leading experts from across the creative industry for the Creative Diversity Dialogue discussion on LinkedIn Live.
It will be broadcast to the combined audience of the BBC and UN's millions of LinkedIn followers, as well as to LinkedIn members who are in the creative industry. The event will also air on the BBC's internal staff network and the United Nations own Web TV.
The pandemic has had a severe impact on the creative industries, with the indefinite suspension of many projects, and the financial stability of the many freelancers across the industry left in peril. The conversation will explore how creative leaders can ensure inclusion remains a priority during this time of uncertainty and in our socio-economic recovery. It will include contributions from the BBC's Executive team and thought leaders in the area of diversity and inclusion.
The conversation will feed into the values of the 17 Sustainable Development Goals adopted by world leaders, and whilst the discussion will focus on the creative industry, the intention is for the themes and learnings to be applicable across multiple industries.
June Sarpong, BBC's Director of Creative Diversity will share an update on the BBC's plans to lead the way with new diversity strategies at this time. She will also be joined by members of the BBC's Executive Board, including Charlotte Moore, Director of Content, James Purnell, Director of Radio and Education, Miranda Wayland, Head of Creative Diversity and Tim Davie, CEO of BBC Studios. They will all speak about the commitment to diversity in their areas.
Rosanna Durruthy, LinkedIn's Global Head of Diversity, Inclusion and Belonging, will join the panel to discuss the importance of prioritising and investing in diversity and inclusion through this crisis and beyond, and why belonging must also be a key part of this conversation. Contributions will also come from renowned academics and thought leaders in the area of diversity and inclusion - Eddie Ndopu, activist, humanitarian, and UN Sustainable Development Goal Advocate; Karen Blackett OBE, WPP UK Country Manager and GroupM UK CEO; Dr. Stacy L. Smith, Founder, Annenberg Inclusion Initiative at University of Southern California; and Caroline Casey, Founder and CEO, Valuable500.
The discussion will examine the crucial role the creative industries have played in ensuring intercommunity conversations and understanding continued during the COVID-19 crisis. Live news coverage has given us up-to-the-minute information. New series like Killing Eve have brought debate and conversation to social media. While moments like the BBC's Big Night In brought communities and nations together when we had to be apart. They will delve into how the creative industry can continue to showcase our diverse world under unprecedented monetary pressures.
Questions will be posed: How can we create adaptations such as Noughts And Crosses that invited viewers to consider racial divisions? How can we produce ground-breaking programming like Fleabag that embraces inclusive casting? How do we represent all voices so communities understand each other?
Tony Hall, BBC's Director General, says: "Through the current pandemic we have been focused on keeping the public informed, educated and entertained, but our actions now and in the future must not come at the cost of building an inclusive creative industry. I am determined that the BBC continues to lead the way on diversity and we are committed to working with experts and partners at the UN and LinkedIn to share insights and learn from one another."
Amina Mohammed, UN Deputy Secretary-General, says: "We are facing a health, humanitarian and socio-economic emergency - that is, above all, a human crisis. This is exactly the right time to focus on our diversity and to ensure inclusion in every step of our response and recovery from COVID-19 at global, country and community levels. To do this, we need partners to help us reach everyone, everywhere at the same time with life-saving information and services and to protect jobs and livelihoods."
June Sarpong, BBC's Director of Creative Diversity, says: "The industry has come to a standstill at a time when the world needs its creativity most. As the world's largest public service broadcaster the BBC is uniquely positioned to help lead the creative industry through this crisis, both in terms of how we weather the storm but perhaps more importantly on how we build back better. We must ensure that diversity and inclusion is baked into our 'new normal' once the crisis has passed. We are excited to be partnering with the UN and LinkedIn to lead the way on this important conversation."
Eddie Ndopu, activist, humanitarian, and UN Sustainable Development Goal Advocate, says: "The pandemic is tearing back the curtain on just how entrenched inequality is. The solutions lie with the most vulnerable among us. In order to truly build back better every voice must be included. Like so many I embody all of the identities that position me at a disadvantage in society, but I am committed to making my voice heard and to fighting for that right for everyone."
Rosanna Durruthy, LinkedIn's Head of Global Diversity, Inclusion and Belonging, says: "As companies search for ways to keep their employees connected and supported during this time, investing in diversity, inclusion and belonging must remain a top priority. The disproportionate impact of COVID-19 on underrepresented groups has underscored the importance of connection and community across our all-remote workforces and as leaders, we must ensure we're doing all that we can to continue fostering inclusive environments."
Dr. Stacy L. Smith, Founder, Annenberg Inclusion Initiative, says: "I am honoured to join the BBC and the United Nations for this timely gathering to discuss the importance of including all voices as the media industry resumes its work around the world."
The discussion will be streamed on LinkedIn Live at 5pm on Thursday 21 May.
( Press Release Image: https://photos.webwire.com/prmedia/5/259369/259369-1.jpg )
Related Links
WebWireID259369

This news content was configured by WebWire editorial staff. Linking is permitted.
News Release Distribution and Press Release Distribution Services Provided by WebWire.