Classic England cricket performances to be replayed on BBC Radio 5 Live Sports Extra throughout May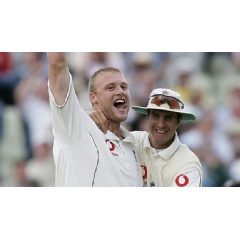 The Edgbaston Test match of 2005 was undoubtedly the most dramatic Iíve ever been involved in - and I look forward to hearing for the first time how it sounded for the listeners of Test Match Special. Michael Vaughan
BBC Radio 5 Live Sports Extra has announced it will be replaying a selection of classic cricket matches from Englandís recent past.

Famous 2005 Edgbaston Ashes Test to be replayed in full for first time since original live broadcast
Commentary of every England game in their winning 2019 Menís World Cup campaign
Expansive schedule begins Saturday with replay of Englandís victorious Womenís 2017 World Cup Final
Huge demand for Cricket on BBC Radio, with over 210,000 online requests to stream audio from final day of 2019 Headingley Ashes Test (revisited on 11 April), with Ben Stokesí heroic match-winning innings.
Commentaries from memorable Ashes Tests, Englandís victorious 2017 Womenís World Cup Final and every England game from last yearís winning Menís World Cup campaign will be replayed on BBC Radio 5 Live Sports Extra and via the BBC Sport website and app throughout May.
For each of these classic games, including the famous 2005 Ashes Test at Edgbaston, this will be the first time the commentaries have been broadcast in full since airing live.
5 Live Sports Extraís upcoming schedule of classic England performances will begin this Saturday 2 May with a replay of the 2017 Womenís World Cup Final Ė Englandís dramatic win over India at Lordís.
Over the upcoming bank holiday weekend, between 7-10 May, commentary from Englandís Ashes Test win over Australia at Edgbaston will be replayed in full for the first time since its original live broadcast. One of the greatest Test matches in Ashes history, this legendary victory saw England, captained by future TMS summariser Michael Vaughan, beat Australia by two runs, which set the platform for one of the greatest Ashes series of all time.
On Saturday 16 May, 5 Live Sports Extra will celebrate the tenth anniversary of Englandís first ever ICC menís trophy win by replaying full commentary of Englandís win over Australia in the 2010 World T20 Final in Barbados.
Between 17-31 May, every England game from the victorious 2019 Menís World Cup campaign will be revisited. All eleven games will be played in full, culminating in the semi-final win over Australia on 30 May, and the most dramatic end to a World Cup ever - Englandís Super Over victory against New Zealand, on 31 May.
There will be a live text service on the BBC Sport website and app for the womenís final on 2 May, the last two days of the Edgbaston Test (9-10 May), and for the World T20 anniversary on 16 May.
All games will be replayed in full and will be available on 5 Live Sports Extra, BBC Sounds and via the BBC Sport website and app.
Speaking specifically about the plans to revisit the 2005 Ashes Test at Edgbaston and the ICC Menís World Cup Final in 2019, ex-England Captain Michael Vaughan says: ďThe Edgbaston Test match of 2005 was undoubtedly the most dramatic Iíve ever been involved in - and I look forward to hearing for the first time how it sounded for the listeners of Test Match Special. Certainly the most dramatic game Iíve commentated on was the ICC Menís World Cup final last year - Englandís whole campaign was full of drama and intrigue, so Iím delighted that listeners will be able to follow them throughout the tournament leading up to that incredible final.Ē
The response to BBC Radio 5 Liveís replay of the 2019 Ashes Test at Headingley earlier this month demonstrated the huge appetite for cricket during a period of limited live sport.
In addition to the majority audience listening on 5 Live Sports Extra, there were over 210,000 online requests to stream audio of the final day of Headingley on 11 April, when Ben Stokes scored his incredible unbeaten century to help England to a one-wicket win. The average online listening time for the final day was higher than when the match was broadcast live - it was the fourth most requested online programme across the BBC that day, beating Indiana Jones and Paddington 2!
Speaking of the huge demand for the 2019 Ashes Test replay earlier this month, Test Match Special producer Adam Mountford says: ďWe had the most amazing reaction to the replay of the Headingley Test. We had messages from health workers who said listening before or after shifts helped give them a rare sense of normality, from people living on their own who told us the broadcast was their favourite experience in lockdown and from families who listened together and commented that the coverage provided a wonderful shared experience.Ē
ďWe have been inundated with listeners wanting us to replay other great matches. By a long distance, the most requested game was Edgbaston 2005, so we are delighted that in the absence of any live cricket action that we can rekindle some magical memories of that game and other great matches from Englandís recent past.Ē
Former England Womenís Cricketer and BBC Broadcaster, Isa Guha says: ďLordís has hosted two of the most thrilling finals to World Cups that I can remember in any sport, and it was an honour to be part of the TMS team for both the Womenís World Cup in 2017 and the Menís World Cup in 2019. I just hope listening along at home will be less nervous than it was on the day with two incredibly dramatic finishes!Ē
Former England Menís Cricketer and BBC Broadcaster, Jonathan Agnew says: ďFor me, the most dramatic matches Iíve commentated on for Test Match Special were Edgbaston 05, Headingley 2019 and the World Cup Final. Having enjoyed listening to the drama of Headingley 2019 unfold again from my back garden, Iím looking forward to listening back to that famous Edgbaston Test from 15 years ago. Replaying each England match from last yearís ICC Menís Cricket World Cup will help bring the drama of that incredible finish to life again.Ē
There will more classic Test matches to be replayed in June on BBC Radio 5 Live Sports Extra, when the international season had been due to start. Full details to follow.
( Press Release Image: https://photos.webwire.com/prmedia/5/258689/258689-1.jpg )
Related Links
WebWireID258689

This news content was configured by WebWire editorial staff. Linking is permitted.
News Release Distribution and Press Release Distribution Services Provided by WebWire.