Visitors asked to picture 'staying in' as National Gallery's new digital programme brings art to the home during closure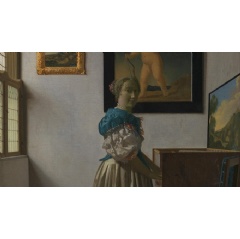 Detail from Johannes Vermeer, 'A Young Woman standing at a Virginal', about 1670-2
The National Gallery is bringing its pictures to our homes in a major new digital programme.
Inspired by the legacy of the Myra Hess concerts, which took place at the Gallery during the Second World War, the programme – produced entirely from home – across its social media, website and emails celebrates the creative possibilities of staying in and the ways that art can help mental wellbeing during the coronavirus lockdown.   
The Gallery serves a digital audience of over 10 million people every year, with a digital reach of hundreds of millions of people. After record increases in visits to some of its online content of over 2,000% on last year, following closure of its Trafalgar Square site, the Gallery's new digital programme - with a tagline 'The Nation's Gallery, in the nation's homes' - looks at the different ways people can look at, use and respond to art wherever they are. Through this digital initiative the Gallery will be open 24/7 with free art for everyone online.
In A curated look, nationalgallery.org.uk/stories/a-curated-look-working-from-home staff give talks on the Gallery's pictures from their living rooms; the first inspires people to look at the way artists have painted what is around them indoors. Dr Francesca Whitlum-Cooper, the Gallery's Associate Curator of Paintings 1600-1800, talks about paintings from the Gallery's collection that celebrate domestic activities such as playing music and card games. Among the works Dr Whitlum-Cooper discusses are Chardin's The House of Cards, Manet's Eva Gonzalès, Degas's Combing the Hair ('La Coiffure') and Vermeer's Young Woman Standing at a Virginal. 
As many people under lockdown are finding comfort in nature around their homes and in their gardens, another upcoming episode in the series looks at three expansive rural landscapes in the collection that take us from morning to night. As well as Rubens's A View of Het Steen in the Early Morning and Corot's The Four Times of Day; Night this talk includes that most treasured evocation of the British countryside, Constable's The Hay Wain.
A series of online tutorials on 'slow looking' develops the Gallery's mindfulness programme by showing online visitors how to look at pictures in depth and explore hidden details. The first of these asks us to take a closer, slower look at Turner's Rain Steam and Speed – The Great Western Railway.
In Make and create nationalgallery.org.uk/stories/make-and-create-a-collage-inspired-by-rousseaus-surprised viewers are given suggestions and instructions for making and creating artworks at home, inspired by the collection. In the first episode, families are shown how to use their old newspapers and magazines to create a collage inspired by Rousseau's painting of a tiger prowling in the undergrowth, Surprised! In an upcoming episode, one of the Gallery's most popular paintings, Van Gogh's Sunflowers, is the starting point to explore four fun drawing techniques for people to try at home.
These different ways to access great art are free and available at any hour of the day. Visitors can get the latest articles and features straight to their inbox – by simply signing up via the website to get regular email updates. We'll also be emailing people with exhibition news and reopening information as soon as it's available.
The programme is launched as figures announced by the Gallery today show that its virtual tour pages are up 506% compared to the period before the lockdown (1 March 2020 – 18 March 2020). When compared to the same time last year they are up 1,985%. The Google virtual tour of the Gallery is up 642% on the period prior to the Government's instructions to stay at home, an increase of 3,046% on the same time last year.
The Gallery's collection pages (where you can zoom into paintings in detail and read about them in depth) have received 58% more views than the previous period (1 March 2020 -18 March 2020) and 10% more than this time last year.
Among the increased visits are those for behind-the-scenes films of conservation and scientific work and its Picture of the month films. This feature has added resonance to the Gallery during its present closure; when the building was last temporarily shut in parts during the Second World War, it was decided that one painting should be chosen each month to stay in London for the public to enjoy during the hostilities while the rest of the collection remained in storage elsewhere.
Dr Gabriele Finaldi, Director of the National Gallery, says: 'The last time the Gallery closed the doors on the pictures for a long period was during the Second World War when the pianist Dame Myra Hess organised a musical programme here. She planned a concert at lunchtime every single weekday throughout the war and continued into 1946. It is a very remarkable National Gallery story and we consider ourselves the heirs of Myra Hess's spirit as we plan our activities while the Gallery's building is temporarily closed. With this exciting new digital programme you will see that we are open all hours, with free art for everyone. So do join us as there is lots to discover. You bring the tea; we will bring the art.'
NOTES
The National Gallery has a strong digital presence across its website and social media channels. All of the Gallery's collection is represented online with a dedicated webpage, zoomable image, key facts and description – https://www.nationalgallery.org.uk/paintings/search-the-collection
Some of the collection is also on other platforms that bring together many other cultural institutions such as Art UK and Google Arts & Culture.
The Gallery produces a wealth of digital content; behind the scenes videos, serialised content, Facebook and You Tube Lives. Plus, there is a large back catalogue on our YouTube channel of lectures, talks and events.
There are also live-streams of talks and lectures on YouTube and lots of videos that further the reach of the Gallery. These either focus on the works you can see on the walls, such as the recent round-up of paintings by female artists currently on display, or take online visitors behind the scenes such as our relining Charles I video which has had more than 285,000 views on YouTube. Anthony van Dyck's Equestrian Portrait of Charles 1 hasn't been on the Gallery walls since September 2017 when it was removed for conservation, a process we have been documenting. The painting was due to go back on display very soon.
https://www.nationalgallery.org.uk/paintings/anthony-van-dyck-equestrian-portrait-of-charles-i
https://www.nationalgallery.org.uk/support-us/getty-project-relining-van-dycks-equestrian-portrait-of-charles-1
The Gallery works collaboratively with partners.
Sunflowers Live is a prime example (content still available on YouTube, with links to the content produced at the other institutions https://www.youtube.com/watch?v=vFGVaMVyAoU) 
And very recently, Titian Facebook Live: https://www.facebook.com/83395535556/videos/2951570134882570/ 
Highlights from our collection are shared through social media (1.5m followers on IG, 980k followers on FB, 884k on Twitter.)
Our exhibitions might not currently be physically accessible but regular content from them is shared (videos, texts via website and social media channels) so we can still engage our audiences. We will continue to share content about our exhibitions, regardless of whether they are closed (Titian: Love, Desire, Death) or postponed (Artemisia). We will be sharing:
A series of films for each that look at the context around the artist and paintings 
For Titian - An introduction to Ovid with Mary Beard, an introduction to his technique, an overview of Diana and Callisto and Diana and Actaeon and a look at what scientific analysis and conservation revealed about the paintings  
For Artemisia - An introduction to 'Judith Beheading Holofernes' (her most famous composition), an introduction to her time in London and an introduction to Marlborough House ceiling (the ceiling that was originally painted for the Queen's House, Greenwich, by her father Orazio Gentileschi and who some people believe she helped him finish).  
Recent available content to help people explore art while self-isolating 
 Titian
Titian Facebook live: https://www.facebook.com/83395535556/videos/2951570134882570/
Making the Titian frames for the exhibition: https://youtu.be/yBpqBIMyDSw
Titian Lives from January on each of the paintings (digitally reuniting all the Poesie for the first time): https://www.nationalgallery.org.uk/exhibitions/titian-love-desire-death/facebook-live
Symbols and themes series
Eight female artists from the collection https://www.youtube.com/watch?v=VO4I8zVrOIQ 
Love and punishment, the meaning of arrows in art https://www.youtube.com/watch?v=w9gdviGauNI&t=3s
How to spot saints in paintings: https://www.youtube.com/watch?v=vs84aa39srU&t=50s
The meaning of birds in paintings https://www.youtube.com/watch?v=EUbseVy0kIg&t=4s
Behind the scenes series 
Behind the scenes playlist: https://www.youtube.com/playlist?list=PLvb2y26xK6Y7VpUt4n_py9LGrJKR9WsQ-
Latest video - retouching Charles I portrait https://www.youtube.com/watch?v=N7fi1Sa3dSU&t=609s
( Press Release Image: https://photos.webwire.com/prmedia/6/258418/258418-1.jpg )
Related Links
WebWireID258418

This news content was configured by WebWire editorial staff. Linking is permitted.
News Release Distribution and Press Release Distribution Services Provided by WebWire.