Four Seasons Resort Palm Beach Offers At-Home Gardening Tips Along with Garden-Fresh Recipes
Bringing beauty, sustainability and comfort into homes
Palm Beach, U.S.A. –
WEBWIRE
–
Thursday, April 23, 2020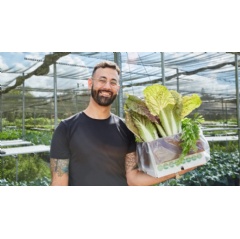 Four Seasons Resort Palm Beach invites guests to unleash their inner green thumbs and cultivate gardens at home with tips from the Resort's horticulture-savvy characters and personal at-home growers.
Along the way, find garden-fresh recipes that utilise homegrown bounties or simple market fresh ingredients in Florie's Journal, a growing collection of storied recipes from the master craftspeople behind the Resort's flagship restaurant in partnership with three Michelin-starred, "World's Best" Chef Mauro Colagreco. How-tos include gnocchi with sage butter sauce by Head Chef Nino La Spina, a dish inspired by the memory of sunny Sunday mornings in the Tuscan countryside where his grandmother first taught him the art of pasta making.
Matthew Dress, Lead Mixologist, Florie's at Four Seasons Resort Palm Beach
A staple in Palm Beach for more than 12 years, Matthew Dress has been developing garden-inspired cocktails with ingredients thoughtfully selected for their purpose and flavour. This is at the heart of the Florie's Bar cocktail culture, which features seasonally changing, garden-driven cocktails that celebrate Florida's abundance of citrus and the versatility of fresh herbs and botanicals sourced from the Resort's garden and local farms.
"I personally love the versatility of growing herbs at home," says Matthew. "They bring a calming feeling to the room, enhance living conditions with cleaner air, and take at home cooking and mixology to another level." The following are Matthew's top recommendations:
Basil is one of Florie's most utilised herbs, adding fresh flavour to an array of dishes and cocktails alike. It's also among the most popular herbs to grow at home, not only because it's quite simple to grow, but it's also incredibly tasty. Plant basil seeds into potting compost and place on a sunny windowsill. For a sweet and fragrant refreshing beverage, try mixing up Matthew's basil mocktail, which adds blueberries and ginger root.
Chives are a relative of the onion family and have slender, pointed leaves. Plant seeds directly in the soil in the spring. Chives grow best in a sunny spot with rich moist soil, so Matthew recommends keeping the plants well-watered.
Coriander (cilantro) is another versatile herb for the kitchen and grows well in the ground or in containers. Seeds can take weeks to germinate and the plants are fairly short-lived, therefore, sow a few seeds every couple of weeks for a continuous supply. Try utilising the fresh herbs to create Matthew's cilantro mocktail, a spicy and tart beverage that includes kiwi, serrano, cilantro and grapefruit soda.
Mint is one of Matthew's personal favourites as it has many health benefits, compliments a wide range of both dishes and beverages, and has many different varietals. Spearmint is the most common type of mint used in cooking and cocktails. This variety expands easily, therefore, Matthew recommends planting in a large pot where roots can grow freely. At Florie's, Matthew's mint mocktail pairs the herb with strawberry, cucumber and Fever Tree citrus tonic for a crisp and sweet sip.
Oregano is an ideal spring and summer herb that can be grown outdoors when the soil has warmed up or just as easily indoors and has beautiful pink flowers that can brighten any room. Matthew suggests enjoying this herb after it has been dried rather than freshly picked.
Sage is another home garden staple as it's very easy to grow and perfect for cooking with, for example, this gnocchi with sage butter sauce by Florie's Head Chef Nino La Spina. As sage does not prefer wet soil, Matthew suggests planting it in a sunny spot with fertile, well-drained soil.
Matthew adds to always use a high-quality organic potting soil and to water herbs at the base where the stem meets the soil, not the leaves. As for how often herbs need to be watered, Matthew says that it's "a matter of watching and learning to read each individual plant. A good rule of thumb is to let the soil dry between watering."  For extra personality, Matthew suggests creating fun labels.
Cary McKain, Resident Florist, Four Seasons Resort Palm Beach 
As spring begins to transition into the summer months, Cary suggests blending beauty with sufficiency by planting a garden that includes both flowers and vegetables. "An integrated garden will provide lovely blooms to arrange and enjoy in your home as well as a chance to grow some of your own food," says Cary. "My suggestions for beginners would be to plant gladiolus, sunflowers and marigolds with squash, eggplant, and hot and sweet peppers.
To start, the first step is to clear out any weeds and old foliage. Next, amend the garden space with a good soil or compost. "My favourite gardening secret is Miracle-Gro All Purpose Garden Soil. This complete garden soil enables larger, beautiful flowers and vegetables by releasing plant food for up to three months. It's a game changer," Cary recommends.
Gladiolus bulbs offer a mix of pink, purple, orange, red and yellow tones. They make wonderful cut flowers with very little work. Sunflowers are another fun plant to add to a flower and vegetable garden. They are hardy, easy to grow, and work well close to the back of any bed as they tend to produce tall flowers. In addition, marigolds are one of the easiest and most beautiful flowers to grow. Marsh, French and giant marigolds deliver different heights, textures, and colors.
For vegetables, Cary suggests squash, especially zucchini, as they are robust and simple to maintain, in addition to eggplant, which grows best where summers are long and warm. Varieties include large oval, elongated, and even white eggplants. Another favourite recommendation of Cary's is to plant a variety of both hot and sweet peppers, which flourish in sunny, well-drained spots.
Like many hobbies, fine-tuning a newly green thumb may take time, practice and patience. For the team at Four Seasons Resort Palm Beach, the moment the herbs, flowers or vegetables are picked from a garden, the experience of their freshness is the true reward.
( Press Release Image: https://photos.webwire.com/prmedia/6/258412/258412-1.jpg )
Related Links
WebWireID258412

This news content was configured by WebWire editorial staff. Linking is permitted.
News Release Distribution and Press Release Distribution Services Provided by WebWire.