Tate & Lyle receives approval from Anvisa for PROMITOR® Soluble Fibre functional claim
São Paulo, Brazil –
WEBWIRE
–
Tuesday, April 21, 2020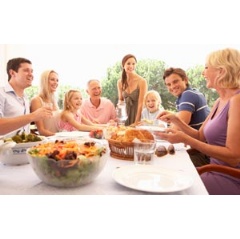 Tate & Lyle PLC (Tate & Lyle), a global provider of ingredients and solutions for the food, beverage and other markets, is pleased to announce that Anvisa (the Brazilian Health Regulatory Agency) has approved the claim that PROMITOR® Soluble Fibre "assists in the absorption of calcium in food and its retention in bones. Its consumption must be associated with a balanced diet and a healthy lifestyle." It is the only fibre to have such a claim approved in Brazil.
Food and drink manufacturers can now add this claim to the labels of products containing PROMITOR® Soluble Fibre. The soluble corn-based fibre can be easily incorporated into a wide range of food and beverage products, such as yoghurts, bars, cereals, ice cream, sauces, and breads, helping to meet consumer demands for more fibre in the daily diet.
Concern over the lack of sufficient fibre in people's diets is growing globally: studies show that almost 90% of Brazilians are concerned with digestive function and 49% would pay more for food containing fibre.
By adding this claim to their labels, manufacturers can therefore increase the competitiveness of their products, while also staying on top of other key trends, such as clean labelling, i.e. the pursuit of consumers to understand the origin of the products they buy, quality seals and labels.
"This is a very significant achievement for us, considering that Tate & Lyle is the first company to obtain this claim for fibres, totally new in the local market", explains Oswaldo Nardinelli, Senior Vice President and General Manager, Food & Beverage Solutions, Latin America, Tate & Lyle. "Besides the pioneering spirit, we are excited to be able to bring this innovation to the Brazilian food industry, contributing to the growth of the sector and helping manufacturers stay more and more aligned with new consumption trends, besides, of course, favouring the health of Brazilians."
According to Karina Costa, Senior Manager of Regulatory Affairs for Latin America, Tate & Lyle, Anvisa's approval of the claim came after a process that lasted a year and a half, a quick period considering that this is an innovative claim. "We have a lot to celebrate. Until now, the claim could only be used in North America. Brazil is the first country in Latin America to obtain this approval. Our goal now is to pursue the approval in other countries", she says.
Tate & Lyle's Nutrition Manager for Latin America, Renata Cassar, highlights that "bone health is affected by the absorption of calcium from the diet, which is important throughout life, from adolescence, when young people are going through a growth phase, and after 45 years of age, due to age-related natural losses of bone mass. Through clinical studies, Tate & Lyle confirmed that PROMITOR® Soluble Fibre aids in the absorption of calcium in food and its retention in bones". She adds that, "in addition to helping with intestinal function and maintaining digestive health, it is known that fibres help to maintain healthy blood glucose levels, and are therefore important for those with, or at risk of, diabetes.
PROMITOR® Soluble Fibre also offers other benefits in food formulation. It can, for example, be used in sugar and calorie reduction strategies as a partial substitute for sugar, helping food companies to meet consumer demand for healthier foods. In addition, the product has a neutral flavour and colour and adds body to food, which enables manufacturers to use it without compromising the taste and texture of food. Another important point is that the product is available in liquid and powder formats, facilitating the use by industries in a wide variety of foods and beverages.
Notes for Editors:
In order to be able to add this claim, the product must provide at least 10g of fibre per day from resistant corn starch. For dietary supplements, the claim is approved only for products targeted at the age groups of 9-18 years old and over 19 years old.
About Tate & Lyle: 
Tate & Lyle is a global provider of solutions and ingredients for food, beverage and industrial markets.

Tate & Lyle operates through two global divisions, Food & Beverage Solutions and Primary Products, supported by the Innovation and Commercial Development and Global Operations teams. Food & Beverage Solutions is focused on growth by building leading positions globally in the categories of beverages, dairy, and soups, sauces and dressings. Primary Products is focused on delivering steady earnings and generating cash.

Food & Beverage Solutions consists of: Texturants, including speciality starches; Sweeteners, including low- and no-calorie sweeteners; and a Health and Wellness portfolio comprising mainly speciality fibres; and Stabilisers and Functional Systems, which are bespoke ingredient blends that ensure foods retain their structure.

Primary Products consists of high-volume sweeteners, industrial starches and fermentation products (primarily acidulants).  It also sells co-products from the corn milling process as animal nutrition.

Tate & Lyle is listed on the London Stock Exchange under the symbol TATE.L. American Depositary Receipts trade under TATYY. In the year to 31 March 2019, Tate & Lyle sales totalled £2.8 billion. For more information, please visit http://www.tateandlyle.com or follow Tate & Lyle on Twitter or Linkedin.
( Press Release Image: https://photos.webwire.com/prmedia/5/258307/258307-1.jpg )
Related Links
WebWireID258307

This news content was configured by WebWire editorial staff. Linking is permitted.
News Release Distribution and Press Release Distribution Services Provided by WebWire.