Saudi Arabia pledges US$ 150 million to Gavi COVID response
- New funding for Gavi, the Vaccine Alliance to support lower-income countries' response to the COVID-19 pandemic, including supporting health systems by protecting health workers, providing diagnostics and improving surveillance

- Pledge follows G20 commitment to provide immediate resources to Gavi

- Dr Ngozi Okonjo-Iweala: "COVID-19 is a global problem which requires a global solution"

Geneva, Switzerland –
WEBWIRE
–
Monday, April 20, 2020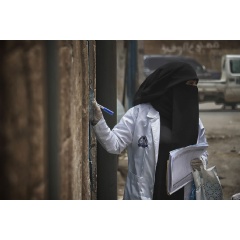 The Kingdom of Saudi Arabia has pledged US$ 150 million to Gavi, the Vaccine Alliance to support their response to the COVID-19 pandemic.
The funding comes as part of a US$ 500 million package from the Kingdom of Saudi Arabia to support emergency and preparedness response, developing and deploying new diagnostics, therapeutics and vaccines, fulfilling unmet needs for international surveillance and coordination, and ensuring sufficient supplies of protective equipment for health workers.
On 26 March G20 leaders, led by the Kingdom of Saudi Arabia, agreed to commit immediate resources to Gavi and other partners to help tackle the COVID-19 pandemic.
"We are sincerely grateful to King Salman and the Kingdom of Saudi Arabia for this vital pledge, as well as to the G20 Secretariat for their continued recognition of the crucial work we are undertaking," said Dr Ngozi Okonjo-Iweala, Chair of the Gavi Board. "COVID-19 is a global problem which requires a global solution – we will not win the battle against this disease until it's defeated everywhere. That's why this funding is so important, making a major contribution to our efforts to help lower-income countries contain and defeat this disease."
"This support will have a massive impact, helping us to support health systems, protect health workers, deliver diagnostics and boost surveillance in countries that need support," said Dr Seth Berkley, CEO of Gavi, the Vaccine Alliance. "Health systems in lower-income countries face one of the biggest tests in living memory; Gavi, along with our donors and partners, are ready to ensure they can meet it."
On 4 June the UK government will host the Global Vaccine Summit, aiming to raise at least US$ 7.4 billion to immunise 300 million children and save 8 million lives in the next five years (2021-2025) as well as help countries respond to and recover from the COVID-19 pandemic. At the last Gavi replenishment conference in Berlin in 2015 the Kingdom of Saudi Arabia announced a pledge of US$ 25 million for Gavi's 2016–2020 programme.
The COVID-19 pandemic is already disrupting routine immunisation services in lower-income countries across the world. Vital vaccination campaigns against diseases like measles, polio, yellow fever and cholera have already been suspended while routine immunisation for young children is likely to be severely disrupted. Gavi is working with countries to keep immunisation programmes going, where possible, and is ready to launch mass vaccination campaigns once the immediate crisis is over to prevent a resurgence of deadly diseases, as well as working with countries to prepare for vaccines against COVID-19.
To address the immediate crisis, Gavi has made available up to US$ 200 million in funding to help countries respond to the crisis. More than US$ 32 million has already been approved to help 23 countries support health systems by protecting health care workers with personal protective equipment (PPE), performing vital surveillance and training, and funding diagnostic tests.
Notes to editors
About Gavi, the Vaccine Alliance
Gavi, the Vaccine Alliance is a public-private partnership that helps vaccinate half the world's children against some of the world's deadliest diseases. Since its inception in 2000, Gavi has helped to immunise a whole generation – over 760 million children – and prevented more than 13 million deaths, helping to halve child mortality in 73 developing countries. Gavi also plays a key role in improving global health security by supporting health systems as well as funding global stockpiles for Ebola, cholera, meningitis and yellow fever vaccines. After two decades of progress, Gavi is now focused on protecting the next generation and reaching the unvaccinated children still being left behind, employing innovative finance and the latest technology – from drones to biometrics – to save millions more lives, prevent outbreaks before they can spread and help countries on the road to self-sufficiency. Learn more on our website and connect with us on Facebook and Twitter.
The Vaccine Alliance brings together developing country and donor governments, the World Health Organization, UNICEF, the World Bank, the vaccine industry, technical agencies, civil society, the Bill & Melinda Gates Foundation and other private sector partners. View the full list of donor governments and other leading organizations that fund Gavi's work here.
( Press Release Image: https://photos.webwire.com/prmedia/5/258238/258238-1.jpg )
Related Links
WebWireID258238

This news content was configured by WebWire editorial staff. Linking is permitted.
News Release Distribution and Press Release Distribution Services Provided by WebWire.