Infected or Not, You Can Help Accelerate COVID-19 Treatments and Vaccines Thanks to This New Clinical Trial-Matching Initiative
Announcing WorldWithoutCOVID.org, a first-of-its-kind, global public health initiative to connect COVID-positive and -negative individuals with clinical trials for diagnostics, treatment and vaccine discovery
San Francisco, CA –
WEBWIRE
–
Tuesday, April 14, 2020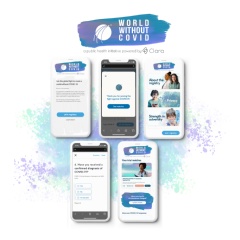 Today, co-founders Evan Ehrenberg and Sol Chen of Clara Health, the company providing individuals access to breakthrough clinical trials, and Silicon Valley tech leaders Raj Kapoor of Lyft and Vijay Chattha of VSC, are launching World Without COVID (WorldWithoutCOVID.org). This free public health initiative connects both COVID-19-positive and -negative individuals to clinical trials to advance diagnostics, treatment and vaccine discovery, as well as to blood donation centers for coordinating donations to enable urgently-needed convalescent plasma treatments. 
COVID-19 has infected almost two million people across the globe and affected billions more in a myriad of ways, generating an unprecedented crisis. The key to producing a vaccine lies in healthy volunteers, but we can also learn from individuals who have been exposed to the virus and developed antibodies to fight it. Furthermore, we need better, faster, cheaper tests as well as effective treatments, which will come from massively supported clinical research trials. While resources for tracking exposure to infected individuals and educational surveys around COVID-19 symptoms have made a positive impact, no one has created a definitive service connecting people to clinical trials aimed at finding new solutions. 
After being diagnosed with COVID-19, Lyft's Chief Strategy Officer and former entrepreneur and VC, Raj Kapoor, sought the help of Clara Health to rapidly construct World Without COVID, leveraging the company's technical infrastructure already built to connect millions of people with clinical studies across the world. Kapoor also enlisted Vijay Chattha of VSC to help get the word out and generate awareness. 
"When I tested positive for COVID-19, my first thought was for my wife and four children – had I exposed them? Were there any experimental tests or treatments available for them?" said Raj Kapoor, Chief Strategy Officer of Lyft. "We were lucky enough to recover, but thousands of others haven't been. This sparked the idea for this important initiative and enabled a World Without COVID for my family and billions of others." 
World Without COVID's database will list over 400 COVID-19 clinical trials currently run today, and will continuously be updated to include all US interventional trials and most international studies as more trials are developed. The listing is automatically updated every day based on data pulled from clinicaltrials.gov and other sources. COVID-positive and -negative individuals can complete a simple registration at no cost and be shown a list of matching trials and how to connect with each study team. After completing additional screening questions, Clara Health matches individuals with the studies that best suit them based on eligibility criteria publicly documented for each clinical trial, and can guide individuals through the process – accelerating and increasing participation.  
World Without COVID aims to address two immediate needs:
Identifying COVID-positive and -negative individuals to validate the efficacy of new diagnostic tests, targeted treatments, vaccines and plasma transfusion trials 
Donation of urgently needed blood plasma for convalescent plasma treatments
Evan Ehrenberg, who graduated from UC Berkeley at 16 and became the youngest ever neuroscience Ph.D. student at MIT, and Sol Chen, a former bioinformatics and computer vision researcher at MIT and the University of Michigan, co-founded Clara Health in 2016 to help individuals with any condition access clinical trials more easily and quickly than ever before. 
Clara Health's global database includes clinical trial opportunities for all types of diseases. To date, the platform has matched over 10,000 patients to more than 60,000 trials, driving scientific discoveries that have the potential to impact millions of people around the world and accelerating the time it takes to enroll for these studies by 2-4x. The company is backed by leading investors including Khosla Ventures and Founders Fund, and is supported by a distinct group of patient and medical advisors hailing from top institutions including UCSF, Takeda and MIT.
"Our mission is to democratize access to clinical trials so anyone can access potential new breakthroughs in medicine and accelerate their advancement," said Evan Ehrenberg, co-founder and CEO of Clara Health. "Immediate action is critical in the fight against COVID-19. We've created a seamless way to match volunteers with relevant trials and support them throughout the process of joining studies so they can support testing of the diagnostics, treatments, and vaccines that will be key to ending this pandemic."
The platform is fully HIPAA and GDPR compliant, and Clara Health's patient support team is entirely in-house and certified for Good Clinical Practices (GCP), ICH, and Human Subjects Research (HSR). Top doctors, institutions and executives have endorsed World Without COVID by Clara Health, including:
Dr. Annie Luetkemeyer, Professor of Medicine, Division of HIV, Infectious Diseases and Global medicine at Zuckerberg SF General and UCSF
Dr. Satish Pillai, Professor, Department of Laboratory Medicine at UCSF and Senior Investigator at Vitalant Research Institute
Grace Juneau Whiting, CEO and President of The National Alliance for Caregiving 
Randall Rutta, CEO and President of the American Autoimmune Related Diseases Association
Dr. Pamela Munster, Director of Early Phase Clinical Trials Unit at UCSF
Dr. Lydia Alexander, Specialist in Internal Medicine at Kaiser Permanente
Dr. Jabari Reeves, Emergency Medicine Physician at Kaiser Permanente and Head of Medical Affairs at CureAI
Dr. John Seitz, Attending Anesthesiologist at Lenox Hill Hospital
Dr. Daniel Kraft, Founder & Chair, Exponential Medicine
Wayne L. Pines, Former Associate Commissioner of the FDA 
Logan Green, CEO and Co-founder of Lyft
Julia Hartz, CEO and Co-founder of Eventbrite, on the UCSF board of overseers
Kevin Hartz, Chairman and Co-founder of Eventbrite
Nish Bhat, Co-founder of Color 
Adrian Aoun, CEO and Founder of Forward
Fred Turner, CEO of Curative
Jon Carder, CEO of Vessel Health
Nihal Mehta, Founding General Partner at ENIAC Ventures
Tim Chang, Managing Director, Mayfield Fund
"People with autoimmune diseases are among those with underlying conditions who are at risk of serious illness and death if infected with COVID-19," said Randall Rutta, President and CEO of the American Autoimmune Related Diseases Association (AARDA). "Millions are struggling to understand the threat of the disease and ways to navigate the disruption caused by the pandemic to better manage their health and well-being. The World Without COVID registry and public health initiative offers hope and an avenue for participation in addressing their own concerns and contributing to advancing the discovery necessary to take on this disease worldwide. The American Autoimmune Related Diseases Association (AARDA) applauds Clara Health and others in launching World Without COVID to accelerate clinical research to advance diagnostics, treatment, and vaccine discovery. AARDA stands ready to engage the autoimmune community in this important work and the pathways to health that will surely follow."
"The COVID-19 pandemic has brought to light the need to engage people and those who care for them in the delivery of healthcare and medicine," noted C. Grace Whiting, President and CEO of the National Alliance for Caregiving. "One way we can all help is to be citizen scientists, participating in data registries and clinical research that will accelerate our collective effort to stop this disease in its tracks."
"World Without COVID fills an urgent need in our healthcare system as the world faces this current crisis," said Nish Bhat, co-founder of Color. "I am excited by the potential of this platform to give hope and possibly save the lives of many moving forward."
"Our ability to fight this global pandemic depends critically on those infected with COVID-19 and healthy individuals, rapidly engaging the clinical and scientific communities," said Dr. Satish Pillai, Associate Professor at UCSF Laboratory Medicine. "This will help us to understand the true nature of immunity against this virus, boost the quantity and quality of testing, and most importantly – develop effective therapies and vaccines to defeat COVID-19."
To see if you are eligible to participate in a clinical study or to donate blood to enable blood plasma clinical trials and future treatments, please visit WorldWithoutCOVID.org.
( Press Release Image: https://photos.webwire.com/prmedia/42381/257946/257946-1.png )
Related Links
WebWireID257946
Contact Information

VSC for World Without COVID
Media Contact
VSC

This news content may be integrated into any legitimate news gathering and publishing effort. Linking is permitted.
News Release Distribution and Press Release Distribution Services Provided by WebWire.