Dropbox partners with artists to create custom backgrounds for video conferencing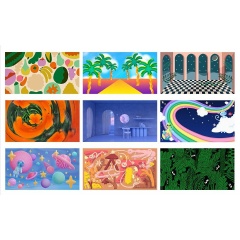 With many of us working from home during the global pandemic, video conferencing has become a staple—whether it's for meetings, happy hours with friends, or play dates for kids. Dropbox illustrators partnered with external artists to create custom video conferencing backgrounds to help make your time online more enjoyable. Some illustrations provide a sense of escapism, some draw from the natural world, and others are inspired by childhood comic books. Check out what the artists created and read about the inspiration behind their work. And if you like them, you can download them here.
20:10, 23 August. Summer was ending, but a gentle sea breeze came in from my window caressing my face.
The palms danced together with the rhythm of the waves of the sea, which, in the background, replaced the voice of my thoughts.
The sunset, symbol of the end of a day, gave room for the night to enter, and filled, with its sweet pink light, the lightness of my soul.
Check out more of Cristina's work here.
For this piece I wanted to create a surreal, dreamlike reality which seems particularly suitable for the slightly surreal experience of video calling. I tried to make it a place that was difficult to locate and that seems beyond time. I took inspiration from the mood of Georgio De Chirico Metaphysical painting series.
Check out more of George's work here.
Being a Los Angeles based artist means being surrounded by warm weather, nature, and sunshine. While we're stuck inside, I thought it would be nice to bring the outdoors in with this cheerful, bright background. My hope is that it will feel like a nice vacation in the virtual world.
Check out more of Grace's work here.
For this piece I took from my love for late 90s and early 2000s toys like Polly Pocket and My Little Pony, wanting to transcend a sense of escapism by providing a digital safe "space," in particular a vibrant and soft, squishy plastic universe.
Check out more of Loulou's work here.
For this piece, I wanted to approach it in a way that brings together different elements. I wanted to play with shape, first and foremost. I also wanted to touch on elements of nature and the natural world, something many of us are sorely missing being cooped up inside these days. I was inspired by a sweater I designed in the new Animal Crossing game, and decided to use that as a leaping off point. The color palette I selected was based on an autumn stroll through the woods, and colors you might see there. The piece combines those elements with symbols of communication, something that we as a society are redefining right now.
Check out more of Patrick's work here.
Lisa Frank was the inspiration for my illustration. The chaotic over-the-top rainbows, gradients, and glitter were always a fun juxtaposition next to the soft illustrations of kittens and unicorns. I also wanted to create a background with little buddies that could keep you company when jumping from video call to video call throughout the day.
Check out more of Sydney's work here.
When I seek comfort, and right now I'm seeking it more often than not, I tend to look back to things that I loved as a child. This illustration is loosely inspired by the Moomin comics - specifically the lush forest-jungle hybrid the characters inhabit. Tove Jansson's illustrations exuded so much warmth, but not without a touch of darkness and mystery.
Check out more of Olenka's work here.
I wanted to create a gentle, illustrated reminder to take care of yourself and eat your fruits and vegetables!
Check out more of Fanny's work here.
This photo was taken during an afternoon stroll. Now that we are forced to pause. I hope this California poppy swirl can be a reminder to take a deep breath, go for a walk and observe spring unfolding in all of its glory—while remaining 6 ft apart.
Check out more of Gabrielle's work here.
( Press Release Image: https://photos.webwire.com/prmedia/7/257929/257929-1.jpg )
Related Links
WebWireID257929

This news content was configured by WebWire editorial staff. Linking is permitted.
News Release Distribution and Press Release Distribution Services Provided by WebWire.