Managing remote teams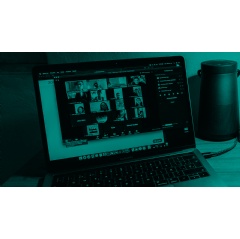 With a massive proportion of the workforce now working from home, thousands of companies have now been forced to pivot from flexible working to fully remote overnight. The learning curve has been steep and can be stressful for managers and employees alike, especially when you throw caring for family members, young children being at home and a global pandemic into the mix.
So what is the best way to manage remote teams? Fully remote teams existed before coronavirus, so there are certain tips and tricks that you should employ to keep your workforce happy and productive. Weíve gathered a few of them below, as well as the full video of our webinar we held a couple of weeks ago that featured Ben Gateley from CharlieHR and Tessa Clarke from Olio, a company who have been fully remote since day one.
Rules of engagement
Communication is absolutely critical. Regular and consistent comms will make sure everyone knows whatís going on and no one will feel left out.
When everyone is in a different place, engagement can be an issue. It means process and policy become critical. Everyone needs to be clear on how the company operates, with each team having clear objectives and priorities.
Give people flexibility over their day. They might be juggling many things at home.
Have regular video meetings, with each participant having their camera on, where possible. Tessa from Olio recommends one camera and mic per person, even if some participants are in the same room, as it reduces the chances of side conversations and certain people being left out.
Staying focused
Keeping people focused when everyone is remote can sometimes be a challenge, but this is where a companyís mission, vision and values come into play. If every employee is crystal clear on these, it helps them focus and concentrate on whatís important.
Team management hygiene is another one that is super important. Hold regular one to ones, and stick to them. To do this well, you need to invest in it. Make sure communications are regular and managers are trained.
Remote recruiting
When youíre hiring remotely, itís so important to have a clear and repeatable hiring process.
Hiring managers can no longer rely on instinct, visual cues or body language, so itís vital to take a scientific approach to hiring. Have a replicable 3-4 stage recruitment process. Base your questions on the skills and behaviors needed for the role and score answers against your criteria.
Tessa Clarke says when recruiting for a remote team, it is crucial that they are mission obsessed and a self-starter. That way they will be on board from the very beginning, and find it easier to get stuff done.
Clarke also recommends watching Daniel Pinkís talk on motivation. Motivated employees need have autonomy, mastery and purpose.
Give people autonomy. It leads to higher retention.
For new joiners, consistency is really important. Have a super prescriptive induction process, which line managers are responsible for implementing.
Health and wellbeing: Setting boundaries
Encourage your team to schedule wellbeing into the day Ė whatever that might look like. If itís left to the end of the day people can get distracted or forget, and feel burnt out.
Make wellbeing a regular topic in manager one to ones.
Lead by example. Make it clear that wellbeing is a priority from the top down.
Be empathetic. Especially when it comes to sickness and overworking.
Activities like chatting amongst employees and tea breaks can quickly be forgotten, so itís important to remember and encourage them. Encourage fun communication channels so people can bond on a personal level. It will keep morale up and the team strong.
Understand that some people are integrators and some are separators Ė some people need a strict work routine, while others integrate their work and home life.
Watch the full session:
Navigating Coronavirus - Managing People and Remote Teams
Find a range of helpful links and advice on our Coronavirus Hub and browse our other articles on the subject here.
( Press Release Image: https://photos.webwire.com/prmedia/7/257904/257904-1.png )
Related Links
WebWireID257904

This news content was configured by WebWire editorial staff. Linking is permitted.
News Release Distribution and Press Release Distribution Services Provided by WebWire.