Homeward bound
During the COVID-19 crisis, flying thousands of workers home from a construction project in remotest Indonesia became essential to continuing safe operations. We hear from the Tangguh site manager leading the mammoth effort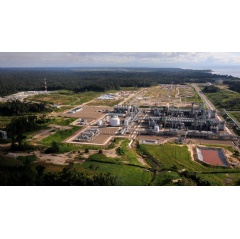 So far, everyone is safe and well on the site, but we quickly realized that the risk of someone coming in on rotation with the virus was very high. -John Schwebel
Throughout the COVID19 crisis, many BP people are hard at work keeping energy flowing to the world when it needs it most. People like John Schwebel, a US citizen currently working in Indonesia as BP's construction manager and site safety leader for the Tangguh Expansion Project.
John's day job – alongside his back-to-back colleague – is to oversee construction of a third liquefied natural gas (LNG) train and a second jetty located at the site in Papua Barat province in the east of Indonesia. That means he's been responsible for some 13,700 people working on this huge project in a very busy, very remote site.  
No mean feat at the best of times, but with COVID19 cases rising across Indonesia – particularly in Jakarta – and new workers coming in all the time as part of the regular rotation system, John and his colleagues realized that there was a serious risk of an outbreak at the site.  
"This is the largest project site anywhere in BP right now," he explains. "We're in a very remote location. The project leadership team started to monitor the situation with COVID19, back in January."
In the first instance, that involved checking temperatures since the first sign of infection tends to be a fever. 
Since then, John and his team have coordinated the complex logistical challenges involved in flying thousands of people from 30 different countries back home. So, with the support of BP's principle contractors and from Niall Maguire, BP's vice president of projects in Indonesia, and the wider projects leadership team, the Tangguh Expansion Project team stopped new people coming on to the site and, as of 15 March, began to demobilize non-essential project personnel. 
"Our number one goal has always been to protect our people," says John, "and I can't express enough how much support we've had from Niall and our senior leaders when it came to making these decisions."
"We started by demobilizing non-essential staff and those at higher risk and are down to about 9,000 people after 10 days," says John. "We think it will take us another 10-12 days until we're left with a core team who will help us to continue to manage and preserve the site, take care of the camps and cook food. We'll also have a small core team of project team members who will work on rotation – once we've worked out our quarantine process – to keep the site safe." 
While expansion project work is ramping down, Tangguh's other two LNG trains continue to operate, albeit it with enhanced levels of vigilance and screening for the much smaller workforce. It does mean that new people are still entering the facility; the Tangguh site leadership team is taking further steps, such as social distancing, to protect the site from possible infection.
The crisis has also meant encouraging people to adopt new social behaviours. "There are all sorts of ways the virus could be transferred here," John says. 
And for John particularly, it has meant staying vigilant to people's stress levels – since high levels of long-term stress can adversely affect decision making and, therefore, safety. 
"The technical part of this challenge is actually easier – it's tangible," says John, "but the people side is a balancing act. One person might be on his sixth week of rotation and completely capable of six more, while another might be overwhelmed after just two weeks.
"So, I need to stay alert to other people's stress, help make sure they're not distracted by the many news stories on social media, and keep communicating our plans so that people feel confident. And, if I think someone needs to go home sooner, then we'll make that happen. You have to trust your gut a lot."
( Press Release Image: https://photos.webwire.com/prmedia/6/257861/257861-1.jpg )
Related Links
WebWireID257861

This news content was configured by WebWire editorial staff. Linking is permitted.
News Release Distribution and Press Release Distribution Services Provided by WebWire.