The Mercedes-Benz Brand Ambassador initiative in the #stayhome era: At home instead of in Hawaii: Jan Frodeno faces the challenge of the "Ironman at home"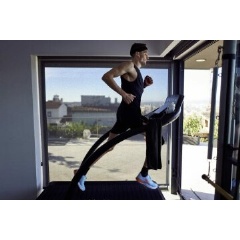 Jan Frodeno, Mercedes-Benz Brand Ambassador since 2016 and Laureus Sport for Good Foundation Ambassador since 2010, is Germany's top triathlete and a three-time winner of the Ironman. He brought home Olympic gold from the 2008 triathlon in Beijing and won Hawaii's Ironman World Championship in 2015, 2016 and 2019. In the face of 2020's COVID-19 pandemic, this standout athlete will be going to the starting line at home.
As in previous years, Jan Frodeno had big plans for 2020. In addition to the challenge in Roth, the Ironman on Big Island in Hawaii was again on his agenda, but then came the COVID-19 pandemic, accompanied by the lockdown in Jan's adopted home of Girona. This was a bitter pill to swallow: no outdoor training and no competitions, with all of them being cancelled until further notice.
However, Jan Frodeno didn't see this as any reason to give up his athletic dreams. He is instead making the best of this difficult situation, participating this challenge within his own four walls. Many of his fans initially took it to be an April fool's joke when he announced the "triathlon at home" on Facebook and Instagram. Jan is serious, however, and the extraordinary challenge is to become a reality on Easter Saturday. Jan will then complete the entire Ironman distance of 3.8 km of swimming, 180 km of cycling and 42.2 km of running at home. He will be swimming in his in-home pool, which is equipped with a counter-current system. Then Jan will get onto his roller trainer for the 180 km bike course. Finally, he will run the marathon distance on his treadmill. Fans around the world can accompany Jan and his "tri at home" online and even have the opportunity to take a virtual ride along with him as he completes the bike course. Jan will pass on all donations received to worthy causes.
How did Jan come up with this creative idea? What goals is he pursuing with this challenge? How can his fans support him in this endeavour? In this interview, the elite athlete provides answers to these and other burning questions.
Jan, how does the coronavirus lockdown affect you as a sportsperson?
The lockdown is something that affects everyone, not just me as an athlete. I live in Spain, and we've been subject to lockdown for three weeks. I'm not allowed to leave the house, which prevents me from jogging, riding my bike or even taking a walk. The only thing I'm allowed to do is take the dog for a walk around the block or go shopping when absolutely necessary. There is strict monitoring of compliance with these rules, but rightly so. The situation here is realy dire. That's why I've been training at home for three weeks now. However, when I see what the people here in the hospitals are doing for us, this small sacrifice is one I wholeheartedly make.
You are currently training for your "Ironman at home", which you have scheduled for Easter Saturday, April 11. How did you come up with an idea like this?
I'm always training for an Ironman taking place somewhere, but since there won't be any taking place in the foreseeable future, I'm now organizing one for myself at home. We already thought of this idea a few weeks ago when things slowly started taking shape here in Spain and it became clear that the situation was really getting serious. In the beginning it was actually just a crackpot idea, with me thinking: "If I can't do my race, I'll just do it at home." Then we thought more about how and why we should actually do this: It's certainly not about showing off. I just want to attract attention in order to raise money. I want to use this event to support those who are currently doing the competition in the hospitals day in and day out.
You're organizing everything from home, and your fans are thrilled. Are you getting any other support, such as from partners, in order to raise awareness for the event?
When it comes to implementation, I'm inevitably on my own, more or less, but I can hardly believe what has been raining down on us since we made the announcement on April 1. Our partners want to support us wherever possible. For example, Mercedes-Benz is announcing my project on all its channels and offers interesting prizes at the auction. My fans are curious about what to expect and whether I can do it, and the media are also quite keen on it. We are really pleased about this response, because the greater the support, the more we can achieve.
What is your family saying about this idea? Are they going to have to cheer for you from the edge of the pool?
I had to get the okay from my wife, since she has to take care of our two kids all day long, but she loves doing that. Sure, my family will be checking in on me from time to time, but the children won't find any of this particularly exciting – they know that I train in the training room.
How will all of this actually look in technical terms? For instance, how will you know that you have swum 3.8 km in the pool?
Using the speed of the counter-current system, I can calculate how long I have to swim to cover 3.8 km. That means that if the system is set to 1 minute and 10 seconds per 100 meters, I have to swim for 44 minutes and 20 seconds.
How can people support you as spectators?
The best way to support me is to help the named charities through donations or to participate in our auctions so that we can raise as much money as possible together. If you want to accompany me live, you can do so using the stream we will be offering. Those who have the "Zwift" training platform at home can also accompany me virtually and help me to quickly reach my goal – with the time and speed of the event not having highest priority for a change.
Another way for individuals to participate is to solicit donations from others. How can we participate and to whom do the donations go?
We are currently working on setting up the donation platform www.viprize.org/Frodeno. On this platform, we will hold raffles for products and "money can't buy" events, and the proceeds will also be included in the big basket of donations. Our partners are also really motivated to create some great incentives to participate. It's really something to look forward to. However, we will also gladly accept every donation of five euros. All donations are a good investment, as they will be used wisely. A portion of the donations will support Laureus Sport for Good to build up a project. My sponsor Mercedes-Benz is a founding member of this charitable initiative, and I have been involved in it as an ambassador for many years. The rest of the donations will be given to local healthcare institutions here in Girona.
Will it be possible to cheer for you online during your Ironman on Saturday?
Yes. We are currently working on a streaming show that we expect to be viewable on several channels and on my Facebook page. Additional information is to follow.
( Press Release Image: https://photos.webwire.com/prmedia/6/257780/257780-1.jpg )
Related Links
WebWireID257780

This news content was configured by WebWire editorial staff. Linking is permitted.
News Release Distribution and Press Release Distribution Services Provided by WebWire.