Figmin: Create, collect & play with Holograms
PARTNER STORIES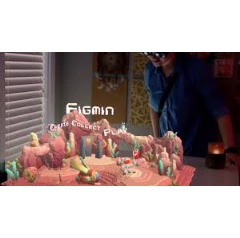 Figmin, created as part of our Indepenent Creator Program, is now live on Magic Leap World. It's a multi-purpose platform for creating, collecting, and playing with holograms. We spoke with Javier Davalos, founder of Overlay, to learn more about the app.
Figmin founder Javier Davalos has been fascinated by spatial computing for as long as he can remember. Thirteen years ago, he concluded that our world would be changed forever - and for the better - through the adoption of some form of spatial computing. While he worked previously as a senior software engineer on AAA MMO-RPG games, and as a software architect and game designer on #1 paid App store games like Cars 2 from Disney, he continued to believe that spatial computing could change the world: "I realized that someday humans would start believing that digital objects can be as good or better than real ones, and that it would be a good day for all of life on earth: we'd reduce our material consumption and thus reduce our waste output". Eventually, he quit his job, started Overlay, and dedicated himself to developing a new spatial tool that would inspire people and accelerate the mainstream adoption of spatial technology.
Javier applied his vision for spatial and imagination for design concepts to create Figmin, a multi-purpose platform for creating, collecting and playing with holograms. Why a platform? "Making just an editor, or a game, would have been easier, but by building a platform we bring together people with different skill sets that synergize to create amazing experiences".
With Figmin, Javier hopes people will have more tools, another ecosystem and network to contribute to the growing world of spatial in a way that is both exciting and fun, but also helps accelerate adoption. With his vision and creative applications, Figmin was selected for Magic Leap's Independent Creator Program (ICP), which supports unique and cutting-edge development.
If you're a developer looking to get started with Magic Leap, consider applying to our Access Hardware program here.
With Figmin now available on Magic Leap World, anyone can begin creating with Magic Leap regardless of their technical abilities.
Tapping the possibilities of 3D models
Anyone can leverage Figmin's built-in 3D model editor to create custom holograms, and can then combine them together to enable complete spatial experiences. Users can also 3D-scan the geometry of real objects in a room, and turn those into holograms - which can be edited and modified directly within any of the built-in editors.
"Design wise, it was quite an adventure," said Javier. "There was a lot of experimenting and testing that took place to come up with a series of mechanics that would enable users to perform three specific activities - create, collect, and play - within the same application, in a way that was both simple and comprehensive."
Figmin also introduces an innovative control mechanic that is designed to work with both Motion Controllers and Hand Tracking systems: The Contextual Hand User Interface "CHUI". It consists of a UI element that is always in your hands, but it's content depends on what you are doing and what you are pointing at. For example, if a user is grabbing an object, they can transform it. But if a user is just pointing at it, they can open up a full menu of edit options.
What makes Figmin even more exciting is its ability to manipulate the physics of holograms to create even more unique experiences and test the boundaries of designs. With a built-in physics editor, users can bring models to life by adjusting properties such as mass, friction, drag - and even bounciness. Users can also build, test and play in zero-gravity environments for a new and unique design experience.
Emphasizing community to drive adoption
Above all else, Figmin is intended to foster community and inspiration. Users are encouraged to exchange and collect digital content with other makers through QR codes generated for each Figmin creation - or by simply discovering content created by the community directly through the Figmin application.
Community and collaboration was a big part of why Javier was excited to work with the Magic Leap platform. "Magic Leap trusted me, and we shared similar values," said Javier. "They seemed to understand and appreciate my focus of making this program successful so I could do my part to advance the world of spatial, but more importantly inspire other developers to do the same"
Figmin's 3D UI is built from the ground up, and the entire application was designed from inception to be an online shared experience. With this, Javier hopes to inspire people to share sessions with other makers, foster peer challenges and accelerate innovation through an open and collaborative platform.
Continuing the creative pipeline
What's next? Javier promises this is only the beginning. In the coming months and years, his team plans to continue developing Figmin and introduce new tools, editors, multiplayer access, and even freehand controls. His vision and motivation remains the same - create the tools, design capabilities, and community that will inspire people to change the world through spatial technology.
( Press Release Image: https://photos.webwire.com/prmedia/6/257734/257734-1.jpg )
WebWireID257734

This news content was configured by WebWire editorial staff. Linking is permitted.
News Release Distribution and Press Release Distribution Services Provided by WebWire.