Fourth-Year Medical Students Join the Fight Against COVID-19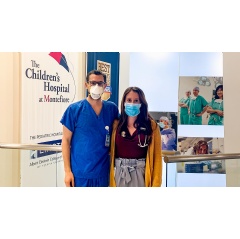 They have stepped right up and become fully integrated members of the team. We are extremely grateful for the help as we all learn together how to care for this patient population. -Patricia Hametz, M.D., Pediatric Hospital Medicine division chief at CHAM
As more and more COVID-19 patients pour into hospitals around New York City, fourth-year Einstein medical students are volunteering for a program to help healthcare workers cope with the increasing demand for care.
Launched just one week ago, the program started with four students who were assigned to a special floor at Children's Hospital at Montefiore (CHAM), where elective surgeries have been canceled to accommodate the influx of adult COVID-19 patients. (Four additional fourth-year medical students started working with pediatricians earlier this week—two on the Moses campus and two at Jacobi Medical Center.)
Working as subinterns in tandem with hospital teams, the four CHAM volunteers are taking on 12-hour shifts, supporting pediatricians in the care of adult patients. Currently, it is the only program where Einstein medical students are working on the wards, and it is entirely voluntary.
"Everyone in the medical community is going above and beyond to help these patients," said one of the fourth-years at CHAM, Corin Kinkhabwala. "This is where Einstein and Montefiore thought we would be most utilized and provide the best assistance. There are a lot of moving pieces. It's very fluid, and you have to be adaptable."
Todd Cassese, M.D., assistant dean for clinical sciences at Einstein, said each fourth-year "is caring for three to four patients and reporting back to the resident and attending physicians. The students are also providing advice on other patients on their teams."
CHAM's pediatric hospital medicine division chief, Patricia Hametz, M.D., said the fourth-year volunteers "have been truly amazing. They have stepped right up and become fully integrated members of the team. We are extremely grateful for the help as we all learn together how to care for this patient population."
A Call for Action
When the COVID-19 pandemic started escalating in the Bronx in early March, medical school graduation was less than three months away. By mid-March, Einstein sent an email to gauge interest among the fourth-years in helping care for patients with COVID-19. "The fact that they reached out made me realize how dire the situation was," Mr. Kinkhabwala said. Dozens of fourth-years volunteered.
Using a random name generator, Dr. Cassese, working with the office of student affairs, selected four students: Mr. Kinkhabwala, Keara English, Michael Longo, and Marika Osterbur-Badhey. "We decided to start small and then grow the effort," Dr. Cassese explained.
Josh Nosanchuk, M.D., Einstein's senior associate dean for medical education, said the four piloting the program are "displaying their passion and compassion for our community. I couldn't be more impressed or proud as they beautifully represent the heart and soul of Einstein"
Some of the adult patients who present with COVID-19 symptoms in the emergency departments at Montefiore are being sent to the converted floor at CHAM, where patients are sick enough to be hospitalized but do not require a ventilator. Patients who grow more ill are transferred to a different care team or the intensive-care unit.
Fourth-year volunteer Keara English says things were changing constantly due to need to accommodate the rapid influx of new patients, "but all the physicians—the attendings, residents, and interns—adapted quickly. I am proud to be able to work with them. Everyone is really trying to do their best to help our patients."
To minimize the number of times healthcare staff go in and out of hospital rooms, a lot of the care is done by checking patient monitors connected to screens in the hallway and communicating with patients by telephone. "We are being paired with pediatric interns," Ms. English said, "and basically just take the load off of them by checking the patients' charts, making sure the lab reports come back, writing progress notes and discharge summaries, and communicating with the nursing staff, respiratory therapists, social work staff, and the family."
Rhonda Acholonu, M.D., Montefiore's vice chair for education in the department in pediatrics, said she worked alongside some of the fourth-years on overnight shifts at CHAM. "They were incredibly engaged and helpful. They spent time talking to the patients via the phone and gathering outstanding histories. It just goes to show you that the spirit to help is deeply engrained in the Einstein student."
A Connection to Their Team
The CHAM COVID-19 schedule involves working from 6 a.m. to 6 p.m. for three days, 6 p.m. to 6 a.m. the following three nights, and then three days off. "In times like these having continuity of teams is critical and can save lives," Dr. Cassese said. "But we wanted the students to choose their schedules. They discussed it on their own and they decided to stick with their teams, and I think it was a great choice, but it was theirs."
Mr. Kinkhabwala, who will start a residency in otolaryngology-head and neck surgery at the Medical University of South Carolina later in June, said, "Some patients are sicker than others. It's tiring, but I love it. This is what I signed up for. The patients are great. They are so resilient. It helps me get up in the morning."
Ms. English, who will begin her internship this summer at Memorial Sloan Kettering Cancer Center before starting her radiation oncology residency at Johns Hopkins in Baltimore next year, said she was motivated to volunteer at CHAM because of what she heard about the need for help from close friends who are interns in emergency medicine and internal medicine in New York City. "I knew that if there was anything I could do, I wanted to try and relieve that burden."
She also felt a special kinship to the Bronx. "I love our community here," Ms. English said. "There are a lot of patients here that, on a good day—with no COVID-19—struggle with their health. They deserve our best efforts."
( Press Release Image: https://photos.webwire.com/prmedia/6/257711/257711-1.jpg )
Related Links
WebWireID257711

This news content was configured by WebWire editorial staff. Linking is permitted.
News Release Distribution and Press Release Distribution Services Provided by WebWire.