BT - standing by the country; standing by our people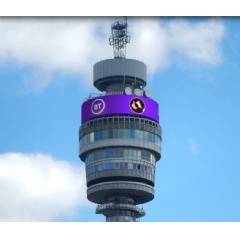 BT keeping the UK connected, safe and working, says Philip Jansen

Commits to no job losses related to the coronavirus crisis for the foreseeable future

Pay increase for 'team member' workers; pay freeze for managers

Reconfirms award to all employees of £500 worth of BT shares in June

Chief Executive to donate his salary for at least the next six months
BT is currently playing a critical role in delivering the UK's digital infrastructure, as well as keeping customers connected globally. Despite unprecedented demand for connectivity, BT's fixed broadband network – the nation's communications backbone, and EE – its number one mobile network, are both performing strongly.
We are prioritising support for critical services, specifically the NHS, from connecting the new Nightingale Hospitals, to innovating to allow isolated patients to speak with their loved ones. This is why many of our frontline people – engineers and customer service colleagues – are designated as key workers by the UK Government.
BT is also working with Government on initiatives to support the country's most vulnerable people and on the provision of data to guide public health policy. A raft of measures is ensuring that the company's 30m customers have connectivity, flexibility and access to the critical services they need.
To reflect this vital role, BT announces today that, whilst ongoing transformation programmes will continue, no employee will lose their job in the foreseeable future – at least the next three months – as a direct result of changing trading conditions brought about by coronavirus. Throughout the same period, BT will continue to pay all employees' salaries in full and – in line with its commitment to maximise support to the UK's national effort – will not put any staff on publicly-funded 'furlough'. We are currently supporting thousands of colleagues who are unable to work; have protected the jobs of 400 new engineers who cannot currently be trained; and are reskilling and redeploying many of our 4,200 retail staff to provide services to some of our most vulnerable customers.
To recognise these frontline key workers, who are doing so much to keep the UK connected through the crisis, BT has also decided to offer an annual pay increase of 1.5% effective from 1 July 2020 to its team members (non-managerial staff) in the UK.
At the same time, BT has decided not to make an annual pay increase to its managers in 2020/21.
BT also reconfirms its previous commitment to make an award of £500 worth of BT of shares to all employees in June. The 'yourshare' scheme amounts to around a £50m investment this year in making all BT Group colleagues shareholders in the company.
In addition, BT Chief Executive Philip Jansen has decided that, for at least the next six months, whilst the business works through the crisis, he will donate his salary to the NHS Charities Together Covid-19 appeal and to affected small businesses in his local community.
Philip Jansen said: "BT is stepping up, standing by the country in this time of need and standing by our people who are working tirelessly to keep everyone connected, safe and working. I have been extremely proud of the commitment shown by BT colleagues to support our customers in the last few weeks and want to recognise that. This is an unprecedented situation and I want to give our people some certainty about the months ahead. This period requires sacrifices from us all, and I want our people to know we are all in this together."
Philip Jansen's internal communication to all BT colleagues:
Dear colleagues,
The first thing to say is another massive thank you to all of you, all around the world. Your response to the challenges we face right now has been incredible. What I have witnessed in the last few weeks has been truly humbling, and I am very proud to be part of our company. Thank you so much.Like any organisation, we have had our ups and downs and of course we don't get everything right, but the last few weeks have demonstrated the vital role BT plays. We're powering the UK's digital infrastructure, as well as keeping customers connected globally. Despite unprecedented demand for connectivity, our fixed broadband network – the nation's communications backbone, and EE – our number one mobile network, are delivering for our customers when they need us most. Our networks, products, services and people, right across the world, have delivered under conditions we could never have imagined. You have heard me talk about creating a better BT, and in the last few weeks, we've seen it. Dedicated, hard-working, delivering for customers, working brilliantly together and having huge impact - this is the soul of BT.
All that said, we are in unprecedented times. The trading conditions in our sector are tough, and of course we're keeping a close watch on the potential financial impact from the outbreak of coronavirus. Many companies are having to make difficult decisions. But as I've said before, just as you are there for our customers, we are doing everything we can to be there for you. Today, we are announcing a number of measures to support you. My first commitment is about jobs. For the foreseeable future – at least the next three months – no BT, Openreach, EE, or Plusnet colleague will lose their job as a result of the changing trading conditions brought about by coronavirus. That's a promise. To avoid any misunderstanding, we will continue any ongoing or planned transformation programmes unrelated to the coronavirus pandemic. Where we do that, we will continue to retrain and reassign people wherever possible. Additionally, we will need to be extremely thoughtful about recruitment, so I will now personally approve recruitment plans for every part of the BT Group in 2020/21.
Secondly, I don't want any of you to worry about whether you'll be paid. The commitment I made to all of you at the start of the coronavirus outbreak still holds true: we'll continue to pay all of you, for at least the next three months, whatever the circumstances.
On our commitments to both jobs and pay, we will review these again in three months. I hope they give you some peace of mind in very uncertain times. We will of course let you know if and when anything changes.
Thirdly, here is what we're doing on pay increases:
For our Team Members across all our brands in the UK, we will be offering an annual pay increase of 1.5% effective from 1 July 2020.

After careful thought, we've decided that this year there will be no pay increase for our managers across the BT Group. I understand this will be disappointing for many of you, but in times of challenge we all have to do what we can to look after the whole of BT. That said, we do currently intend to make discretionary bonus payments for the last financial year to everyone who is eligible, subject to the usual rules. You'll hear more about that in June.

If you're outside the UK, we'll work through what this means country by country with your regional leadership.
Finally, we will honour our commitment to make an award of £500 worth of BT shares or equivalent to all our people. We always said we would do this if the circumstances were right. In many ways, the circumstances are really tough, but in another way, now is the perfect time to recognise and thank you for the phenomenal efforts you are all putting in for our company.
All the commitments I've laid out above are for all of you who have been there for our customers; made the extra call, completed the extra job, flexed your hours, changed roles to where you're most needed. They are for all of you who have been there for your colleagues, happy to listen, sharing the load, keeping each other safe.
BT has such incredible people, and every day we are all seeing just how amazing BT is in responding to a crisis. Our challenge is to always pull together and give our all, every day. We don't need a crisis to be amazing.
The new BT is here today, so let's keep it for tomorrow.
Thank you and stay safe.
Philip
BT Tower - Clapping for all key workers
About BT
BT's purpose is to use the power of communications to make a better world. It is one of the world's leading providers of communications services and solutions, serving customers in 180 countries. Its principal activities include the provision of networked IT services globally; local, national and international telecommunications services to its customers for use at home, at work and on the move; broadband, TV and internet products and services; and converged fixed-mobile products and services. BT consists of four customer-facing units: Consumer, Enterprise, Global and Openreach.
For the year ended 31 March 2019, BT Group's reported revenue was £23,428m with reported profit before taxation of £2,666m.
British Telecommunications plc (BT) is a wholly-owned subsidiary of BT Group plc and encompasses virtually all businesses and assets of the BT Group. BT Group plc is listed on the London stock exchange.
For more information, visit www.btplc.com
( Press Release Image: https://photos.webwire.com/prmedia/7/257534/257534-1.png )
Related Links
WebWireID257534

This news content was configured by WebWire editorial staff. Linking is permitted.
News Release Distribution and Press Release Distribution Services Provided by WebWire.