BRF Announces R $ 50 Million Donations
Company is also committed to maintaining jobs for two months and reinforces support and safety program for employees and partners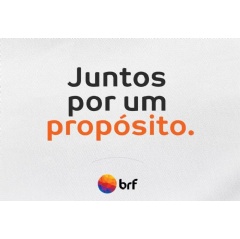 BRF, one of the largest food companies in the world, announces the donation of R $ 50 million in food, medical supplies and support for research and social development funds, to contribute to efforts to combat the effects of the COVID-19 pandemic . The action will reach hospitals, Santas Casas, social assistance organizations and health professionals in the states and municipalities where the company operates.
In Brazil, the initiative initially contemplates about 60 hospitals in 50 cities in 9 states. Only in hospital institutions, including "campaign" hospitals, donations should favor more than 15 thousand people / day, through approximately 2.5 million meals for the next three months. As a global company, the Company will extend this initiative to countries where it has production units, such as Turkey and the United Arab Emirates.
In addition, the company plans to donate medical supplies, such as tests and thermometers, personal protective equipment, such as plastic covers, disposable caps and gowns, gel alcohol, respirators and others that may be necessary. The materials will be primarily used for health institutions in the states and municipalities where BRF has production units, distribution centers and corporate offices.
Additionally, BRF undertakes, during this period of uncertainty, to maintain all jobs in the months of April and May, making only the normal movements in the regular course of its operations. It is worth mentioning that BRF is hiring more than 2,000 people, including its own employees and third parties, to maintain production and supply and replace employees considered to be at risk group who were preventively instructed to stay at home.
In order to bring support and convenience to employees who continue to work in the field, in factories, in Distribution Centers, on the streets and in customers, BRF will also make available, starting this week, a weekly credit on BRF products or in meal, providing and facilitating the access of these professionals and their families to food.
According to BRF CEO Lorival Luz, this is the time for all companies to practice solidarity. "We are experiencing an unprecedented and high-impact situation for all of us. It is time for us to be united and to be in solidarity with each other. We will do everything possible to protect our people, their families and to help the population to overcome the consequences of COVID-19 as soon as possible. The donations we will make and the commitment to maintain our workforce in April and May are a way to support and provide some comfort in this moment of uncertainty ", reinforces the executive.
BRF continues to operate throughout its chain, taking steps daily to ensure safety, health and sustainability for all those involved in its operational context, such as the creation of a new channel for clarifying doubts, making PPE available, temperature meters and tests for COVID-19, among others.
For suppliers, the company has shared its health and safety contingency plans, as well as communication and guidance initiatives related to preventive measures against COVID-19. In addition, it has worked in partnership with suppliers to meet the necessary security measures to prevent contagion from COVID-19.
In the logistics area, BRF adopted new safety procedures and guidelines for drivers, such as the use of alcohol gel, limiting circulation in the common areas of the units to reduce the risk of contagion, offering ready meals and medical support for carriers to treat suspicious cases.
In relation to integrated producers, the Company intensified communication, extended its channel of clarification and medical advice 24 hours, in addition to reinforcing hygiene guidelines inside and outside the work environment.
At the BRF units, work began before the outbreak reached the country with the institution, about two months ago, of the Permanent Multidisciplinary Monitoring Committee, composed of executives and doctors, including the infectologist and professor at the University of São Paulo - USP, Dr. Esper Kallás. Among the measures already adopted are the implementation of the Home Office since March 12, the removal of employees from the risk group - those over 60, pregnant women and others according to medical advice - provision of a greater amount of alcohol in gel and / or alternative products with the same efficiency in ordinances, toilets and areas of people flow, as well as the intensification of the hygiene of collective areas: changing rooms, cafeterias, vehicles for the transportation of employees, machines, equipment, installations, walls, floors,
To know all the preventive measures implemented by BRF, click here .
About BRF
The world's largest global chicken exporter, BRF is present in about 140 countries and owns iconic brands such as Sadia, Perdigão and Qualy. Its purpose is to offer quality food that is increasingly tasty and practical, to people all over the world, through the sustainable management of a living, long and complex chain, which provides better life for everyone, from the countryside to the table. Based on the fundamental commitments of safety, quality and integrity, the Company bases its strategy on a long-term vision and aims to generate value for its more than 90 thousand employees worldwide, around 265 thousand customers and approximately 12 thousand integrated in Brazil, all its shareholders and society.
( Press Release Image: https://photos.webwire.com/prmedia/6/257511/257511-1.jpg )
Related Links
WebWireID257511

This news content was configured by WebWire editorial staff. Linking is permitted.
News Release Distribution and Press Release Distribution Services Provided by WebWire.