Xennial Digital makes climate change tangible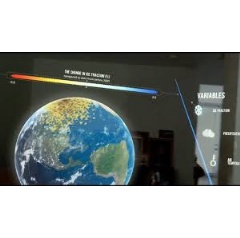 Xennial Digital, a recipient of our Independent Creator Grant, is creator of the Climate Change app, available on Magic Leap World. Download it now to explore different predictions of climate change over the next 100 years.
Our brain's inability to deal with issues we deem too far into the future is one of the reasons why scientists say people are not addressing climate change faster — some don't even think it's real. Turns out, talking about a nondescript threat does not trigger the inherent flight or fight response necessary to take action. Rather, many environmentalists believe showing the scenarios is most effective.
That's what Xennial Digital is doing for K-12 education through a spatial computing experience on Magic Leap. The extended reality (XR) company was selected for Magic Leap's Independent Creator Program (ICP), which supports cutting edge development. Xennial began working in the education space a few years ago when the U.S. Department of Education opened a challenge to propose transformative educational solutions.
Their climate change application available on Magic Leap World presents different scientific predictions — from optimistic to nightmare — across five key data points: ice fraction, precipitation, air temperature, ocean temperature and sea level rise.
Interested in developing with Magic Leap? Consider applying for Access Hardware, and as part of that program, Magic Leap will offer help in the form of hardware and technical support. Learn more here.
"We want to evangelize and accelerate the adoption of spatial computing in different educational and training environments where we hope to create results-driven experiences," says Xennial CEO/CXO Douglas Fajardo. "Allowing multiple learners to collaborate on the same virtual objects, test different configurations, visualize 3D models in real time and add voice prompts and AI are just the beginning."
Xennial wants to address a pressing global challenge, and believes a spatial computing based learning experience focused on climate change will have long-term impact. Potential users agree, as the idea has already received a great deal of interest. For one, administrators and teachers are seeking more factual resources as part of K-12 Earth sciences and environmental courses.
"Basically, they want to arm students with enough knowledge to be agents of change. For us, a classroom becomes a playground where we can extend the learning experience and make education highly enjoyable and memorable for the students," says Douglas.
Xennial chose spatial computing because it allows for a learning experience in any surroundings. For example, VR in a museum setting is not the right tool because it prohibits guests from enjoying a combined virtual and physical experience.
Douglas explains, "Science museums planning climate change and resiliency exhibits want to enhance the physical experience. Spatial computing adds value to that existing physical environment. There is something magical about seeing elements in space through Magic Leap that other people can't see without the headset."
Developing on Magic Leap
Xennial chose the Magic Leap platform because of its advanced functionality — especially compared to other platforms — and large field of view, both of which inspire innovation, according to Douglas.
He says, "With features continually added to the operating system, we're able to push the device's capabilities. We love taking on technologies like the Magic Leap 1 that test our team's creativity. As the hardware quickly evolves, we'll have the opportunity to create even more immersive, engaging experiences."
The option to use the controller or hand gestures to manipulate the experience and make the interactions as natural as possible are key features of the climate change experience, according to Douglas. An integrated voice assistant, using the Google Voice AI engine, helps the user throughout the experience.
"People are amazed at how responsive the content is when using hand gestures to zoom in/out and rotate elements within our experience," he says, "and we're taking the technology further to allow users to select, move and activate objects with their voices only. This will be a critical feature for us in the education space as we move into creating more experiences focused on accessibility."
Making climate change real
Xennial worked closely with the University of Miami Division of Meteorology & Physical Oceanography, which provided the data sets and validated the models as the team built the application. The data spanned 100 years and amounted to many Gigabytes.
Douglas says that such size created a technical challenge. Developers had to represent all the scenarios and variables in the experience while ensuring visualizations didn't lag. The elements needed to react in real-time to the hand gestures and control interactions.
"Working closely with the Magic Leap technical team, we explored different ways to address this challenge," he explains. "Ultimately, we created a smooth experience by presenting only what the user is viewing in high resolution. The 'hidden visuals' are in low resolution."
Next up: the enterprise
Xennial has launched version 2.0 of its XR Learning Platform — one of the first enterprise-level XR content distribution solutions. The company wants to provide a platform to organizations that integrates with their existing infrastructures to enable richer data collection with measurable results.
"The climate change experience was our first time ever creating a Magic Leap application, and we wanted to push the technology as much as we could. We love the reactions to the experience. People don't want to stop using it," says Douglas. "Our main goal now is to get to a point where we can directly correlate our XR learning experiences and content with higher knowledge retention and higher performance."
( Press Release Image: https://photos.webwire.com/prmedia/6/257508/257508-1.jpg )
Related Links
WebWireID257508

This news content was configured by WebWire editorial staff. Linking is permitted.
News Release Distribution and Press Release Distribution Services Provided by WebWire.