Spring 2020 #MLDevJam: Hack Your Workspace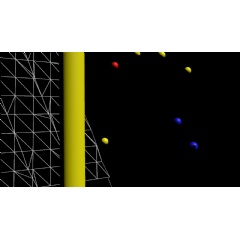 Through the winter of 2019, we ran our first online, distributed #MLDevJam. The goal: rally developers around a simple idea to build and publish concepts to Magic Leap World. If you submitted a concept around the theme in that timeframe, we'd hook you up with a Magic Leap Developers t-shirt and showcase your concept to our community. With that success of that first Jam, it's time to show you some of the concepts that were submitted and to announce the Spring 2020 #MLDevJam…
As developers, we have monster monitors, wacky headphones, keyboards that are too loud and configured in ways that no one else can type on. We take our chairs very, very seriously. When it comes time to sit down at our desks and do work, we're all about that perfect, personal setup. And with the whole world working from home, hacking your workspace together has never been more important.
With Magic Leap 1, we're moving towards a world where our setup won't include all the hardware we're used to. Around Magic Leap HQ, you'll often see people lounging on couches with nothing more than Magic Leap hardware and a bluetooth keyboard. That got us thinking...what else from our desks can we replace in spatial computing?
The Challenge:
With spatial computing, you can make space on your desks and free up room in your office by replacing physical tools and objects with spatial ones. What do you use in your day to day that would benefit from a spatial replacement? We want to see it.
Dates: 
Developers can build and submit projects anywhere from now until May 31, 2020. Our team will review your submissions in June and send developers their reward after devs successfully publish their concepts to Magic Leap World or on the web. Submission details are on the main event registration page.
Development tools:
Developers can use any of these development tools and environments to participate in this #MLDevJam. Concepts built on Unity, UE4, MagicScript, and LuminRT will go through the Concepts submission process and will appear on Magic Leap World when approved. Spatial web concepts can be submitted to the Magic Leap Glitch page.
Unity
Unreal Engine
MagicScript
LuminRT
Lumin Spatial Web Platform
Reward:
If you submit your Concept between March 31st and May 31st, you'll receive a limited edition Magic Leap patch created just for this #MLDevJam.
What if I don't have Magic Leap hardware?
Never fear. We recently launched Access Hardware, a program to get more hardware in the hands of those who want to help us prove that reality is just beginning. If you're an XR developer looking to start building with Magic Leap, consider applying HERE.
Join Discord to get connected: magi.ca/discordb
If you're looking for a team, want to share your work, need to troubleshoot, or just want to connect with the Magic Leap developer community, join our Official Magic Leap Developer Discord server.
The Winter 2019 #MLDevJam Submissions:
Our past theme was 'Can I get a show of hands?' encouraging developers to take advantage of Magic Leap's hand tracking, hand meshing, and gestural input capabilities. These concepts are all live on Magic Leap World.
Play a virtual theremin to learn about Hertz values and their classification to musical notes.
Learn about holidays using hand tracking
Drawing dots with a pinch gesture
Volumetric training in Magic Leap
You are a mighty elemental warrior… in training
Freeze bullets using gestures
( Press Release Image: https://photos.webwire.com/prmedia/6/257416/257416-1.png )
Related Links
WebWireID257416

This news content was configured by WebWire editorial staff. Linking is permitted.
News Release Distribution and Press Release Distribution Services Provided by WebWire.